---

---
There is a whole lot of money to be made online through the creation of websites. WordPress is in my opinion the best place to create these websites.
Learning the ins and outs of WordPress is an important aspect of making money online.
Will WordPress Fast Track teach you how to properly operate a website, and do you need it to make money online.
I'll answer these questions and more throughout this review.
What Is WordPress Fast Track?
---
WordPress Fast Track is a video training series that will walk you through the basics of WP.
It was created by Dwayne Paris for people who want to get into blogging, but are worried that it will be too difficult to learn how to operate their website.
What Does WordPress Fast Track Include?
---
WP Fast Track includes 24 individual training videos that cover different aspects of WordPress.
These Videos Include:
What Is WordPress?
WordPress.org VS WordPress.com
Logging in to WordPress
The WordPress Dashboard
The WP Admin Toolbar
Settings
Pages and Posts in WP
Writing a Post in WP
Making Links in Posts in WP
Inserting Pictures into Posts in WP
The Media Library
Formatting Your Posts in WP
How to Schedule Your Posts
Categories and Tags
Pages in WP
Page Templates
WP Plugins
Installing Plugins in WP
WP Themes
Customizing Appearance
Installing WP Themes
Making Custom Menu
Comments in your WP Site
Users in you WP Site
The 24 videos cover the most important things to know, however there is more to learn.
The Up-sell
---
The original WP Fast Track videos cover the basics of operating your WP site. You'll need to spend a little bit more to get into the advanced parts of it.
The Up-sell is the WP Fast Track Advanced Edition which comes with 20 more tutorials which include: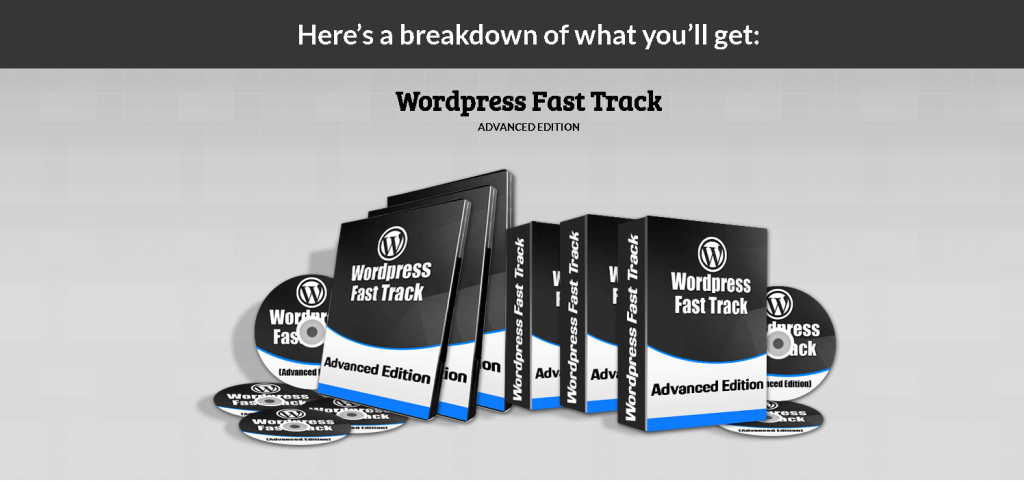 Using Keyboard Shortcuts and the mouse when making posts
Working with the Header Image
Working with the Background Image in your WP Site
Editing Images in WP
Setting a featured image in your post in WP
Inserting audio to your post in WP
Inserting an image gallery to your post in WP
Inserting special characters into your post in WP
Inserting a video into a post in WP
Inserting YouTube Video into a post in WP
Working with fonts in WP
Creating links to other posts in your site
Creating links to other sites
Removing links
Combating comment spam
Turning off the comments notification
Changing the display name
Changing the admin account password
What to do when WP is not updating
How to Remove "Powered by WP"
Although I am not a huge fan of up-sells, this one may be useful to people having trouble with certain things in WP.
Not to mention the extra $7 will not break your bank.
My Personal Thoughts
---
WordPress Fast Track has some decent video training for the $7 price tag. Depending on the person it may even be worth spending the extra $7 to purchase the Advanced Edition.
With that being said there are a few things you should consider before purchasing it.
In my opinion, if you are familiar with Microsoft Word, you should be able to figure out how WP works without too much difficulty.
Another thing to consider is the fact that this program will only teach you how the software itself works, it will not teach you how to utilize it in order to make money off of your websites.
My #1 recommended program trains you not only how to properly use WordPress, but how to build out your website in a way that can potentially earn you thousands of dollars a month.
However, it is up to each person to decide whether or not it is worth purchasing.
If you are someone who needs a bit of help learning how it works, then this might be good for you.
Yet if you are the type of person that just needs a little help here or there, it may make more sense to search YouTube for free training videos.
Conclusion
---
Overall WordPress Fast Track contains some good training for a very low price, and is overall a

product!
If you are someone who is struggling with learning how to operate a WP blog then this may be a good product for you.
However if you want to learn how to operate your WP website, while simultaneously setting it up in a way that will allow you to make money from it I suggest you look into Wealthy Affiliate!
---
If you have any questions or concerns, please let me know in the comments below!
---