Whether you want to create a website for your band, a business, a friend, or just for the heck of it, a free one can easily be created within minutes.
I personally create niche websites in order to tap into the boat load of money that can be made online through affiliate marketing.
The second most people see that they need a website in order to make a notable amount of money online, they get discouraged because they think that creating a website is incredibly difficult and requires knowledge of coding and design skills.
When it can actually easily be done in an incredibly small amount of time thanks to a few amazing tools that you will learn about throughout this post.
WordPress
---
If you've done any research about creating a website, you have probably heard at least a little bit about WordPress.  It's the worlds most widely used website framework.
In fact, this website was created through the use of WordPress, and you can easily create a similar one with just a few short steps.
Before I get into it, I just want to give some benefits of using WordPress.
Easy to install, sometime with just the click of a button
No coding knowledge, or design skills needed
A few thousand website templates to choose from
Thousands of add-ons for customization
Support and Assistance
4 Simple Steps to Create a Free Website
---
Step 1: Create a Free Account at SiteRubix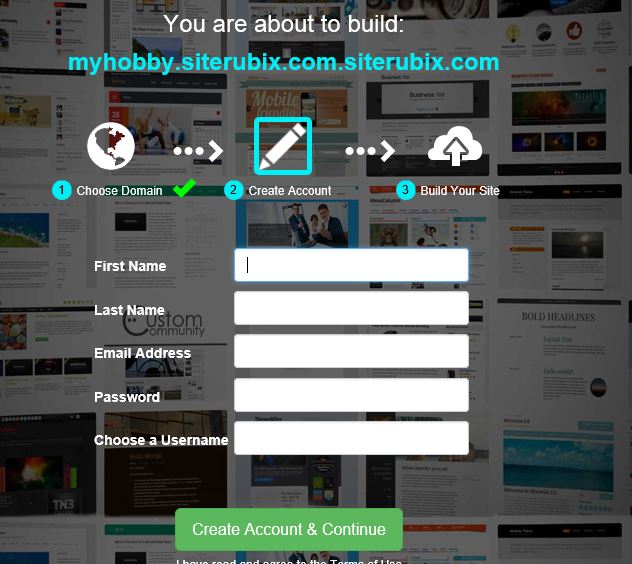 There are several places online to create websites for free, but my personal favorite place to do it is at Siterubix.com, mainly because it is powered by Wealthy Affiliate, and they will walk you step by step how to create, customize, and bring in money with your website.
(Click Here to Sign Up for Free)
(Click Here to Read More About Wealthy Affiliate).
There are a few main reasons why SiteRubix is my favorite place to create websites.
They make it incredibly simple
They have training that walks through everything
They even show you how to make money with your website.
When you get to the SiteRubix webpage, just simply enter in what you want the name of your site to be, and if it is available you will be prompted to enter in some basic information to create your free account.
Step 2: Choose What Site You Want and Name it
Simply choose whether you want a free website or a paid one, then choose a name and type in whatever you want the name of your website to be.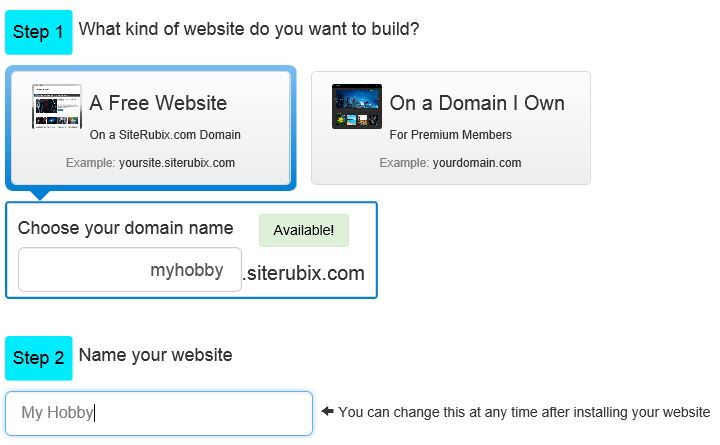 Whatever you type in the "Name your website" box is just what the title will say at the top of your homepage.  As it says next to it, you can change it at anytime.
Step 3: Choose a Template
There are several free templates that you can choose from at this point.  You can go through and individually do a demo of what your website would like before you decide on one.
You can also change your website template at anytime after creating your website, so it doesn't have to be perfect the first time.
Step 4: Press Done
---
The final and easiest step is to simply press "Im Ready, Build My Website Now!"
Siterubix will do all of the coding in the background and create everything for you.
After you get to the WordPress area you can go through and customize your website and begin adding posts, pages, widgets, plugins, categories, and various other things to make it the way you want to.
If you go to your Wealthy Affiliate Dashboard you can click on the green "Get Started Here" button and you can view training videos that go further in depth about customizing your website, and monetizing it.
Conclusion
---
Now-a-days it is simple to create your very own free website, that can be used for just about anything that you could ever want.
You just have to follow these four simple steps:
Create a Free Account at Siterubix
Choose What Site you Want and Name it
Choose a Template
Press done
It's literally that simple.
---
If you have any questions or concerns let me know in the comments below!
---