In this full review of the Dosh App I'll be going into everything you need to know about it.
I'll be telling you exactly what it is, how it works, and if I think it's a scam or not.
Is it really as great as it seems?
Let's dive in and find out!
The Dosh App Review
---
Product: The Dosh App
Website: Click Here To Visit
Price: Free To Join
Is The Dosh App A Scam? NO!
Is The Dosh App Recommended? YES!
What Is The Dosh App?
---

Dosh is a cashback app for your phone and other devices that allows you to get money back from everyday purchases.
They have several stores, restaurants and other businesses that participate in their program, and you'll get cash back if you make purchases with them.
All you do is attach a credit card, and you'll earn cash back from various places that you shop at without even having to think about it!
As of right now, Dosh is my favorite cashback app due to it's simplicity, which I will be getting more into detail about shortly.
How It Works
---
Like I said, the Dosh app is incredibly simple to use. In this section I'll be going over the four main ways that you can earn money.
In-Store Purchases
Online Purchases
Travelling/Hotels
Sharing Dosh With Friends
Automatic Cash back On In-Store Purchases
---
In my opinion this is one of the best things about the Dosh App, and what sets it apart from many other cashback apps out there.
Inside the app you will be able to view various offers being run by local stores in your area. When you make purchases with a card linked to your account, you will automatically get cash back.
This is much better than most cash back apps due to the fact that you don't have to scan or upload receipts which can be quite annoying.
Another thing to note is that it doesn't only work at stores, it can also be used at many fast food places and eat-in restaurants!
Earn $5 For Just Linking A Card!
---
One cool thing they offer right now is the fact that if you simply download the app, and link a credit card to your account, you'll earn $5!
I honestly can't think of an easier way to make five bucks. Not to mention the fact that you'll start accumulating cash back as you use that card everyday!
If you haven't already, you can…
CLICK HERE TO DOWNLOAD THE DOSH APP FOR FREE!
(It might be a different amount when you read this, but it never hurts to check!)
Cash Back On Online Purchases
---
If you are someone who does a lot of online shopping you can also benefit by getting cash back through Dosh.
Within the app you'll be able to scroll through tons of companies that will give you cash back when you shop through Dosh.
All you have to do is find an offer that you're interested in, click the "shop now" button, and you be able to earn some money back.
These offers come from some larger companies such as Bed Bath & Beyond, Under Armour, and Gap, as well as hundreds of other small businesses.
Most of the offers give you 3%-7.5% off on your entire purchases, while some of them range up to the 10% to 15%.
Cash Back While Traveling
---
Whether you're a frequent traveler or you just have a vacation coming up, you might be able to take advantage of some cash back from hotels and other activities as well.
As of the time I'm writing this review Dosh is offering $25 for booking your first hotel and completing a stay. That might change, but it can't hurt to download the app and check.
You simply search for the city your traveling to, fill out some other information like the dates, and number of people.
Then you'll be able to search through a bunch hotels, see exactly how much it will cost per night, and how much you'll earn back each night!
The best part is that it seems to have offers all over the place, not just popular destinations or large cities.
I live in a small city that nobody ever hears about, and there were offers at just about every hotel near me!
Referral Program
---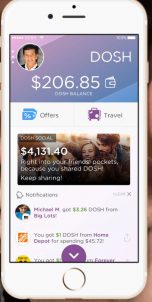 Another cool way they allow you to make money is by referring your friends to Dosh!
Within the app you are able to get a referral link that is unique to you, and if someone joins through that link you can earn money.
The amount of money seems to change quite a bit, but it is normally $5 for each friend that you get to join up, link a card, and earn cash back.
It seems as though they will be running random promotions that pay more per friend seeing as right now (February 20th 2018) they are paying $10 per person!
I suggest sharing your link all over social media, through texts, and any other place you can get it out in front of people!
Problems & Complaints
---
Let's go over some of the problems and complaints that I've seen and heard from various users over the internet.
Credit & Debit Card Information
---
When I first heard about Dosh I was super excited about it, and started talking about it to my family members. Once I mentioned the fact that I had to enter in my credit card information they got a little weary.
A few of them even said that they wouldn't use the app because of that simple fact. It seems that some people online have a problem with it as well.
In their FAQs they state that they use "bank-level encryption" on all transactions, and they don't store any passwords, credit or debit card information, or bank account information in the app or on their servers.
With that being said, if you aren't comfortable putting in your credit card information in exchange for the ease of not having to scan or upload receipts you can always use other cash back apps.
Technical Issues
---
Reading through various complaints on the Google App Store I saw plenty of complaints about the app not working well.
There were various complaints from people claiming that they never received cash back for some purchases that they made, to people who simply couldn't get the app to work.
Personally I haven't had either of those problems with the app.
In my experience, most apps have several complaints about technical issues, but for the most part it seems to work fine for most people.
Must Use Credit Not Debit
---
One thing that I've seen cause some problems is the fact that it only works with credit cards. This means that you have to run your debit cards through as credit.
Some people seem to miss that, and don't get credit for their purchases when they use their pin.
I tend to find that a bit annoying sometimes because I frequently like to get cash back from my debit card when I checkout at stores.
However I can almost just as easily find an ATM to withdraw cash from.
Is The Dosh App A Scam Or Legit?
---
I honestly don't think there is anyway to consider The Dosh App a scam.
In my opinion it is one of the best cash back apps out there right now, and I plan on using it on a daily basis from here on out!
The main problem that I've always had with cash back apps is the fact that I simply never took the time to scan or upload my receipts, but now I don't have to.
After attaching my credit cards I simply just automatically make cash back without even thinking about it.
Sometimes I'll look through the offers before going out, just to see if there are any places with particularly awesome deals running, but for the most part I just shop like normal, and earn extra cash.
If you are interested in joining up and earning some cash back you can…
DOWNLOAD THE FREE DOSH APP HERE!
My Top Way To Make Money Online!
---
If you are interested in making more than just cash back on your purchases, you might be interested in My Top Ranked Program!
They have helped me build an online income that has allowed me to quit my job and work completely from home.
Unlike the Dosh app, it isn't automatic, and you'll actually have to put in plenty of time and effort if you want it to work.
However it is completely free to get started and if you think it might be something you're interested in you can…
---
Is The Dosh App A Scam Or Legit? What Do You Think? Leave Your Thoughts And Experiences In The Comments Below!
---