In this review I'll be going over what it is and answering the question "Is GainBux A Scam?"
GainBux Review
---
Product: GainBux
Website: Gainbux.net
Price: Free
Is GainBux A Scam? Hard To Tell
Is GainBux Recommended? No
CLICK HERE TO READ ABOUT MY TOP RANKED PROGRAM!
What Is GainBux?
---
GainBux claims to be a traffic exchange website that you can use to get paid for clicking on ads.
This is also know as a PTC or Paid To Click platform.
I always recommend doing research before spending a bunch of time on a PTC website because there are a lot of scams out there.
So I decided to do some research for you and found out as much as I could about GainBux.
Before we get started I want to point out that I never recommend PTC's because they payout so little.
If you want to learn where and how to make enough money online to quit your job like I did…
CLICK HERE TO READ ABOUT MY TOP ONLINE MONEY MAKING PROGRAM!
The Pros And Cons
---
Let's take some time to list out some of the good and bad things I've found out about the system so far.
Pros:
No Definite Evidence Of Scam
Cons:
Unclear Payment Proof
Shady Information
Now let's go a little deeper into what I mean with each of these points.
GainBux Payment Proof?
---
I've done quite a bit of research trying to get as much information as I can about whether GainBux actually pays or not.
When I visited the website I clicked on the "Payment Proofs" button at the bottom, and some screen captures popped up.
However it is very difficult to trust these because it is easy to fake proof of payment.
I also think it's important to point out that I found a post on their own website complaining about not receiving a payment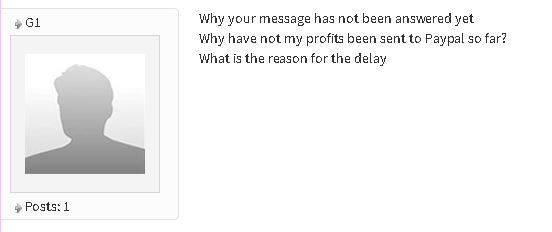 I also checked several other websites that monitor PTC websites to see what they were saying about GainBux.
The information is certainly confusing and mixed.
On PTCmonitor they have it listed as not paying, even though there are some people on there claiming they received payments.
And on another PTC monitoring website they had this to say about GainBux:
It appears there was a GainBux.com that was closed in the past. It's unclear whether the sites are related or not though.
Shady Information
---
The payment proof isn't the only thing that's unclear or shady. Even some of the information on their main page seems to not be right.
On the front page of their website they claim that there is no minimum payout.
However while I was looking at their Facebook page I saw an interesting comment.
A person is asking GainBux why the minimum payout for the day is $20, and they say that she has to upgrade to make it $5…
I was under the impression that there was not minimum payout?
Also I would like to point out that there is a person at the bottom claiming that they are a "BIG SCAM".
Obviously a random person on Facebook isn't very reliable, but I just wanted to point it out!
Is GainBux A Scam?
---
At the end of the day I didn't try out GainBux, so I can't personally say it's a scam.
However all of the shady information revolved around it leads me to recommend that you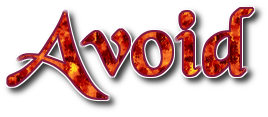 GainBux.
I actually never recommend PTC websites because I personally think it is a waste of time to only make a small amount of money like that.
Why spend so much time making a few bucks, when there are ways to make a full time income online?
What I Recommend!
---
It is absolutely possible to make a full time income online. I know that for a fact because I make my living online.
Did you know that you can get companies to pay YOU for getting people to click on their ads and buy their products?
You can also get those people to click and buy things without paying them any money like a PTC does!
That's how I make my living, and anyone can do it as long as they get access to the proper training, tools, and support.
To find out where you can get start with all of those things for free you can
---
Have you had an experience with GainBux? Do You Have Any Questions, or concerns? Let me know in the comments below!
---