---
In this review of Copy Paste Income I will be delving as deep as possible into the product.
I will go over what it offers, and telling you whether I think it is a scam or if I think you can actually make $3,052.68 by simply copying and pasting Ewen Chia's method.
What is Copy Paste Income?
---
Copy Paste Income is a system created by a man named Ewen Chia.
The program claims that it is a fool proof technique to make you thousands of dollars a day by simply copying and pasting systems that other "experts" have already created.
Hence the name Copy Paste Income.
Chia is a self proclaimed internet guru who claims that he has trained over 20,000 students and made over $15 million dollars online.
The Truth about Copy Past Income
---
Ewen Chia has created multiple "programs" like this one in the past in an attempt to get as much money out of you as possible while giving you something worth the least value.
Copy Paste Income is just another one of these products.
I'm not sure if Ewen Chia is actually an internet millionaire or not, but if he is, he certainly made all his money by selling these low quality scam to desperate people looking for a way to make money online.
It's products like these that make it incredibly difficult to find the real programs that teach you how to actually make money online.
It May Seem Legit
---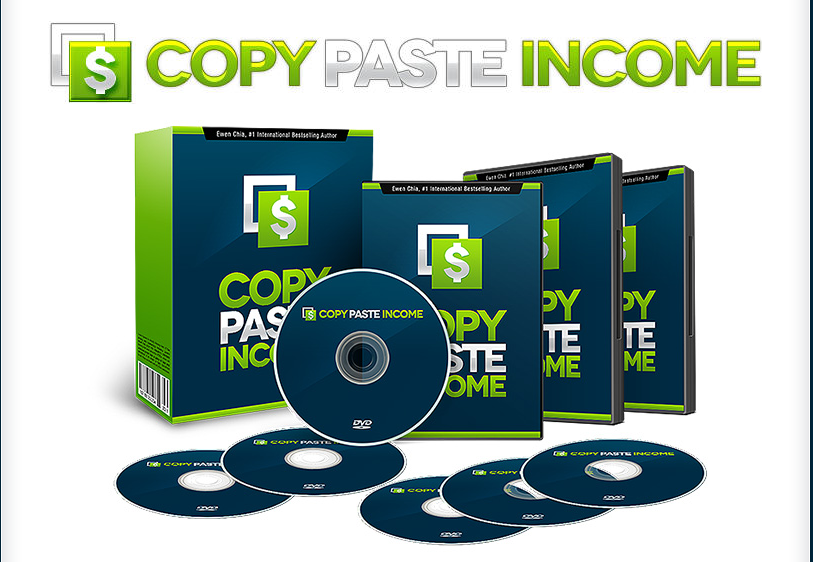 A lot of time and effort goes into the marketing of scams like these.
They put more time into the marketing and polishing of the appearance of the system, than they actually put into the creation of the product.
I know at first sight it seems like CPI is a well put together opportunity, but it was just created to have the appearance of one.
I'm sure a bit of time went into the design and creation of the graphics, and writing out the incredibly long sales page.
But it was all done just to look nice.
I'm guessing you didn't actually read through everything did you? 
Don't worry, I didn't really either. I skimmed through most of it.
That's what they are expecting you to do.
The entire page is created so no matter what part you skim to, it will say something about how incredibly easy it is, or how incredibly rich you could be.
Go ahead and give it a try.
Just go to the sales page and just randomly scroll down and start reading. No matter where you start or what you read, it will be hyping the product up in an effort to get you interested.
Yet if you go through and read the entire thing in order, you'll notice that it is really just bunch of crap spewed out time and time again.
They literally just write a whole bunch of filler to make it seem as if there is a whole bunch of information that they have to get out about the product.
It's kind of like what you used to do in the book reports that you had to write in high school.
What it Offers
---

As I said before, you will be getting very little value for the money that you shell out for it.
If you purchase it you will get…
Some Landing pages, you can copy and paste
some email messages you can copy and paste
and some Auto respond messages you can copy and paste
3 Traffic Magnets
I know this may seem like at least some value, and it would be if that stuff would actually make you money.
The only way that these things would make you money is if you somehow had a way to get a ton of people to them.
Which is not going to happen to any beginners.
My Personal thoughts
---
If you've been reading through this review so far you probably already have a good idea about what my thoughts are about CPI.
Scams like these are the reason that I actually created this website.
When I found out that I was going to have a son, I was determined to find a way to make money online.
At the beginning of my journey I ran into plenty of programs like this one, and I even fell for a few of the more convincing ones.
I always did my research before giving them any money, but many of these scams have multiple websites created to write fake reviews.
These fake reviews were what really sold me on the products. That's why I decided to always write honest reviews.
Conclusion
---
I've said it multiple times throughout this review, and I will say it again.
Copy Paste Income is a

and should be completely avoided.
I always try to give each and every product a fair review.
Normally if the product offers some sort of useful information or something you can use to make money I will simply call it a scheme.
But CPI gives some completely useless items that will not make you money unless you are a well seasoned internet marketer.
Even then you would be able to create those things yourself, and it certainly wouldn't make you a millionaire.
Legitimately Make Money Online
---
I wish I could say that there was an incredibly easy copy and paste method that would make you an online millionaire, but such thing just doesn't exist.
However, there are ways to actually make money online, and I am proof of that.
I'm no millionaire, and I sure wasn't instant, but I do make all of my money, and work full time from home on the internet.
Wealthy Affiliate is where I learned everything I know about making money online.
And I highly recommend that you read more about it if you are serious about making money online.
---
If you have any questions or concerns, please let me know in the comments below!
---