In this 1 Dollar Tasks review I'll be going over what they system is and telling you why it's a scam!
1 Dollar Tasks Scam Review
---
Product: 1 Dollar Tasks
Creator: Unknown
Website: www.1dollartasks.com
Price: Free
Verdict: Scam!
CLICK HERE TO READ ABOUT MY TOP RANKED PROGRAM!
What Is 1 Dollar Tasks?
---
1 Dollar Tasks claims that they will pay you $2 all the way up to $200 for doing crazy simple tasks.
On the sales page they suggest that all you have to do is download some apps, take some surveys, or make some Facebook posts to make serious money.
Well I'm going to go over why all of that is just a load of crap!
Pros And Cons
---
I always try to be fair to each program I review and give it at least one good thing.
Pros:
Cons:
You won't make money
They might get into your PayPal
They will give out your information
You'll waste a ton of time
Let's take some time to go over these problems!
Will You Make Money?
---
While you are completing tasks they will make it look like you are making money.
They will put fake money into a fake account, and claim that you can withdraw it once you hit the threshold.
However once you do a bunch of stuff for them, they won't give you any of that money when you try to withdraw!
In fact they might even get a hold of your money
They Might Get Into You PayPal
---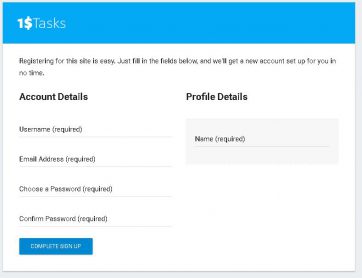 I've seen this scam time and time again! They make it free to get you to sign up.
Take a minute to think about it.
At some point they had you enter in the email address to your PayPal account right?
Well did you happen to use the same password when you created your login as the password for you PayPal?
If you did, then I would change your PayPal password because they are going to try it out.
These scammer know that most people use the same password for most of their stuff, so they will try your email and password on a bunch of different sites!
It Seems Legit!
---
I know their are a lot of things about 1 Dollar Tasks that makes it seem like it's real.
Well let's jump into those things.
I know the website seems like it's professional, and must've taken a lot of money to make.
Well it's easier than ever to create a website. You can create one in just a few minutes by using a pre-designed template.
The Payment "Proof"
---
I know that you've seen a bunch of people share screenshots of money that they've made.
Well I promise you that not a single one of them has actually had that money deposited into their actual bank account.
All of those screenshots are of the fake account inside the membership that they won't be able to withdraw!
Don't fall for it!
Red Flags
---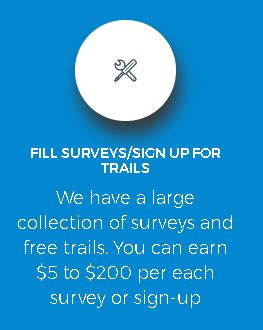 I just want to quickly go over a few things that may help you realize it's fake.
One of the main things that points out that it's a scam is the fact that there are multiple typos on the page.
You can see that they spell "trails" when they are trying to say trials!
You can also see that in their logo they have it as 1$tasks in stead of the proper $1Tasks.

That's because these scams are normally created in other countries and they often have these errors.
Is 1Dollar Tasks A Scam?
---
I am completely sure that 1 Dollar Tasks is a complete

If you don't believe me, you can sign up for it and give it a try.
As long as you are careful about what information you give them, you have nothing to lose buy a bunch of time.
Actually Make Money Online
---
I know the idea of making a ton of money online by just doing simple tasks sounds great, but it's not real.
It is absolutely possible to make money online, but as someone who makes their living online, I can tell you it takes time and effort!
Anyone can do it if they have the proper training, tools, support and are willing to put in some time and effort.
If you want to learn about the program that got me started for free with everything I needed to succeed online, you can do so by clicking right here!
---
Let me know about your experience with 1 Dollar Tasks below!
---