In this quick review of 16 Steps To Six Figures I'll be going over exactly what it is, and telling you if I think you should purchase it.
16 Steps To Six Figures Review
---
Product: 16 Steps To Six Figures
Website: the16steps.com
Price: $49 + Expensive Up-sells
Is 16 Steps To Six Figures A Scam? Debatable 
Is 16 Steps To Six Figures Recommended? NO!
CLICK HERE TO LEARN ABOUT MY TOP RANKED PROGRAM!
What Is 16 Steps To Six Figures?
---
16 Steps To Six Figures claims to be a online money making training system that can help you pull in $1,000 commissions each and everyday.
Other than that, there isn't too much information given about what exactly the system is.
Well as it turns out, the system is actually a different program that has been repackaged to try to get you to sign up for it.
You can find the exact same training being sold under the names, 6 Figure Business System, Ultimate Laptop Lifestyle, and Laptop Lifestyle Secret.
However at the end of the day, the only thing that matters is training, to let's go over that.
The 16 Steps To Six Figures Training
---
At the end of the day, the only thing that matters is how good the training is, and if it can actually make you money online.
Well as it turns out, the training is actually pretty good and it can make you money.
However there are a few other things that you need to know before giving them your money. I'll get into those here in a little bit.
The 16 Steps:
16 Steps to 6-figures Training
1-on-1 Coaching Package
Traffic/Lead Generation
Split-testing and Conversion Optimization
Products and Services to market
Sales Funnel and well-defined Sales Process
Expert Direct Response Copywriting
Merchant Processing
Customer Relationship Management Software
Technology/Servers/Websites/Hosting
Fulfillment on Products and Services
Email Marketing
Follow Up Messages
Broadcasts
Special Promotions
Sales Team To Close Sales
I think you'll notice that those aren't really even steps, they are just some tools and information that you get with the system.
What You Need To Know
---
I would honestly consider this the most important part of this entire review. So I would pay attention.
Like I said, the training and tools that you will get can actually help you make money online.
The testimonials in the sales video are most-likely real; there are people who make money with this system.
With that being said, you need to be aware of the type of money those people have paid to reach that success.
While you will only be paying $49 to get access to this training, you'll be paying much much more down the road.
The reason you are able to make $1,000 + commissions is because you'll be selling Jeff's other expensive products.
The problem comes in when you realize that you have to purchase those products before you can earn commissions from them.
These products run up into the thousands and thousands of dollars.
So it's important to realize that the people in the sales videos who made $3,500 in their first week, spent more than that to earn it.
High Ticket Program
---
This system is what's known as a High Ticket Program in the online money making world.
The training will basically teach you how to turn around and sell the products that you just purchased.
And the programs that you'll be purchasing and reselling will cost you thousands of dollars.
Now there is nothing particularly wrong with this method, however I don't like the fact that they mislead you about it.
They make it seem like you're going to only be paying $49 to get everything you need to start making the big bucks online.
When in reality it is going to cost you much more than that.
Why I Don't Recommend it!
---
I already mentioned the fact that it gets incredibly expensive as a reason for me not recommending it.
However there is one other thing that makes me not recommend this product.
It's the fact that a majority of the people who purchase it don't make anywhere near the amount of money they brag about.
If you go to Jeff's 6 Figure Business, which is the exact same training, and look at the earnings disclaimer.
You'll see this: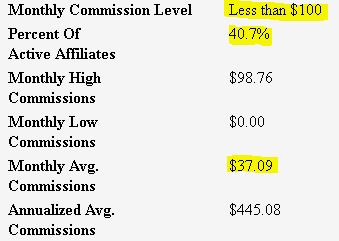 40.7% of their active members don't even make $100 per month.
As you look through it even more, the people who actually make $1,000+ a month are an incredibly low percentage.
Is 16 Steps To Six Figures A Scam?
---
Personally I don't consider 16 Steps To Six Figures to be a scam. The training is decent and it is actually possible to make some money with it.
Which is much more than I can say about a lot of the other programs I review.
With that being said, it has still made the list of

Mainly because of the ultimate price that you will have to spend to succeed, the fact that they don't tell you how expensive it is, and the fact that most of the people who try it don't make much money.
Make Money Online WITHOUT Paying Thousands
---
Another reason that I don't recommend 16 Steps To Six Figures is the simple fact that there are better and cheaper programs out there.
I have been able to build up an online income that has allowed me to quit my job and work completely from home.
And I did all of it without spending anywhere near the amount of money that 16 Steps requires.
Anyone can do what I do if they are willing to put in the time and effort, and if they get access to the proper training, tools and support.
You can get started with all three of those things for free in the same place I get them.
If you are interested in learning more, you can
---
Is 16 Steps To Six Figures A Scam? What Do You Think? Let Me Know In The Comments Below!
---