In this review of 500 Cash club I'll be telling what you need to know before buying it, and answering the question "Is 500 Cash Club A Scam?"
$500 Cash Club Review
---
Product: $500 Cash Club
Creator: Richard Paul
Website: 500cashclub.com
Price: $97 + thousands in up-sells
Is 500 Cash Club A Scam? Basically
Is 500 Cash Club Recommended? NO!
CLICK HERE TO READ ABOUT MY TOP RANKED PROGRAM!
What Is $500 Cash Club?
---
$500 Cash Club claims to be an online money making system that will make you thousands and thousands of dollars!
They claim that as long as you simply watch the 500 second video you'll make a guaranteed $500.
Is there any truth to anything they're saying, or is the entire sales video a complete lie for a complete scam program?
Before we get started I want give you a chance to learn about the program that's helped me make a living online!
CLICK HERE TO READ ABOUT MY TOP ONLINE MONEY MAKING PROGRAM!
Let's Dive in and find out!
The Pros And Cons
---
I always try to be as fair as I possibly can to each program I review and find something good about them.
Pros:
You POSSIBLY make some money
Cons:
A Bunch Of Lies
It Doesn't Really Exist
Expensive Up-sells
Now I'll be taking a little bit of time to explain just exactly what I mean with each of those points.
A Bunch Of Lies
---
One of the first things I want to point out to you is all of the misleading information and straight up lies on this sales page.
First off you absolutely are not going to make $500 for just watching a stupid sales video.
I hope you weren't too disappointed at that and weren't really expecting to get $500 that easily.
I'm sure the main thing that you really want to know is if you can actually make a ton of money online with the system.
Well it's actually possible.
But that brings me to my next point. The $500 Cash Club doesn't really exist.
It Doesn't Really Exist!
---
I'm sure you're a little bit confused by this. I mean how can you possibly make money with a system that doesn't actually exist.
Let me explain.
$500 Cash Club is simply a funnel page that is meant to direct you to another online money making program.
Right now it directs you and makes you pay for a system called Aspire!
However it could honestly make you sign up for any program or scam that they want.
After doing some research I've actually found out that the program that they direct you to has changed a couple of times in the past!
Let's go over exactly what Aspire is!
The Expensive Up-sells
---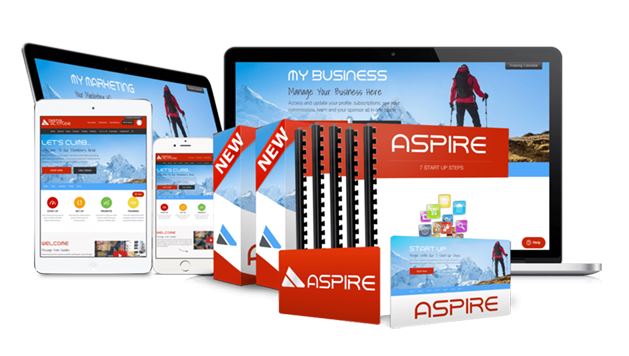 Aspire is a program that you can actually make money online with, however I don't recommend it.
The reason I don't recommend you sign up for it is because the $97 entrance fee you'll be paying is just the beginning.
Aspire is what's known as a high-ticket-program.
When you sign up they'll basically be teaching you how to get other people to sign up and purchase expensive items.
You'll get paid if you get people to buy those items, but only if you buy them first!
The items that you'll be buying and then reselling cost thousands of dollars going all the way up to $27,997!
You'll also have to pay membership fees that range from $37/month all the way up to $127/month.
If you have that type of money to shell out in order to make more money, you can be my guest.
However I don't think that is realistic for most people.
Is $500 Cash Club A Scam?
---
It is honestly up to you to decide if $500 Cash Club is a scam.
In my opinion however it is a

They mislead you and lie about so many different things that I consider it to be a scam.
Yes you can make money with Aspire, however there is no guarantee that's what you'll be paying for. Like I said earlier, they've changed the program that you'll be signing up for in the past.
Here are some similar scams that I've reviewed: 7 Figure Breakthrough, Simple Income Solution, and Simple Profit Secret!
What I Recommend
---
If you are serious about making money online, and what a legitimate way to do it without a bunch of hype and lies; you might want to pay attention.
It is absolutely possible to make good money online without having to shell out a ton of money on products that you don't even need.
I know that it's possible because I've made enough money online to quit my job and work entirely from home!
Anyone can succeed at it as long as they get access to the proper training, tools and support.
My Top Recommended Program allows you to get started with all three of those things completely free of charge!
---
What Do You Think About $500 Cash Club? Do You Consider It A Scam? Let Me Know In The Comments Below!
---