If you are trying to answer the question "Is Home Wealth Remedy A Scam?" then you are absolutely in the right place. In this review I'll be going over everything you need to know about the system, and telling you if I recommend it or not!
Home Wealth Remedy Scam Review
---
Product: Home Wealth Remedy
Creator: A.B. Anderson
Website: homewealthremedy.com
Price: $97.95
Is Home Wealth Remedy A Scam? YES!
CLICK HERE TO READ ABOUT MY TOP RANKED PROGRAM!
What Is Home Wealth Remedy?
---
Home Wealth Remedy claims to be an easy way to make a guaranteed $500/day online from home.
They claim that from just working 60 minutes a day and make an incredible $182,000 a year.
Is there any truth to any of these statements, or are they all just complete lies.
Let's dive into Home Wealth Remedy and find out!
The Pros And Cons
---
For every program that I review I always try to be as fair as possible and find some good and bad things.
Pros:
You can technically make SOME money
Cons:
Exaggerated Income Claims
Featured On TV Lie
Fake News Article
Fake TV Spot
False Testimonials
Limited Positions Lie
Link Posting Doesn't Work Anymore
Same As Other Scams
There's is a lot to go over with this system, so let's go a little bit deeper into what I mean with each of these points.
Exaggerated Income Claims
---
One of the first things that I want to point out about this system is that you aren't going to make $500/day.
As the only pro for this program I listed that it is technically possible to make money.
However it is highly unlikely, and even if you do make some money it will only be some extra change.
It is honestly not worth all of the time and effort you will be putting in to get that small amount of money.
Featured On TV Lie
---
Right at the top of the sales page they list out all of the TV news stations that Home Wealth Remedy has been featured on.
The problem is that is a complete lie, and it hasn't been featured on any of those channels.
I keep up with online money making opportunities for a living and I've never heard of this program until today.
If it really was good enough to be featured on TV I would've heard about it, and you probably would've too!
Fake News Article
---
One of the most convincing things I've seen about this system is the fact that Mark Cuban wrote and article about it.
The article is actually very convincing because it appears as if it is on Forbes website.
However if you look closely at the URL you'll realize that the address is actually forbes.com-finance.5newdaily.us.
At first it appears to be Forbes, however it is actually a completely different website.
I've seen this done with articles from other billionaires such as Donald Trump as well.
I promise you that neither Mark Cuban or Donald Trump know anything about this system what so ever.
Fake News Spot
---
Another thing that has been convincing people about this system is the TV News Spot that seems to be about it.
This news spot is a real news broadcast, however there is one thing I want you to pay close attention to.
They never actually say the name Home Wealth Remedy!
It's simply a broadcast about people who make money online, which is something that more and more people are doing these days.
In fact I make my entire living online now too!
False Testimonials
---
I know that it can be very convincing when you read a comment from someone who succeed with the system.
However, as I hope you've figured out by now, they are all completely fake.
The images that they use for the testimonials are just stock photos of random people, and the comments were made up by the people who created the sales page.
Limited Positions Lie
---
This is a popular sales tactic that you see used in scams like these all of the time.
Scarcity raises the demand for a product and the people who created this program know that.
They claim that there's only a few positions left in hopes that you'll quickly sign up and buy it before taking the time to think about it.
Hopefully if you are reading this you are one of the people who researched it before giving up the money.
Affiliate Link Posting Doesn't Work Anymore
---
There's something that I really want to make clear in this section.
It is absolutely possible to make money by getting people to go to various websites and buy something.
That is called affiliate marketing and it is actually how I make my living online.
With that being said, it is not the same as the affiliate link posting that they teach you in this program.
They teach you to basically spam your affiliate link in emails, and on various websites.
That quite simply doesn't work anymore.
Now-a-days spam emails and spam links will be blocked in the places that they teach you to post them.
And even if they aren't blocked, people have learned to not click on these spam links.
You have to learn to use other methods to actually get people to click your links and earn you money!
Same As Other Scams
---
If you've read through this entire review up to this point, and still aren't convinced that it's a scam, this will convince you.
The reason that I know for a fact that Home Wealth Remedy is a scam is because it is incredibly similar to other scams.
Scams like Secure Job Position, Accelerated Income, Home Jobs Today, Home Job Placement and many others are almost exactly like this!
Just check out these images: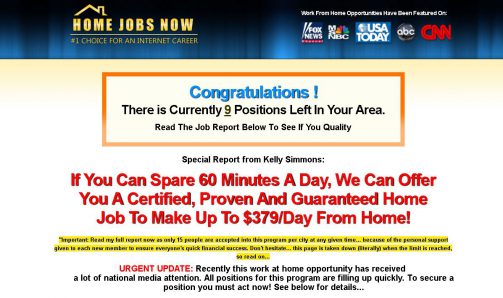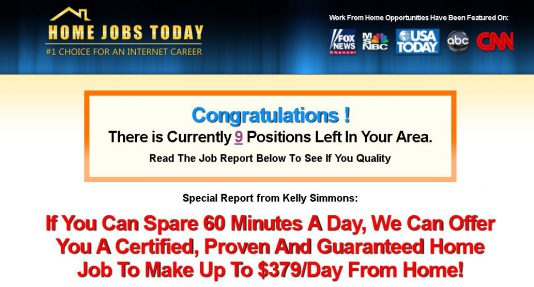 Yes they have some different colors, and say some slightly different things, but they are all basically the same thing!
Is Home Wealth Remedy A Scam?
---
I truly hope that if you've at least skimmed through this review that you are completely convinced that Home Wealth Remedy is nothing but a huge

You won't make nearly as much money as they claim you will, it will be a lot more work than they lead on, and they have so many different lies all over their sales page.
Make Real Money Online
---
Like I mentioned a couple of times in this review, it is absolutely possible to make money online. There are many people out there that make as much money as the Home Wealth Remedy sales page claims.
Anyone can succeed online as long as they have access to the proper training, tools and support, and are also willing to put in the work.
You can actually get started for free with everything you need to succeed with my Top Ranked Program!
They are my top recommendation because since joining them I have been able to quit my full time job and work completely from home! I only work about 2-3 hours a day.
If you are interested in learning more about making money online, I suggest you…
CLICK HERE TO LEARN MORE ABOUT MAKING MONEY ONLINE!
---
Is Home Wealth Remedy A Scam? What Do You Think? Let Me Know In The Comments Below!
---