In this quick review of ClickEarners.com I'll be going into detail about everything that you need to know about it.
My name is Laetyn, and I've been making money online for the last 7 years. I've reviewed hundreds of online money making programs, and I'm here to tell you that most of them are scams.
Is ClickEarners a scam or a legitimate place to make some extra money online?
Will you actually get paid, or are you just going to wasting your time all for nothing?
Let's dive in and find out!
CLICK HERE TO LEARN ABOUT MY TOP RANKED PROGRAM!
ClickEarners.com Scam Review
---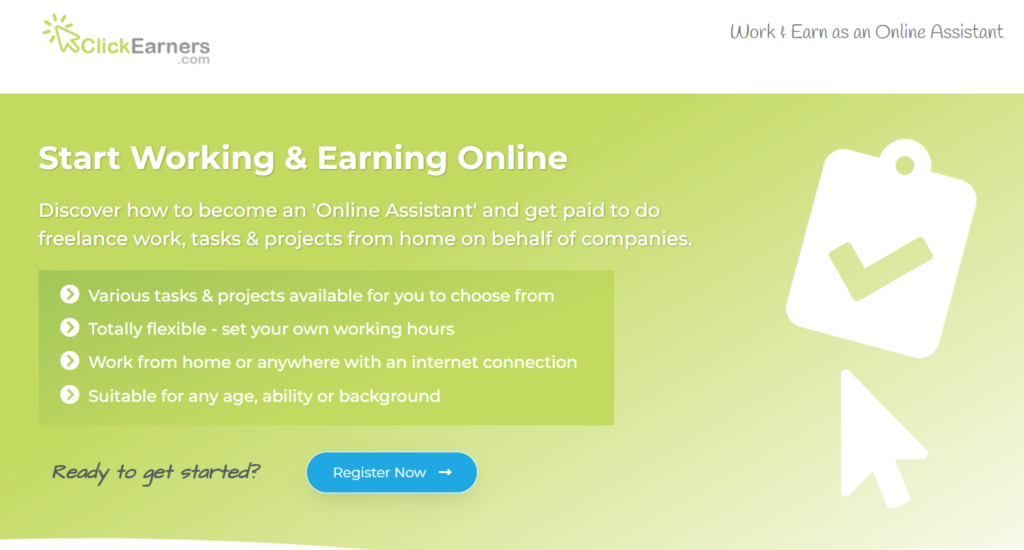 Product: Click Earners
Website: clickearners.com
Founder: Unavailable
Price: $17/Year – $37/Lifetime
Is Clickearners.com A Scam? Kind of (I'll explain)
Is Clickearners.com Recommended? NO!
CLICK HERE TO LEARN ABOUT MY TOP RANKED PROGRAM!
What Is ClickEarners.com?
---
ClickEarners claims to be a website that will help you link up with companies that will pay you to be an "online assistant."
Basically the idea is that they will help you be an online freelancer who will do various tasks for companies, and get paid for it.
These tasks can range from data entry, writing, and surveys, all the way to social media management, mystery shopping and product testing.
The real issue is that what ClickEarners claims to be and what it actually is, are two very different things.
What Is ClickEarners.com Actually?
---
As is turns out, ClickEarners is a ClickBank product that essentially gives you information about how to find freelance work online.
That's it.
It doesn't actually link you up with any companies, or help get your foot in the door or anything like that.
It essentially gives you information that you can find with a simple Google Search.
This would be fine if it was a free service, however it's not.
They will charge you anywhere from $17/year to $37 for a lifetime.
I'm sure they are hoping that you sign up for the $17/year, and completely forget to cancel it.
HOW TO ACTUALLY MY MONEY ONLINE!
The Pros & Cons
---
While I don't think ClickEarners is the best product in the world, there are a few good things that I can say about it.
Pros:
Gives you some helpful information
Points you where to find job platforms
60 Money Back Guarantee
Cons:
Information can be found elsewhere for free
The website is misleading
Membership fee, and Up-sells
Over the next several sections I'll be going a bit further in depth about that I mean with the points listed above.
How ClickEarners Works
---
According to their website there are only three simple steps you need to follow to start making money with them.
Register with us – it takes just seconds
Activate your account & login to the members area
Follow the simple instructions to start working & earning
Sounds pretty simple, you just register, create an account, the start working and earning.
However there are a few things that are conveniently left out.
Firstly, they don't mention the fact that in order to "activate your account & login" you first have to pay $17 – $37.
They also leave out the fact that they do not directly link you up with the jobs your looking for.
Instead they tell you to go to websites like Fivver and Upwork who actually do help you find work.
Essentially ClickEarners is a middleman website that could honestly be completely cut out.
What Your Membership Gets You
---
If you decide to shell out the money to join ClickEarners, you will be given access to the following:
Information about different types of online jobs you can get such as data entry, virtual assistant, mystery shopping. All information that can easily be found elsewhere.
Customized resume and cover letter templates to help you apply for the various jobs.
List of Facebook groups you can join that are centered around being a virtual assistant.
Links to various websites where you can actually find online work to do.
As I said before, there is nothing here that cannot be found easily elsewhere.
Is ClickEarner Worth The Price?
---
If you've even remotely skimmed through this review so far, you could probably guess that I do not think it's worth it.
While $37 isn't a crazy amount of money, they are charging for something that can easily be Googled.
Not to mention they don't disclose what exactly you'll be getting once you give them money.
Don't get me wrong, some of the information you get can be useful, and will point you in the right direction.
However a quick google search for "how to be an online freelancer" will yield you similar results for absolutely free.
Missing Information
---
If I am going to pull my wallet out and give someone my money, I want to know exactly what I'll be getting in return.
For example, My Top Ranked Program tells you absolutely everything you will get, and even let's you try it out before paying anything.
Whereas, ClickEarners just vaguely says something about helping you get jobs, but not much else.
Not to mention there is not a single bit of information about the creator, or the company itself.
Who created the company? When was it founded? And where is it based out of?
Those are all questions I try to find the answer to for my reviews, and I couldn't find any of it.
Is ClickEarners.com A Scam Or Legit?
---
To answer that question, you first have to define what a scam is and what a legit product is.
Technically ClickEarners provides you with resources to help you find online freelancing work like they suggest.
However the resources they provide you with can easily be found with a bit of research.
Does that make them a scam in your book, or is it a legitimate product?
I personally wouldn't call them a scam because you receive helpful resources like they claim.
Yet I would 100% call it a ripoff, and strongly suggest that you avoid their membership.

What I Do Recommend!
---
If you're interested in making money online to help supplement your income, or even working completely from home, I have a suggestion for you.
My Top Ranked Program gives you all of the training, tools, and support you need to start making money online.
That's where I got started online, and I was able to make enough money to quit my job and work completely from home while being my own boss.
It's not a get rich quick scheme.
It takes plenty of time, effort, and consistency, but if you're interested in becoming your own boss and ready to learn more, I suggest you CLICK HERE TO LEARN MORE!
---
If You Have Any Questions or Concerns, Please Let Me Know In The Comments Below!
---