If you are wondering "What Is Four Dollar Click?" then you are in the right place. Within this review you'll find everything you need to know about it before joining!
Four Dollar Click Review
---
Product: Four Dollar Click
Website: fourdollarclick.com
Price: Free To Join
Is Four Dollar Click A Scam? YES!
CLICK HERE TO LEARN ABOUT MY TOP RANKED PROGRAM!
What Is Four Dollar Click?
---
Four Dollar Click claims to be a PTC (paid to click) website that will pay you $4 for every ad that you click on.
There are legitimate PTC websites out there, however I've never found a legitimate one that pays as much as this one.
Which is one of the reasons why I was immediately so skeptical of it.
Legitimate PTC's will pay you a fraction of a cent for every ad that you click on through there website.
So is it true that Four Dollar Click will pay you $4 for every click? Well the simple answer is no…no they will not!
CLICK HERE TO LEARN ABOUT THE PROGRAM THAT HELPED ME MAKE A LIVING ONLINE!
The Pros And Cons
---
Let's go over some of the good and bad things about this program before jumping deeper into it.
Pros:
Cons:
Related To Other Scams
$4 per click is completely unrealistic
Insane Terms Of Service
You Won't Get Paid
Paid Upgrades
Throughout the rest of this review I'll be going over exactly what I mean with the points listed out above.
What Is Four Dollar Click Really?
---
Four Dollar Click is just one of many related websites that have been declared scams time and time again by past members.
Their other websites are Two Dollar Click, Three Dollar Click, Seven Dollar Click, and many others.
In my research I have found many websites with many people complaining
that they never received the money that they earned.

Here's one more just for good measure!
Those are just a few of the dozens and dozens of complaints I've seen in various places all over the internet.
$4 Per Click Is Ridiculous
---
Over the past few years I have reviewed, and tested out many paid to click websites.
I have never found a single legitimate one that pays more than maybe a few cents per click.
You'll be lucky to have to opportunity to make more than a fraction of a cent per click.
There is no way that any company can afford to pay their members that much money for each click.
Even if all of their members are paying $50+ a per month, they still wouldn't be able to afford to pay all of them the $4,000+ that they earn for every paycheck.
Insane Terms Of Service
---
There are people out there who claim that they have been paid the money that they earn from Four Dollar Click.
However I'm willing to bet that they are either the creators of the website, or just people trying to convince themselves that it's real.
One thing that they like to claim is that the people who don't get paid are the ones who violated the terms of service.
So I decided to read through the terms of service, and it's… not something I would trust.

"Four Dollar Click reserves the right to restrict, alter, or modify fees, benefits, rules, regulations, special offers, membership terms and conditions or terminate services any time and without notice"
So basically, no matter what you do, they can simply terminate your account if they feel like it.
Which seems to be what happens to most people when they try to cash out the money that they earned.
Let's just pretend for a second that Four Dollar Click actually paid some of it's members… they don't, but let's pretend.
I still wouldn't recommend them because within their terms of service they say that they can end your account at anytime.
Which means there is absolutely no guarantee that you'll ever see any money that you earn.
There are so many other insane things like not being able to be inactive for more than 6 days, and how you have to wait 75 days to get paid after cashing out.
The terms of service is probably how they've been able to stay running for so long.
Because you agree to it, and it basically says that they don't have to pay you.
Paid Upgrades
---
Before you can cash out you have to chose one of their premium membership programs.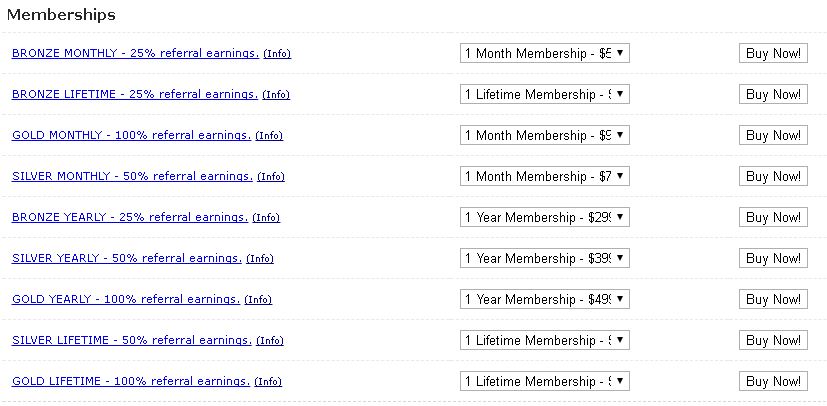 The prices for these range from $59/month all the way up to $999/year, and they give you different perks.
Most people think it is reasonable because why wouldn't you pay $59/month if you'll be getting paid $4,000 + each pay check.
However you won't get paid because they will say that you violated their terms of service, and not pay you the money.
Just like it has happened to so many other people.
What Is Four Dollar Click? Is It A Scam?
---
I have not personally tried Four Dollar Click, but that's simply because there are too many red flags to even try them out.
All of the red flags, and the complaints from past members claiming that they never got paid leads me to believe that Four Dollar Click is a

Even if they did pay some of there members, which I'm fairly certain they don't, I still wouldn't recommend them because their terms of service gives them the right to terminate your account and money at anytime for any or no reason at all.
A Legitimate Way To Make Money Online
---
If you are looking for a scam free way to make money online then I have a recommendation for you.
My Top Ranked Program gave me all of the tools, training, and support that I needed to create an online income that has allowed me to quit my job and work completely from home!
The best part is that it is completely free to get started.
If you are interested in learning more, you can…
---
What Is Four Dollar Click? Is It A Scam? What Do You Think? Leave Me Your Questions Or Concerns In The Comments Below!
---