In this quick review of Get This Plan I'll be going over several reasons why you shouldn't trust a single thing they say.
Will you actually get checks from the Vatican?
The answer is no, and I'll be going over why!
Get This Plan Scam Review
---
Program: Get This Plan
Website: getthisplan.com
Price: $97 + Thousands In Up-sells
Is Get This Plan A Scam? Basically
Is Get This Plan Recommended? NO!
CLICK HERE TO LEARN ABOUT MY TOP RANKED PROGRAM!
What Is Get This Plan?
---
Get This Plan can be found at getthisplan.com and it claims to be created by a man name Teo Vee.
Apparently he came across a way to get monthly checks sent to your from the Vatican no matter who you are or your religion.
He claims that it's been kept secret due to laws, but he figured out how it works, and he's going to tell you how.
If you're reading this review it's probably because you at least have some type of suspicion that it's a scam.
Unfortunately, this whole thing is basically a scam.
They are just throwing lie after lie at you trying to get you to sign up for something that has nothing to do with the Vatican.
I'll get more into that shortly.
The Pros & Cons
---
While Get This Plan is basically a scam, not everything about it is a scam. Let's go over some of the good and bad things.
Pros:
It's Possible You Could Make Money (unlikely)
Cons:
Doesn't Make Sense
Fake Testimonials
Same As Other Scams
It Could Be Anything
Over the next few sections I'll be going further into detail about what exactly I mean with the points listed above.
How This Scam Works
---
Basically, they are just trying to promise you the world, so that you'll give them your money.
They tell you that you can make a ton of money right away, without doing any work, so you'll get excited and pull out your wallet.
Just think about it for a second, it doesn't even make sense.
The Vatican isn't just randomly going to send monthly checks with tons of money, to random people who know some secret.
After watching the entire video I'm still confused about how the system supposedly works.
It just doesn't make sense.
What You'll Probably Get For Your Money
---
The only reason I've listed this as "basically" a scam and not a full scam is because you'll actually be signed up for a semi-legitimate system.
There is a system called My Ecom Club which was created by Teo Vee, and it actually contains information that could potentially make you money online.
However it is absolutely NOT something I recommend due to several reasons that you can read about in my review of it.
The main reason being that the $97 doesn't give you everything you need, after working through what they give you that require you to pay $1,997 and even more to continue.
They do give you helpful information about creating an online store, however there are much better places out there to learn that.
And in my opinion there are much better ways to make money online.
Copied Website, Fake Testimonials
---
The main reason I knew so quickly that this whole thing was a scam is because I've seen basically the same thing before.
A couple weeks ago I wrote a review for a "program" called Ecom Cash Code, which looked exactly like Get This Plan.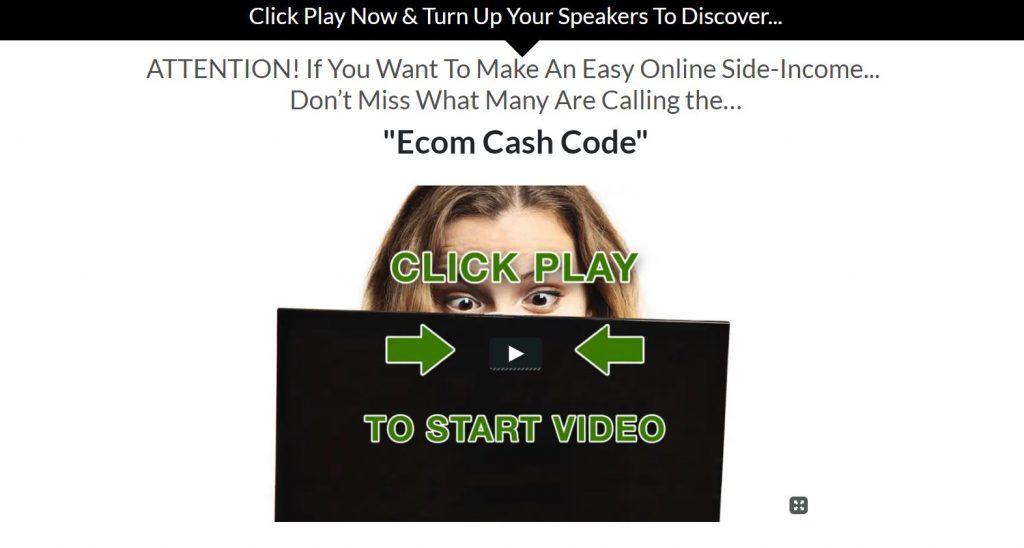 I even came across another one called Money Miracle!
They are all basically the same except the names are different, and a few other details within the sales videos.
They even all use the exact same testimonials, which are most-likely fake. How could three different systems have the same testimonials?
It Could Be Anything
---
One last point that I want to drive home is the fact that Get This Plan could really have you sign up for anything they want to.
Just because it's signing up for My Ecom Club now, doesn't mean that's what it will be sending you to tomorrow.
You simply shouldn't trust anything they say, or give them any of your money.
Is Get This Plan A Scam?
---
Like I've said multiple times in this review, Get This Plan just constantly lies and tries to mislead you into joining a system that is nothing like they explain.
For those reasons I do consider it to be a scam, even though it signs you up to a program that is technically legitimate.

My Ecom Club is technically legit, it's still not a program that I recommend due to the high price points and several other reasons.
My advise to you is to simply avoid everything that has to do with Getthisplan.com in general.
Actually Make Money Online
---
If you're looking for a legitimate way to make money online, then I have a suggestion for you.
My Top Ranked Program gives you all of the training, tools, and support you need to make money online.
Since joining their program I've been able to make enough money online to quit my job and work completely from home!
If you're interested in learning more, you can…
---
Is Getthisplan.com A Scam? What Do You Think? Let Me Know In The Comments Below!
---