In this real quick review of ICO Money Maker I'll be going over several reasons why you should completely avoid it!
Will you make anything close to the $5,000 per week they promise?
Let's jump in and go over why you won't!
ICO Money Maker Scam Review
---
Product: ICO Money Maker
Website: icomoneymaker.com
Price: $250 Minimum Deposit
Is ICO Money Maker A Scam? YES!
Is ICO Money Maker Recommended? NO!
CLICK HERE TO LEARN ABOUT MY TOP RANKED PROGRAM!
What Is ICO Money Maker?
---
ICO Money Maker claims to be an incredible new cryptocurrency trading software created by a mathematician and hacker named Tony Shaffer.
Apparently the incredible software has a successful trader rate of 97% and you're guaranteed to make "more money this year than you have in the past 5 years"
He claims that the 97% isn't good enough, so you've been selected to be part of a focus group to help make it better.
However the simple truth is that ICO Money Maker is a complete scam, and won't come through on any of it's promises.
Pros & Cons
---
I always try to keep an open mind when I write reviews, and come up with at least one good thing to say. However there isn't a single good thing to say about this one.

Pros: 
Cons:
Crazy Income Claims & Promises
Copy Of Another Scam
Constant Lies & Fakes
Simply Doesn't Make Sense
Throughout the rest of the review I'll be going further into detail about all of the cons that I listed out above.
Crazy Income Claims
---
This is one of the biggest red flags that you can come across when you come across an online money making program.
If it claims that you can make an insane amount of money, incredibly quickly, with absolutely no work, you should immediately run.
Even if it is not a complete scam like this one, at the very least it is lying to you or misleading you.
Don't get me wrong, there is definitely a lot of money to be made online (I make my living online) but it isn't going to happen over night, and it's not going to be easy.
You certainly aren't going to start making $5,000 per week without doing anything.
Copy Of Another Scam
---
When I originally arrived at the sales page to ICO Money Maker I thought I already wrote a review about it.
Then I realized that it was basically the exact same thing, just under a different name.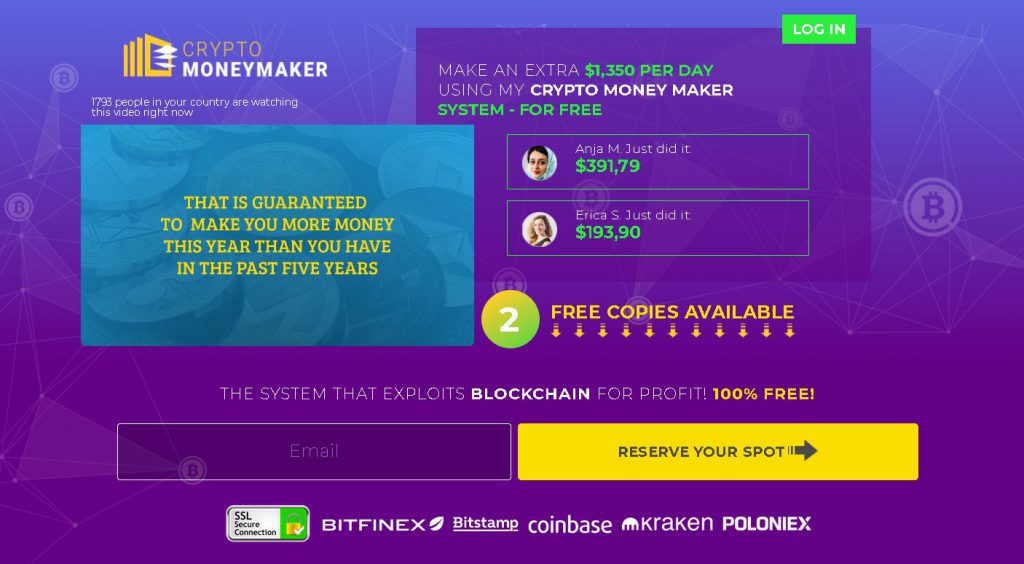 Crypto Money Maker is basically the exact same scam, just with different colors and a few different words.
And both of these are incredibly similar to ones like Crypto Coin Sniper, Crypto Cash For Beginners, and Renegade Crypto Club!
Constant Lies & Fakes
---
Taking the time to look over the website I noticed that the page just contains lie after lie.
I mean just about everything on the website is completely fake or a total lie.
First off, the income claims from supposed members that flash across the screen are fakes.

They are simply stock photos of random people with random amounts of money put next to them.
Secondly, "Tony Shaffer" most-likely isn't even a real person. It's most-likely just a made up name used specifically for this scam.
There is absolutely no reason for me to believe he is real, and no information popped up about him in my research.
Thirdly, the image at the bottom of the page tries to make it seem like they are partnered with bunch of legitimate cryptocurrecny news places and exchanges is a lie as well.

I couldn't find any proof that any of those places have anything to do with this scam!
Simply Doesn't Make Sense
---
The entire idea of ICO Money Maker is that this software will trade ICO's for you in order to make you thousands of dollars.
The problem is that ICO's can't even be traded until they hit crypto exchanges like Binance, and they won't even be considered ICO's then.
What I mean by that is that ICO's are in the startup/funding stage where you can still purchase them, but they can't be traded.
Another thing that doesn't make sense is the fact that they are trying to get you to deposit a minimum of $250 with a broker.
This doesn't make sense because you don't need a broker in order to trade cryptocurrencies.
Once you deposit that money you will probably never see it again.
Also be careful because they may make it seem like your money is growing in order to convince you to "invest" even more money.
Don't fall for it!
Is ICO Money Maker A Scam? – Conclusion
---
Hopefully by the time you've reached this point in the review I've convinced you that ICO Money Maker is a complete scam that you should avoid!
They are just trying to get you to deposit money into a broker account so that they can make a commission.
There is a good chance that you will not ever see your money again once you deposit your money, so I wouldn't risk it.

ICO Money Maker is simply trying to take advantage of the rising popularity of concurrency to trick people who don't know a lot about it.
While it is certainly possible to make money trading crytpocurrencies, this certainly isn't the way to do it.
An Alternative Way To Make Money Online
---
If you're looking to make some money online, and you're not that interested in learning about cryptocurrencies, I have a suggestion for you.
My Top Ranked Program teaches you how to build simple website that will make you money through advertisements and recommended products.
They give you all of the training, tools, and support you need to succeed.
Since joining their program I've been able to make enough money online to quit my job and work completely from home!
If you're interested in learning more, you can…
---
Is ICO Money Maker A Scam? What Do You Think? Let Me Know In The Comments Below!
---