In this review of Money Sucking Websites I'll be going over what you need to know about the system before joining.
Will you actually be able to make $500/day or are they just lying to you to get your money?
Let's find out!
Money Sucking Website System Review
---
Product: Money Sucking Websites
Website: mswsystem.com
Price: $47
Is Money Sucking Website A Scam? Probably
Is Money Sucking Website Recommended? No!
CLICK HERE TO LEARN ABOUT MY TOP RANKED PROGRAM!
What Is Money Sucking Website System?
---
Money Sucking Website claims to be an incredible system that can make you $500 per day by simply pressing a button.
Apparently for $47 they'll give you a website that will automatically make you a ton of money without you having to do anything but push a button.
It sounds too good to be true doesn't it?
Well that's probably because it is…
The Pros & Cons
---
Let's go over some of the good and bad things that I found about this "system" while doing research on it.
Pros:
Con:
Push Button Method Claim
Limited Positions Lie
Fake Testimonials
Fake Creator
Over the next several sections I'll be taking the time to jump further into detail about the points that I listed above.
Push Button Method Claim
---
The second that any online money making program claims that all you have to do is push a button to make money online, I know it's a scam.
Or at the very least they are lying to you.
The truth is that if you want to make money online, you have to actually put in a good amount of time and effort.
I make my living online and trust me, if there was a way to get where I am now without doing work, I would know about it.
Limited Positions Lie
---
Another red flag that stands out about this system is the fact that they claim that there are only a few positions left.

This is something that a bunch of scams do in order to add scarcity and make you feel like you might miss out.
However in reality no matter how long you wait, or how many people sign up before you, they will always take your money.
There are some programs out there that only accept a limited number of people like Elite Blog Academy, but their obviously legitimate and it can be proven.
Fake Testimonials
---
One thing that can be incredibly reassuring is when a program has a bunch of people claiming they've been successful with it.
That's why MSW System takes the time to create fake testimonials.
I immediately recognized a few of the people in their testimonials because I've seen them in various other scams.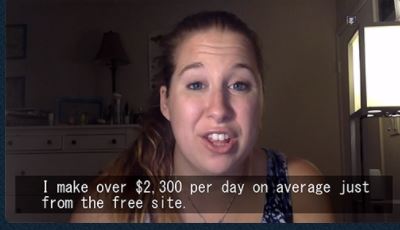 Fake Creator
---
To no surprise to me, it actually turns out that the "creator" of this "system" is actually fake as well.
I did a reverse Google image search of the picture of him and his family, and found something interesting.

The picture is just from a series of stock photos of a family having a picnic.
Is Money Sucking Website System A Scam?
---
There were honestly so many other shady things about this website, but I figured the few that I listed would be enough to convince you that Money Sucking Website System is a…

I want to be honest make sure I disclose the fact that I didn't actually shell out the $47 to purchase this "system", but that's simply because I know it's not going to be anything like they claim.
They completely lie to you and mislead you about what it actually is. Don't fall for their tricks and attempts to get your money.
Actually Make Money Online
---
There are actually ways to make money online, however none of them are push button methods that don't take any effort.
If you want to actually make money online you'll have to put in plenty of time and effort.
My Top Ranked Program will give you all of the training, tools, and support you need to succeed online.
Since I signed up with them I have been able to make enough online income to quit my job and work completely from home.
If you're interested in learn more, you can…
---
Is Money Sucking System A Scam? What Do You Think? Let Me Know In The Comments Below!
---