In this quick review of Smart Dollars Club I'll be going over several reasons why it is a scam that you should completely avoid!
You're not going to make $300 per day, but will you make $100 just for joining?
Let's jump in and find out!
Smart Dollars Club Review
---
Product: Smart Dollars Club
Website: smartdollarsclub.com + Others
Price: Free To Join
Is Smart Dollars Club A Scam? Yes!
Is Smart Dollars Club Recommended? NO!
CLICK HERE TO LEARN ABOUT MY TOP RANKED PROGRAM!
What Is Smart Dollars Club?
---
Smart Dollars Club claims to be the #1 online prize rewards program that offers daily paid surveys, rewards and giveaways.
They claim that they have a community of over 1,000,000 members and that they've paid out more money than all of their competitors combined.
They also claim in large letters at the top of their homepage that you will make $100 instantly just from signing up and taking your first survey.
Are any of these claims true, or are they just throwing out a bunch of this to get you to join?
Unfortunately they're just straight up lying.
Signing Up For Smart Dollars Club
---
Even though I was almost completely certain that I wouldn't actually get the $100 just for signing up, I figured I would still try.
After entering my email address in and clicking the "SEND $100 SURVEY" button, I was sent an email from them.
The email basically just said click "confirm my request" to be sent your $100 survey.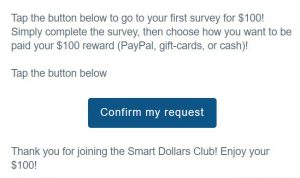 After clicking that button I was taken to another survey website called Global Test Market where they wanted me to set up an account.
I then received another email claiming that I've been selected to take a $150 survey, and all I had to do was sign up for another survey website.
That's when I figured what was going on.
The Smart Dollars Club Scam
---
I have a general rule of thumb that I use when reviewing survey websites, if they claim you're going to make more than a few bucks per survey, they are probably a scam.

It's possible to make a some pocket change online from taking surveys, however it's not going to be anywhere near as lucrative as something like affiliate marketing.
So why does Smart Dollars Club go through the trouble of lying to you?
I didn't take me long to realize what the entire reason for Smart Dollars Club existence was.
To Get And Sell You Personal Information
To Make Commissions from Referring You
Email addresses are a valuable thing in the online money making world. The more email addresses you have, the more people you can try to sell things too.
That's why there are people out there who will purchase email addresses.
My guess would be that Smart Dollars Club is collecting your email addresses so they can spam you with emails, and so they can sell it to others who will do the same thing.
I received three emails from Smart Dollars Club within the first 5 minutes of giving them my address.
Each and everyone of those emails sent me to another website that was asking for me to create an account.
Smart Dollars Club simply sends you emails claiming that you'll make $100-$150 just for completing a survey, even though you won't.
However on the off chance that you could make money, you still sign up and take a survey.
They get paid a certain amount of money for every person they get to do this.
The Pros & Cons
---
I always try to come up with some good things to say about each program I review… it was certainly difficult for this one.

Pros:
Cons:
You Could Possibly Lose Money
They Probably Sell Your Information
Spam Emails
You Won't Make Money
In the next couple of sections I'll go into a bit more detail about the things above that I haven't explained yet.
You Could Possibly Lose Money
---
I know what you're thinking, I didn't give them my credit card information, so how could I possibly lose money.
Just hear me out for a second because I've heard of this happening to people.
The website that I was taken to through the email wanted all sorts of information from me including my name, address, email, and a password.
Did you happen to use the same email address and password that you use for a bank account, or PayPal account with money in it?
If you did you might want to change your passwords just in case.
Scammers know that most people use the same couple of passwords for every account that they can create.
So I've heard horror stories of people having their social media accounts hacked, and even losing money this way.
Is Smart Dollars Club A Scam?
---
It honestly depends on what your definition of a scam is. If you consider a completely fake company that lies about paying you money, then yes, it's a scam.
However it's a relatively minimal scam assuming that you haven't actually lost any money to it.

Personally I consider it to be a scam because they stole your valuable time without giving anything that they promise.
Actually Make Money Online!
---
While it is possible to make a small amount of extra money taking online surveys, you won't get paid nearly as much as you deserve for your time.
However companies like Amazon will pay you a commission for getting people to go to their website and buy products.
It's called affiliate marketing, and it's actually how I make my living online.
My Top Ranked Program is free to get started, and it gives you all of the training, tools, and support you need to succeed online!
If you're interested in learning more, you can…
---
Is Smart Dollars Club A Scam? What Do You Think? Let Me Know In The Comments Below!
---