In this quick review of Survey Voices I'll be going over what the website is, and answering the question "Is Survey Voices A Scam?"
Survey Voices Review
---
Product: Survey Voices
Website: surveyvoices.com
Price: Free To Join
Is Survey Voices A Scam? Debatable (I'll Explain)
Is Survey Voices Recommended? NO!
CLICK HERE TO LEARN ABOUT MY TOP RANKED PROGRAM!
What Is Survey Voices?
---
Survey Voices claims to be "The best source for top paid surveys", and that you can make $300 by answering some simple questions.
They themselves are not a survey website, they simply connect you with other websites that you can take surveys from.
However they also have a tendency to connect you with various other shady websites, and legit ones with strange offers.
Throughout this review I'll be giving you my opinion about the website, and telling you why I think you should avoid it.
Why You Should Avoid Survey Voices
---
The first reason I think you should avoid them is because they aren't even a paid survey website.
They are simply a middle man that tries to connect you with other survey websites. If that's what you're looking for then I suggest you check out Survey Club.
The second reason is because even though they recommend you to some legitimate sites, they also send you to some scams.

What's the point of using this website to find survey websites if you constantly have to research the websites they offer to see if they are legitimate?
The Third Reason is because they claim multiple times that you'll be making $300, which is completely misleading.
They make it seem like you'll sign up, and earn $300 incredibly quickly, when that's simply not true.
Some of the websites they send you to will make you some money, but it will take a lot of time and work to make $300.
I mean it will probably take you at least a month or two depending on how much work you put in.
The fourth reason is that they constantly try to get you to sign up for various offers.
They were constantly trying to get me to switch my cellphone provider, or sign up for Uber, or some other website.
They try to get you to sign up for these offers because they will make money if you do.
Survey Voices prioritizes making money, over actually helping out the people who sign up for their website.
There is nothing wrong with offering products or services to people. However it is wrong to try to mislead them into joining, or offering them obvious scams just to make a quick buck.
In this review I'll be going further into detail about the reasons I laid out above.
CLICK HERE TO LEARN ABOUT THE PROGRAM THAT HELPED ME MAKE A LIVING ONLINE!
The Pros And Cons
---
Let's go over some other the good and bad things about Survey Voices, to get a better idea of how good they are.
Pros:
Connect You With Some Legit Survey Websites
Possible To Make Some Money
Cons:
Connects You With Some Known Scams
It's Not Fast Or Easy To Make The $300
Constantly Try To Get You To Sign Up For Offers
Over the next few sections I'll be going over exactly what I mean with the points that I listed above.
How Survey Voices Works
---
Well it's pretty simple to get signed up and join, you simply put in your email address and answer a few questions about yourself.
After that you'll be taken to a short survey that will ask you a few more questions about your life.
These questions range from "How Many Children Do You Have" to "How Much TV Do You Watch."
However there was one strange thing that kept happening to me.
There were questions mixed in that were obviously just trying to get me to sign up for various offers.
However I'll get a little more into that in the next section.
Anyways, after those questions you'll be able to start looking through the various survey websites that you can earn money from.
Constantly Try To Get You To Sign Up For Stuff
---
I've reviewed plenty of survey websites in the past, and I had something new happen to me for this one.
While I was answering questions about myself, I kept getting random questions that were obviously trying to get me to sign up for something.
I mean just look at this "survey question."
This question is obviously just trying to get you to sign up for Uber or Lyft. Which on it's own isn't that big of a deal, however they are trying to mislead you into joining.
I mean I guess you can technically make $1,400 a week driving for those companies, but it's highly unlikely.
I know plenty of people who drive for Uber and Lyft, and that make NO WHERE NEAR as much as they are claiming you'll make.
That was just one of the dozens of things they tried to get me to sign up for before I even completed my sign up.

You Aren't Going To Make $300 Quickly
---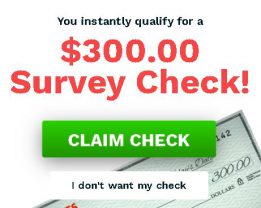 Right on the front page they claim multiple times that you'll be able to make $300 with their website.
However you aren't going to be getting that money quickly or easily, and it won't be by taking a couple surveys.
They dangle the $300 over you constantly saying that you'll be making $300 if you simply sign up for various websites and offers.
One of the problems that I noticed is that many of those websites are scams!
And the ones that are actually legit won't make you anywhere near the $300 they claim you can make.
Is Survey Voices A Scam?
---
It's honestly going to be up to you to decide if you think Survey Voices is a scam or not. I personally wouldn't necessarily call it a scam, because they do set you up with legitimate websites.
However the fact that they constantly mislead you, and get you to sign up for some scams, makes me put it on my Not Recommended list.

It's too risky to sign up for the websites they recommend because some of them are scams that could possibly take your money and run.
Make A Living Online
---
If you are looking to make more than just a few bucks online by taking surveys, then I have a recommendation for you.
My Top Ranked Program has actually helped me build an online income that has allowed me to quit my job and work entirely from home.
Anyone who is willing to put in the time and effort can do what I do.
If you are interested in learning more, you can…
---
Is Survey Voices A Scam? What Do You Think? Let Me Know In The Comments Below!
---