In this honest review of The Bitcoin Code I'll be going over what it is and giving you my honest opinion on it.
Is The Bitcoin Code A Scam? Or is it a Legit way to make money online?
The Bitcoin Code Review
---
Product: The Bitcoin Code
Creator: Steve Mckay
Website: thebitcoincode.net
Price: Free
Is The Bitcoin Code A Scam? YES
CLICK HERE TO READ ABOUT MY TOP RANKED PROGRAM!
What Is The Bitcoin Code?
---
The Bitcoin Code claims to be an incredible binary options trading software that will make you tons of money.
They claim to have an amazing software that will automatically invest in Bitcoin for you, and make you a "guaranteed $13,000 in exactly 24 hours"
I honestly hate to be the one to crush your dreams, but this whole system is a huge scam!
What The Bitcoin Code Really Is
---
In reality, The Bitcoin Code is just a huge scam that is trying to capitalize on the growing popularity of Bitcoin.
Let's look at some of the pros and… well I should just cons:
Pros: 
Cons:
Paid Actors
Fake Testimonials
Unrealistic Income Claims
You'll Lose Your Money
Now I'm going to take a little bit of time to go over what I mean with each of these points.
Before I get into that I just want to recommend that you
CLICK HERE TO READ ABOUT MY TOP ONLINE MONEY MAKING PROGRAM!
Paid Actors
---
I know that it's pretty awesome to see a bunch of people claim that they've made thousands with this software.
However that doesn't take away from the fact that they are all paid actors.
It literally only took me about 2 minutes to find the very first guy in the video for hire on Fivver.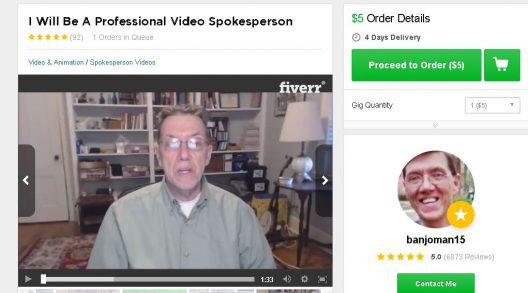 Hopefully that's enough to prove to you that this is a scam, but if not, I've got more!
Fake Testimonials
---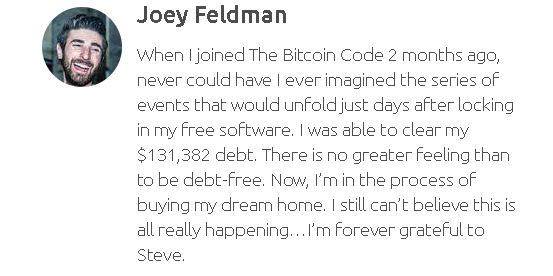 To go along with the paid actor in the video, all of the written testimonials are fake as well.
They just used random stock photos that they found on the internet and wrote fake testimonials under them.
I'm just about 100% sure that Steve Mckay is just a made up name and the image they use for him is a stock photo as well.
Even if he was a real person, that doesn't change the fact that this is a scam system.
Binary Options Scams
---
Binary options trading software scams are incredibly popular and cause a lot of people to lose money.
Including myself. That's write I lost quite a bit of money to a scam similar to this one in the past.
You can make money trading binary options, but there isn't a software out there that is going to do it for you.
I found website that recommended using certain software to trade, and not a single one of them worked for me.
There is about a 50% to win money if you trade a binary option, but there is also a 50% that you'll lose all you money.
It's definitely not something that I recommend, especially for someone who doesn't have money to gamble away!
You'll Lose Your Money
---
You may be wondering how you'll lose your money with a free software.
Well the software is free, but you still have to deposit money into a brokers account before you can make a trade.
You normally have to deposit a minimum of $250 or so, before you can even use the software.
The odds are that when you run the software it will trade all of your money away.
This happened to me in the past.
I signed up for a trading software that everyone said had a 97% win rate… guess what happened.
That's right, I lost my entire $250 deposit within a day!
Don't be stupid like I was!
Is Bitcoin Code A Scam?
---
I want to be completely honest and let you know that I didn't deposit any money or try out The Bitcoin Code.
However I am 100% sure that it is a complete

If you have already deposited money, you might be able to withdraw what you haven't lost.
It depends on how shady the broker you gave your money to is though.
Actually Make Money Online
---
I recommend that you save your $250 deposit, and spend it on getting the proper training, tools, and support you need to actually make money online.
I make my living online through the use of affiliate marketing, and it's honestly something that anyone can do.
You can actually get started with everything you need to succeed for free in the same place I got it.
If you are interesting in earning a living online…
You Can Click Here To Learn More!
---
If you have any questions or concerns, please let me know in the comments below!
---