In this scam review of My Home Job Search, I'll be going over what the system is and telling you why it's a scam!
My Home Job Search Scam Review!
---
Product: My Home Job Search
Creator:  Michael Anderson
Website: myhomejobsearch.com
Price: $29
Scam: Scam!
CLICK HERE TO READ ABOUT MY TOP RANK PROGRAM!
What Is My Home Job Search?
---
At first glance My Home Job Search looks to be a legitimate website that will help you find a real online job!
They have several testimonials from people who have gone through the system and claim it's great.
They show that they have been featured on multiple TV networks and news stations!
Everything may seem great at first sight, but let's dive into how it's all a scam!
The Pros And Cons
---
For every program I review I try to find at least one thing that's good about it. This one proved difficult.
Pros: 
Can point you in the right direction (you can get this for free elsewhere)
Cons:
Fake Testimonials
Exaggerated Income Claims
Nothing Of Value Offered
Point You To Other Scams
You Won't Make Much Money
Now I'm going to take some time to go over each of the points that I listed above.
Fake Testimonials
---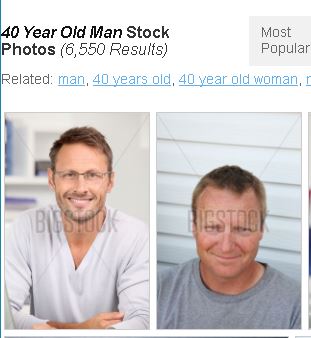 I know that all of the images of everyday people praising the system is reassuring.
But one thing I can assure you of is the fact that they are all fake.
If you do a quick image search in Google of the people in the pictures, you can find out where they are from.
I just searched this picture of "Scott" and found out he's from a stock photo website!
If that doesn't raise a red flag and check off a box that says scam I don't know what else will.
Well, actually I do know of a few other things.
Exaggerated Income Claims
---
All throughout the website there are various claims of the ability to make a lot of money with these jobs.
They claim that you can get surveys that pay around $100 + per survey, and that you can make $56/hour.
There are definitely people out there that make that much money online, however My Home Job Search isn't going to help you get there.
Nothing Of Value Offered
---
Depending on the selection you choose when signing up you will be delivered to different landing pages.
I did it multiple times with different landing pages and not one of them offered anything of value.
They just refer you to different paid survey sites, and other programs that seem quite a bit like scams.
I'm going to be completely honest here, I didn't actually pay the money to get access to the premium membership.
I pay to test out products if I'm not completely sure they are a scam, but with this one I'm pretty certain I would be wasting my money.
Points You To Other Scams
---
At one point I arrived at a page that allowed me to click on several selections. So I decided to click on the one that says "Make Money."
One of the only links that actually work if you click it.
It then directed me to some "job offers" that seemed suspiciously like other scams!
They all have the same red flags that this one does, and I'm willing to bet they are complete ripoffs!
You Won't Make Much Money
---
I want to start this section out by saying that they do point you in the direction of some real survey sites.
You can make money from them, but that has nothing to do with My Home Job Search!
None of the information in the free membership is anything you can't find for free somewhere else.
And from the research I've done, I've found that they don't "hook you up" with a job in the paid version either.
Is My Home Job Search A Scam?
---
Depending on your definition of a scam you might have a different opinion than me.
But in my opinion, My Home Job Search is a

They use a bunch of cheap tactics that are blatant lies and deception to get you to give them your money.
You won't get anything close to what they promise you in return for your money.
I recommend that you stay away from them!
Actually Make Money Online
---
As I said earlier, it is absolutely possible to make a living making money online.
I started my online money making journey a couple years ago, and have since been able to quit my job.
I work a total of maybe 2 hours a day, and make as much as a full time job.
There are even people out there that make way more than I do doing the same thing!
To do what I do, you only need the right training, tools, and support!
Click here to learn about where you can get started with all of those things for free!
---
Is My Home Job Search A Scam? What Do You Think? Let Me Know In The Comments Below!
---