In this quick My Income Club Review I'll be going over everything you need to know about it before joining.
Will you really be able to make $500 commissions, or are they just trying to scam you out of your money?
I'll be giving you the answers to all of those questions and many more within this review, so stick around!
I've reviewed hundreds of online money making systems, you can click here to learn about my top ranked program!
My Income Club Review!
---

Program: My Income Club
Website: myincomeclub.com
Price: Free To Join (Require Other Expensive Purchases!)
Is My Income Club A Scam? Not Technically
Is My Income Club Recommended? No!
CLICK HERE TO LEARN ABOUT MY TOP RANKED PROGRAM!
What Is My Income Club?
---
If you've only watched the sales video from My Income Club, you probably don't know too much about it.
The sales video is basically just people bragging about how much money they make using the system.
It was created by a guy named Alfredo Delgado, and basically claims to be an automated online money making system.
Not to mention he claims that it is completely free to join and use.
Well as it turns out, it's not exactly as amazing, easy, or free as they make it seem in the sales video.
How Does My Income Club Work?
---
While it's technically true that it's free to sign up for My Income Club, you'll still have to spend some money.
Well when I say "some" money, I actually me quite a bit of it.
Don't worry, I'll be getting into more specifics of that later.
After joining, you'll be taken to the member's area where you'll be given a series of steps to complete.
These steps involve you signing up for their Facebook Group, then signing up for several other fairly expensive programs and tools.
My Income Club is Invite Only, because when you sign up for those other programs and tools, the person who invited you will earn commissions.
Then after you sign up for those programs, you'll be able to make money by inviting others to do the same thing.
Before I get too deep into more specifics, let's go over some good and bad things about the system.
The Pros & Cons
---
Pros:
It's Possible To Make Money
Some beginner level training
Cons:
Much More Expensive Than They Lead On
Leads To Other Shady Programs
Not Enough Training
Over the next several sections I'll be going much further into detail about what I mean with the points above.
High Costs Of The System
---
Just like they brag about in the sales video, it is in fact 100% free to join.
However, the system itself requires you to sign up for several expensive programs in order to possibly make money.
Here are the steps and prices:
Join an MLM company called My Econ: minimum $34.95/month
Join another program called Easy 1 Up: $25 – Thousands
Sign up for AWeber: minimum $19/month
Sign up for ClickFunnels: minimum $97 Per Month
Promote My Income Club
When it comes to joining My Econ and Easy 1 Up, you are only really doing so to earn the person who invited you some commissions.
As well so that you can earn commissions when you get other people to join.
As for AWeber, and ClickFunnels, they are tools that you will use to get people to sign up.
Shady Programs You'll Have To Join
---
AWeber and ClickFunnels are just tools that you will use to promote the system.
However My Econ and Easy 1 Up are a completely different story.
My Econ is a legitimate MLM company that focuses around helping people gain personal financial success.
The only problem with My Econ is the fact that MLM's are naturally terrible places to try and make money.
In fact they're so bad, the FTC has publicly stated that "less than 1% of MLM participants profit"
Not to mention you aren't joining for the products they offer, you're joining so your "sponsor" can earn money, and so that you can earn money when you invite others.
The same thing goes for Easy 1 up, which you'll be forced to join as well.
However Easy 1 Up is even worse because it is a "pay to play" type of MLM system.
You can only earn commissions for the levels that you've personally bought your way into.
If you haven't bought a certain level because it's costs thousands, you're sale will be passed up to your sponsor.
Not Enough Training
---
While you do get some basic training about marketing, it's just that, basic.
Assuming that the testimonies in the video are true, and those people are really making $30,000+ per month.
It's not thanks to the training within My Income Club.
My guess would be that the successful people, were already successful marketers who just started promoting My Income Club.
The training, covers basic things like creating email lists, capture pages, but that's only going to work if you have a budget for paid traffic.
While they do have training on free traffic, it only covers the basics of Facebook and YouTube Marketing.
They don't go into detail about building a large following on Facebook, or ranking YouTube Videos and growing subscribers.
There is a lot of missing information.
Is My income Club A Scam? – Conclusion
---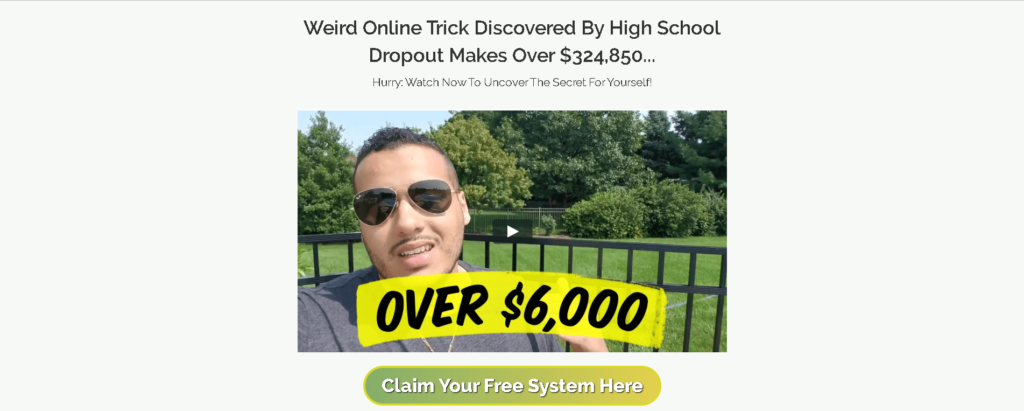 When it comes down to it, I wouldn't consider My Income Club to be a scam.
With that being said, it's still not something that I would ever recommend to my readers.
Sure, you can technically make money with the system, but if you're a beginner, you're going to struggle.
You'll also be spending hundreds of dollars per month at the same time.
The people who make the real money with this system are the experienced marketers, who already know how to market and sell products.
They didn't learn how to do it from the free training in the membership area.
If you want to learn real affiliate marketing, I suggest you check out this program here!
Not to mention I really don't like the idea of joining a system, just so you can make money for getting people to join the same system.
What do you think? Do you think it's a scam, or have you actually made good money using it?
Let me know in the comments below!
---