In this review of Secret Millionaire Bot I'll be going over 5 reasons I found to completely avoid this scam!
Will you be able to make any money at all with it, or is it a complete scam that will take your money and run?
I'll be answering those questions and many more within this review, so be sure to stick around!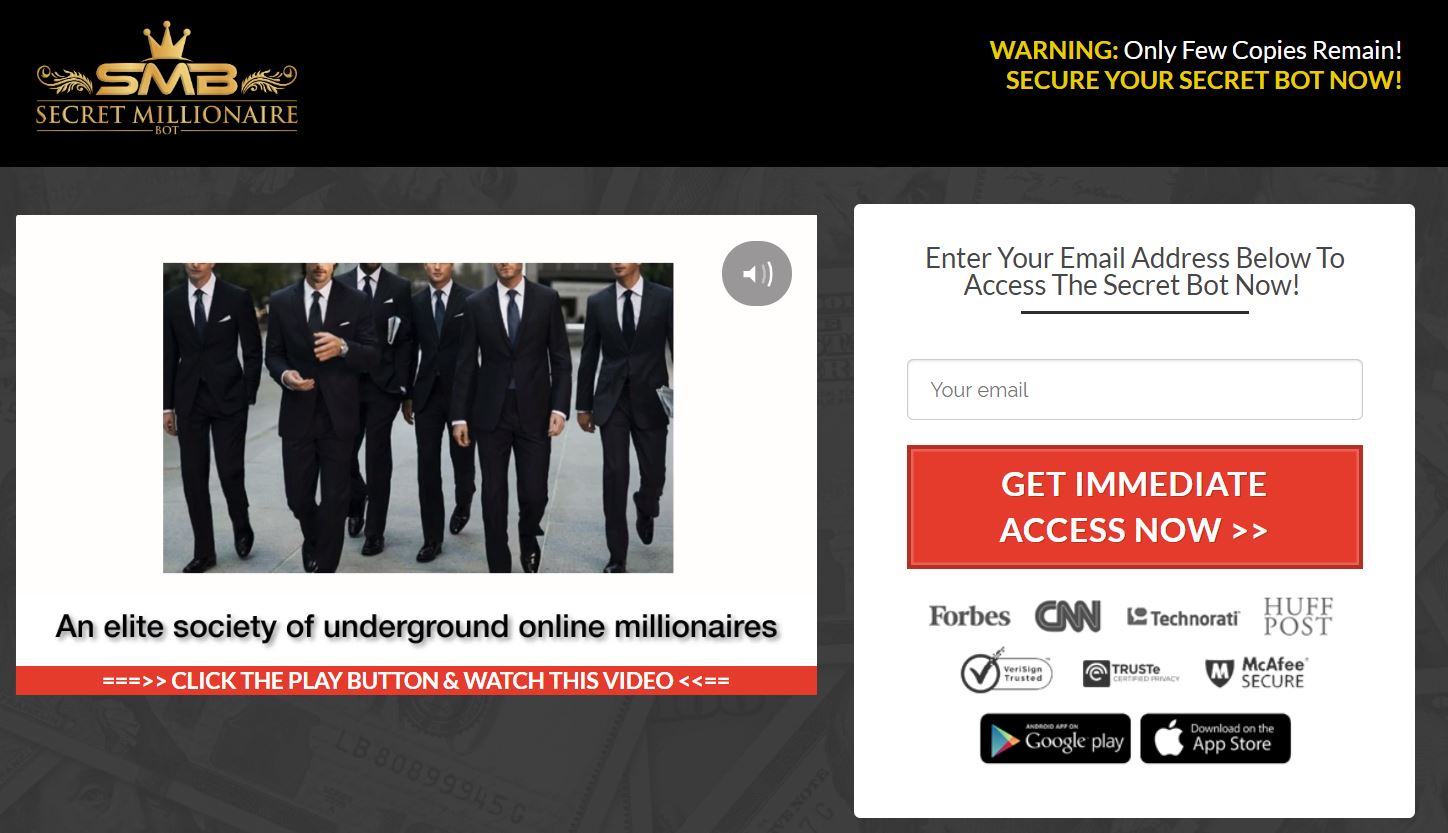 Secret Millionaire Bot Review
---
Product: Secret Millionaire Bot
Website: secretmillionairebot.com
Price: $37 + Up-sells
Is Secret Millionaire Bot A Scam? Basically
Is Secret Millionaire Bot Recommended? Absolutely NOT!
CLICK HERE TO LEARN ABOUT MY TOP RANKED PROGRAM!
What Is Secret Millionaire Bot?
---
Secret Millionaire Bot claims to be a software created by a guy named "Charles Allen" that will automatically make you millions of dollars online.
In the video, "Charles" claims that you've been invited to join a secret group of millions who make money with some bot or something.
Apparently him and some of his genius buddies created a bot the will just magically bring you in tons of cash.
If you're thinking that sounds way too good to be true, that's probably because it is!
What Is Secret Millionaire Bot Really?
---
Quite honestly, it all just sounds like a load of crap that all get-rich-quick schemes says in order to get your money.
They promise you the world, and then they deliver you a load of crap that isn't anything like what they claim.
Right off the bat this system appears to just be a scam, however I want to be as fair as possible, and give it a proper review.
So let's get into it.
The Pros & Cons
---
As it turns out, not everything is bad about it, but that doesn't make it anything close to being good.
Pros:
You'll actually get some training
Possible To Get A Refund
Cons:
Unrealistic Income Claims
Claims To Be Automatic
"Featured On" Lie
Fake Testimonials
Up-sells
Throughout the rest of the review I'll be going further into detail about all of the points that I just listed out above.
#1: Unrealistic Income Claims
---
This is one of the first things that made me suspect that Secret Millionaire Bot is a scam.
I know the idea that you could make hundreds of thousands of dollars in a few months sound great.
It's simply not realistic at all.
Don't get me wrong, it is definitely possible to make good money online, I even make my living online.
However it didn't, and doesn't happen overnight. It takes a good amount of time and effort before you can even expect to make money.
"$2,400 inside the first 24 hours" is straight up impossible.
#2: Claims To Be Automatic
---
This ties closely into the above section.
Again, while it sounds amazing to be able to make money online without having to do anything, it's not going to happen.
I've literally reviewed hundreds of systems that claim to be a "never before seen system" that will make you millions just from pushing a button.
And not a single one of them has even remotely come close to meeting that promise, most of them won't make you money at all.
There are certain aspects that can be automated, like sending emails and what not, you will always have to do work, and a good amount of it.
If it really was as simple as they claim, don't you think everyone would be doing it?
#3: "Featured On" Lie
---
This is another thing that I constantly see scams do in order to appear more credible.
They try to make it seem like they've been featured on various news outlets.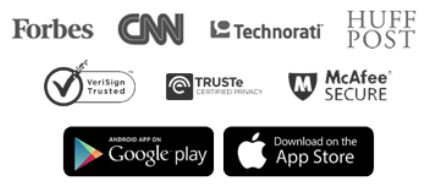 Even though I already knew it wasn't actually featured on any of those outlets, I decided to actually check.
I could find a single shred of anything close to Secret Millionaire Bot mentioned on any of them.
Also… how would it be a secret like they claim if it's really been featured on those outlets?
It makes absolutely no sense.
#4: Fake Testimonials
---
Seeing testimonials from people claiming to have used a system and found success with it is always reassuring.
The creators of this system know that, which is why they went out of their way to hire actors to create video testimonials.
That's right, all of the video testimonials within the sales video are paid actors.
Check this out: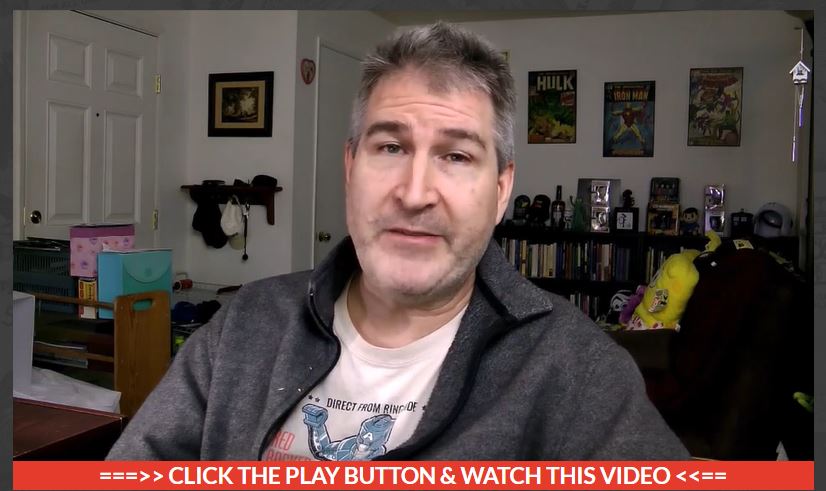 The image above is a screenshot of one of the testimonials being made within the sales video.
While the image below is an advertisement from the same person offering to make a spokesperson video.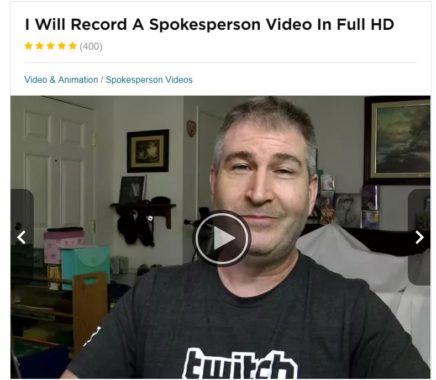 I knew this right away because I've seen all of the same people giving testimonials about other scams in the past.
I could also take the time to prove that the written testimonials are completely fake to, but I don't see the point.
Why would you believe a written testimonial when you already know the video ones are completely fake?
Up-sells
---
Once again, I've reviewed dozens of systems that are incredibly similar to this one like Million Dollar Replicator, Cash Sniper, and 7 Minutes Daily Profits.
And they all do the same thing.
They offer you an "incredible system" for and "incredibly low price" however that's just an entry fee.
After purchasing it, you'll immediately be hit with add on products that add up to hundreds of dollars.
They'll claim that the up-sells will help you make more money even faster.
There's even a good chance that you'll need to purchase the up-sells to even have a chance to make money.
Is Secret Millionaire Bot A Scam? – Conclusion
---
In all honesty, Secret Millionaire Bot is about as close to a scam as you can get while still being able to argue that it's not.
While they do completely lie, and try to mislead you into purchasing it, they also do give you some training, plus you can get a refund through ClickBank.
With that being said, it is not going to be anything like what they promise in the sales video.
I'd honestly be surprised if anyone actually made any money following this "system."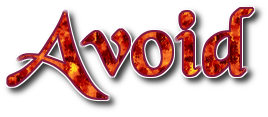 At the end of the day, I strongly suggest that you avoid this system at all costs, you're only going to be disappointed.
Not to mention there are plenty of other better programs out there!
Actually Make Money Online!
---
If you're interested in learning how to actually make money online, then I have a suggestion for you.
My Top Ranked Program gives you all of the training, tools, and support you need to make money online.
Since joining their platform I've been able to make enough money online to quit my job and work completely from home.
I want to make this very clear, it's NOT a get-rich-quick scheme, it IS a training program, and tools platform.
They give you access to what you need, but you still have to put in the time and effort if you want to make money.
With all that being said, if you want to learn how to get started for free, you can…
---
Is Secret Millionaire Bot A Scam? What Do You Think? Let Me Know In The Comments Below!
---