If you are thinking about joining Simple Wealth Creators, you'll want to read this review first. I'll go over what you need to know and answer the question "Is Simple Wealth Creators A Scam?"
Simple Wealth Creators Review
---
Product: Simple Wealth Creators
Website: simplewealthcreators.com
Price: $597 – $3,597
Is Simple Wealth Creators A Scam? No
Is Simple Wealth Creators Recommended? NO!
CLICK HERE TO READ ABOUT MY TOP RANKED PROGRAM!
What Is Simple Wealth Creators About?
---
Simple Wealth Creators is an MLM (Multilevel-marketing)  system that can also be considered a high ticket program.
It's similar to Aspire, and Ultimate Laptop Lifestyle, but it shares the most similarities with Big Profit System.!
They claim that you'll be able to make $10,000 a month on complete autopilot with their simple program.
Is there any truth to the claims that they make, or is it all exaggerations and lies?
Let's dive into the program and find out!
What You'll Be Doing
---
It's not too complicated or difficult to understand what you'll be doing when you sign up for Simple Wealth Creators.
They offer three different levels aka suites, that you will purchase into to qualify to make certain commissions.
After you purchase these suites you'll be able to make money from commissions by getting other people to purchase them as well.
On the surface it's pretty simple, however there is much more you'll need to understand before joining.
The Three Suites
---
Like I mentioned above, there are three separate suite levels that you can join, and get other people to join.
These suites are as follows:
Starter Suite – ($597)
The Starter Suite gives you the ability to earn a $350 commission every time you get someone else to purchase it.
Deluxe Suite – ($2,097)
This gives you the ability to earn $1,400 for every person you get to purchase it, and $350 if they buy the Starter Suite.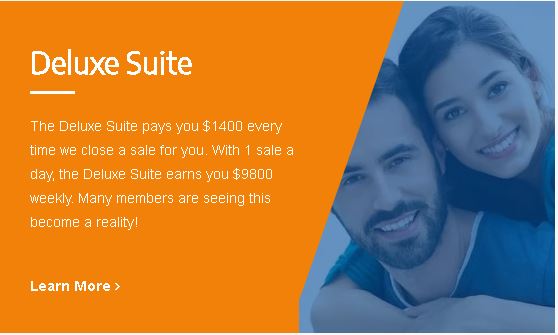 Premium Suite – ($3,597)
Gives you the ability to earn a $2,450 commission for every person you get to sign up for it, $1,400 for a Deluxe Suite Purchase, and $350 for every Starter Suite Purchase.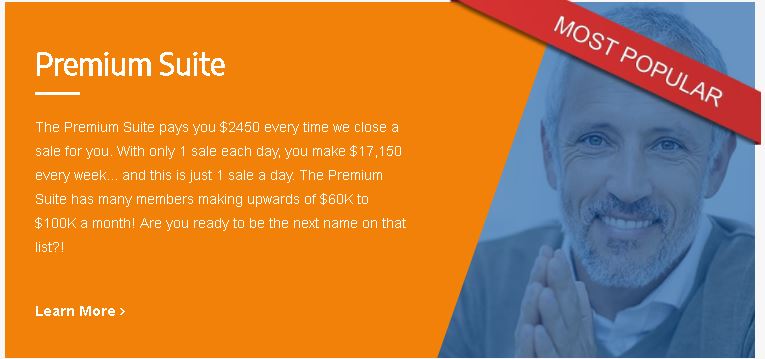 Complete Auto-Pilot?
---
This is one of the things that bugs me the most about the entire Simple Wealth Creators system.
They claim in multiple places that it's a "turnkey automated system" and that it will happen on complete autopilot.
However that's pretty misleading in my opinion.
Yes, the sales funnel itself is automated, and their phone sales team will take over to help close the sale.
However actually getting people to their sales team is one of the hardest things to do, and it's certainly not automated.
You aren't going to be able to basically do nothing, and earn a bunch of money. You're going to be spending a lot of time, and putting in a lot of effort to get people to sign up.
The Products
---
When you sign up for the different suites, you'll get access to some of their training products.
These products are what makes this an MLM system and not a Pyramid Scheme.
You can't tell which products come with what suite, but these are the ones they list on their website:
How To Master Social Media and Dominate Facebook
Training courses that will show you how to get your offers out in front of people through the use of social media websites.
How To Put Webinars Up And Host Them For Any Business
A video course  that shows the ins and outs of how to run a webinar and bring in commissions from it.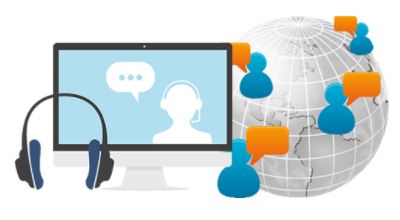 How To "Successfully" Talk To Prospects
An E-book that will help you learn what to say, what not to say, and other things you need to know when talking to potential buyers.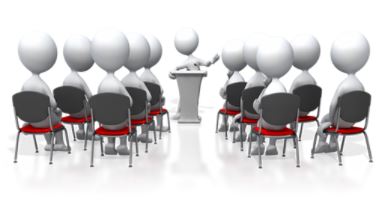 How To Integrate YouTube Advertising
A video training series that shows you how to use YouTube to market your products and offers.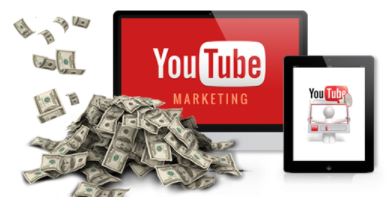 How To Explode Profits With Sales Funnels
Learn the ins and outs of sales funnels. How to build them and use them to help you grow and accelerate your online business.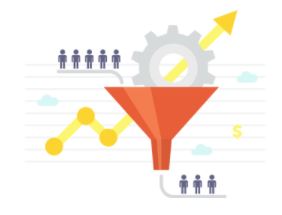 How To Master Your Mindset
A course that revolves around teaching how to have the mindset of a successful person. Meditation methods, breathing exercises and forms of stress management.
There isn't much information about the training they provide, as of right now there's now way to know how in depth or comprehensive they are without purchasing them first.
Which I personally don't like because I like to know exactly what I'm shelling my money out for.
My Personal Thoughts And Problems
---
It is absolutely possible to make money with this system, however there are several problems that I personally have with it.
It's Misleading
Like I briefly mentioned earlier, they make it seem like it's incredibly easy to make $10,000 a month with this system.
That's simply not true.
After you purchase in, you'll have to go through all of the training and implement it in a system that will hopefully bring potential buyers in.
That will take a lot of time, and effort no matter how good you are at marketing. Unless you already have a massive email list or some other means to promote it to a large audience.
The system is not automated or autopilot like they claim, the only thing you can consider automated is that their team will try to sell it for you.
It's Borderline A Pyramid Scheme
What keeps Simple Wealth Creators from being a Pyramid Scheme is the fact that they have products.
If they didn't have products, and you were just joining so you could get paid to get others to join, it would be a scheme.
This is where the line gets blurry.
Are you thinking about joining because you want to get the amazing training that they have? Or are you joining because you want to make money by getting others to join? I'm going to guess it's the latter.
The training might be fantastic, but you wouldn't know that because that's not what they are promoting. They are promoting the money that you can make by getting others to join.
It Could Crash Fast
In the years that I've been writing these reviews I've seen a bunch of programs like this pop up and then disappear.
The problem is that they need constant new members to sign up, if they want to stay in business.
If people join and don't start making money like they were promised, they'll give up and stop promoting.
Once that happens, people will stop joining, and the system won't be able to sustain itself.
Then you'll be out of all of the money you've invested if you haven't already made it back.
And if you have made your money back, you'll lose your source of income.
Is Simple Wealth Creators A Scam?
---
In my opinion Simple Wealth Creators is not a scam, even though some people will call it one.
The most you can say about it is that it is misleading it's customers in order to make money.
With that being said, you can make money by following their system, and I'm sure a lot of people will.
It's up to you to decide whether it's worth the risk or not, however I personally don't recommend it.

Make Money Online WITHOUT Risking Thousands
---
The main reason why I don't recommend Simple Wealth Creators is because there are other cheaper ways to make money online.
It's possible to make the type of money that they brag about, without paying thousands first.
There are places where you can get access to similar training that SWC offers without shelling out thousands.
My Top Ranked Program actually gets you started with fantastic training and tools for completely free.
I started out with their training, and have since been able to build a full time income online!
If you are interested in learning more, you can…
---
Is Simple Wealth Creators A Scam? What Do You Think? Let Me Know In The Comments Below!
---