In this review of Ultimate Retirement Breakthrough I'll be going over everything you need to know before signing up.
Will you actually be able to save a million dollars, or are they just trying to get your money?
Let's dive in and find out!
Ultimate Retirement Breakthrough Review
---
Product: Ultimate Retirement Breakthrough
Website: ultimateretirementbreakthrough.com
Price: $49 + Expensive Up-sells
Is Ultimate Retirement Breakthrough A Scam? Debatable
Is Ultimate Retirement Breakthrough Recommended? No!
CLICK HERE TO LEARN ABOUT MY TOP RANKED PROGRAM!
What Is Ultimate Retirement Breakthrough?
---

Ultimate Retirement Breakthrough claims to be a system created by Chris and Sue Beesley, and it's meant to help you with your retirement.
They claim that if you have anything less than $1,000,000 in your pension fund then you have a big problem that they can help you solve.
One the sales page they talk about how their retirement fund was lost during the recession in 2005 and they were in big trouble until they realized they could start an online business.
Since starting their online business they have been able to make multiple six-figures per year, and travel the world together.
Now they want to help you achieve the same things.
Can really expect to make hundreds of thousands of dollars after signing up for $49, or is it not as good as it seems?
Let's find out!
The Pros & Cons
---
I've found that one of the best ways to judge a system is by taking some time to weigh the pros and cons.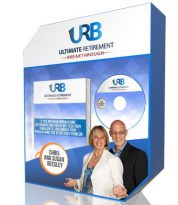 Pros:
It's Possible To Make Money
Decent Training & Tools
No Crazy "Scam" tactics
Cons:
It's Just A Re-branded Program
Incredibly Expensive Up-sells
Low Success Rate
Throughout the rest of the review I'll be going further into detail about all of the points that I just listed out above.
What Is Ultimate Retirement Breakthrough Really?
---
If you decide to actually purchase into Ultimate Retirement Breakthrough you'll soon learn that you actually signed up for a program called MOBE.
Ultimate Retirement Breakthrough isn't actually a system in and of itself, it's more like a sales page promoting MOBE under a different name.
There are dozens if not hundreds of websites out there that do the same, some examples are My 7 Figure Nest Egg, Mobile Success Training, and Top Tier Side Income.
In order for you to make an informed decision to either sign up or skip it, you'll need to understand more about MOBE,
The reason so many websites out there promote MOBE is because that's what MOBE trains them to do.
If you join, you'll learn how to make money online by getting other people to sign up and pay for MOBE, and you'll make a commission when they do.
I do not consider MOBE to be a scam, however there a major downsides to it that you need to be aware of if you're going to join.
MOBE Is Incredibly Expensive
---
While it is certainly possible to make money with the methods that you'll learn if you sign up, you'll have to spend a lot of money first.
This is my main problem with MOBE, and the most important thing you need to understand if you're going to sign up.
They make it seem like you're going to be able to make $1,250, $3,300 and $5,500 commissions by just paying the $49.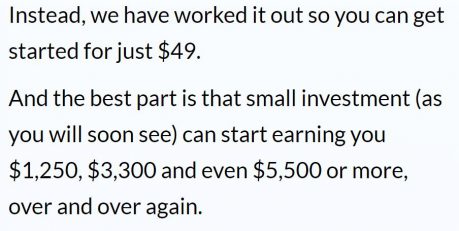 When in reality if you want to make those huge commissions, you'll have to first pay around double those amounts.
These are the prices that you'll first have to pay if you want the opportunity to make those giant commissions:

You'll have to pay $2,497-$29,997 for the various memberships and training programs and membership levels that they offer.
Low Success Rate
---
I would honestly say that this program is worth it if I honestly thought that majority of the people who pay for it succeed with it.
However that's simply not the case.
Underneath the first sales video of the page you'll see a disclaim that reads: "Results shown are not typical"
Then they give you a link to their earnings disclosure that I highly recommend you click, but if you don't, here is the chart that it takes you to.
Feel free to take your time to look it over, but I highlighted what I believe is the most important thing you need to see.
62.48% of their members make an average of $61 per month, and I'm willing to bet that a majority of those people don't make anything.
Not to mention there is not way to tell how much each individual has spent before making any of their money.
Is Ultimate Retirement Breakthrough A Scam?
---
Personally I don't consider it to be a scam, if you pay the money you'll get access to training that could potentially help you make money online.
With that being said, they still leave out a lot of key information that you need in order to make an informed decision about purchasing the product.
Regardless of whether you consider it to be a scam or not, it's still something that I do not recommend simply because of the high price tags, and low success rates.

If you are still interested in starting an online business I highly recommend checking out My Top Ranked Program. They have all of the high quality training and tools, without the crazy expensive price tags.
Make Money Online WITHOUT Risking Thousands!
---
It is absolutely possible to make good money online and fortunately there are ways to do it without risking thousands of dollars.
Wealthy Affiliate gives you access to all of the tools, training and support you need to succeed online, and you can even get started with it for free.
It's not a get-rich-quick scheme, you have to put in plenty of time and effort to succeed with it.
Since joining their program I've been able to make enough money online to quit my job and work completely from home!
If you're interested in learning more, you can…
---
Is Ultimate Retirement Breakthrough A Scam? What Do You Think? Let Me Know In The Comments Below!
---