There are a whole lot of PTC scams out there that won't pay you any money. Is Wad Ojooo one of those scams or is it one of the good ones?
In this review I'll be going over everything you need to know about Wad Ojooo before spending your time there.
Wad Ojooo Review
---
Product: Wad Ojooo
Website: wad.ojooo.com
Price: Free To Join
Is Wad Ojooo A Scam? No!
Is Wad Ojooo Recommended? Not Really (I'll Explain)
CLICK HERE TO LEARN ABOUT MY TOP RANKED PROGRAM!
What Is Wad Ojooo?
---
Wad Ojooo is what is known as a PTC (Paid To Click) website that will pay you to click on various ads.
Many PTC websites out there are either huge scams that won't pay you (Three Dollar Click, Four Dollar Click, Seven Dollar Click) or legitimate businesses that will pay you very little (Rewarding Ways.)
In this review my goal is to find out which of those two categories Wad Ojooo falls into, or if it is in a league all on it's own.
Let's dive deeper and learn more!
How Wad Ojooo Works
---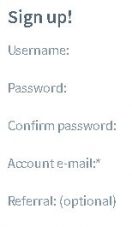 Honestly, signing up, getting started, and working are incredibly easy things to do with this website.
You can easily sign up by putting in the usual information like a username, password, and an email address.
After that you simply be able to start finding ads that you can click on and earn a specified amount of money.
You'll get paid anywhere from a fraction of a cent, to a few cents per click. You should be expecting to get more of the lower paying ones than the higher paying ones.
There are also some videos that you can watch to make a little bit of cash as well.
CLICK HERE TO LEARN ABOUT THE PROGRAM THAT HELPS ME MAKE A LIVING ONLINE!
The Pros And Cons
---
I like to list out both the good and bad things about a program to give you a better idea of what to expect.
Pros:
Legitimate Place To Make Money Online
Referral Program
You Can Get Traffic (If you have a website or offer)
Cons:
Difficult To Make Notable Money
Will Take A Lot Of Time
Low Quality Traffic (for advertising)
Over the next few sections I'll be going over exactly what I mean with the points I listed above.
How Much Money You'll Make
---
This is the main problem with PTC websites, and unfortunately Wad Ojooo doesn't escape this downfall.
Like I mentioned earlier, you'll be making anywhere from a fraction of a cent to $0.04 per ad.
You should expect most of them to be worth less rather than more, with the higher paying one requiring you to stay longer.
There will be a specified amount of time that you'll have to spend on the ads that you click. Either the entire length of a video, or how long you'll have to look at a specific website.
It's also to keep in mind that there is a limit of 100 ads per day which even further limits the amount of money you can make.
If you want to be able to click more ads, and make more money per ad you can sign up for their paid memberships.
However paying money to make more money will be only worth it if you spend a large amount of time clicking ads.
The Referral Program
---
Honestly if you are trying to make any notable amount of money through this website you'll probably want to take advantage of their referral program.
If you get others to join their website, you will make a percentage of the money that those people earn.
Just keep in mind that you'll have to get a lot of people to sign up to start making more money.
Mainly because you'll only be earning a fraction, of the fraction of a cent that each of those people will be making.
You also have to hope that those people don't give up, and continue to make good money.
The Traffic
---
If you are thinking about using Wad Ojooo as a place to get some paid traffic, there are some things you should think about.
First off, the quality of the traffic you will be getting is going to be very low.
If you are paying to get someone to go to your website or offer, than you are trying to make money from it.
Well all of the people who will be clicking your ad will be doing it to make money, and won't be interested in spending any.
They will most-likely not even pay attention to your offer, and click away as fast as possible so they can go click another ad.
Is Wad Ojooo A Scam?
---
No, Wad Ojooo is a legitimate PTC website that will pay you the money that you earn from clicking ads.
With that being said, it isn't really something that I recommend simply because you'll be spending a lot of time to make a small amount of money.
There are simply better ways to make money online. However if you are set on making money online with PTC websites, then Wad Ojooo is a decent place to start out.
A Better Way To Make Money Online!
---
If you are someone who is serious about making money online then I have a suggestion for you.
My Top Ranked Program has helped me make enough money online to quit my full time job, and work completely from home.
It takes time and effort, but if you are willing to learn and put in consistent work it will be the best decision you've made in your life.
I know it was for me.
If you are interested in learning more, you can…
---
Is Wad Ojooo Worth Your Time? What Do You Think? Let Me Know In The Comments Below!
---