In this quick review of Click Home Income I'll be going over what it is, and telling you whether I think it's a legit program worth buying, or a scam you should avoid!
Will you really be able to make $217 in mere minutes? Or is this just another hyped up program that prioritizes sales over training?
Let's jump in and find out!
Click Home Income Review
---
Product: Click Home Income
Creator: Shawn Josiah
Website: clickhomeincome.com
Price: $17 + Up-sells
Is Click Home Income A Scam? No
Is Click Home Income Recommended? No (I'll Explain)
CLICK HERE TO LEARN ABOUT MY TOP RANKED PROGRAM!
What Is Click Home Income?
---
Click Home Income claims to be a software application that will unlock 7 income streams and earn you $29 "over N' over."
They claim that all works by just completing some simple online tasks with just a few clicks.
Whatever that means….
In reality, it is a web based program that gives you access to a series of tools that will help you create products to potentially make money online.
It claims that all of the hard work is already done for you, so all you have to do is follow some simple instructions, and you'll start making money.
Sounds incredible right?
Well it's not everything it's cracked up to be as you'll learn within this review.
The Pros & Cons
---
Let's take a minute to list out the good and bad things about Click Home Income so you can get a general overview of it.

Pros:
Could Possibly Make Money
Possible To Get A Refund
Some Helpful Tools & Training
Cons:
Over-Hyped
Far More Expensive Than $17
DFY System's Aren't Great
Lack Of Support
Now over the next several sections I'll be taking the time to go over each of the points that I put above to help you get a better idea of you'll be buying.
Is Click Home Income As Great As It Sounds?
---
Unfortunately the answer to the question above is a resounding no.
While you do get some value with the system, and it is in fact possible to make money with the system, it is very over-hyped, and misleading.
You are not going to make $217 a day from home in mere minutes like the sales page will have you thinking.
It will take plenty of time, effort and unfortunately a lot more than $17, if you are going to have a chance at make any money with they system.
The Real Cost Of Click Home Income (Upsells!)
---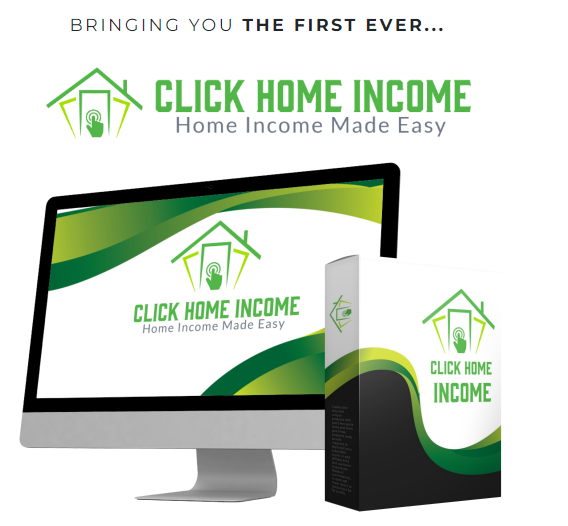 This is the thing that bugs me the most about systems like this.
They sell you on the idea that you'll be able to achieve massive success after only making a $17 purchase, when in reality you need to spend much more than that.
The truth is that once you purchase Click Home Income, you'll be hit with multiple upsells that you'll need to purchase to get the full benefit of the system.
Here are the upsells you can expect:
Upsell #1: Unlimited ($47)
If you spend an extra $47, you'll be able to create unlimited amount of things they offer.
For example:
Unlimited Voiceovers
Make Unlimited Explainer Videos
Create Unlimited eBooks
Design Unlimited Logos
Unlimited Speech To Text Transcriptions
Convert Video to Audio
My thing is, shouldn't you be able to do all of that when you purchase the system?
Upsell #2: Done-For-You ($297)
If you spend a measly $297 more, they'll give you some features that are already done-for-you
DFY Freelance Gigs
DFY eBooks
Special Freelance Gig Training
Upsell #3: Job Hunter Pro ($127)
This upsell gives you the ability to use Guru, Fiverr, Freelancer, and People Per Hour to make job searches much easier.
Upsell #4: Multiple Streams of Income Masterclass ($47)
If you purchase this upsell for $47 you'll get a masterclass that will help you create 7 streams of income more easily.
Upsell #5: Passive Income Masterclass ($47)
A Masterclass showing you how to make the streams of income you setup passive.
Upsell #6: Reseller License ($297)
This will give you the ability to sell Click Home Income and keep 100% of all of the profits made from selling it.
Upsell #7: High Ticket Maximizer ($167)
This helps you maximize your sales of the high-ticket items, and make large commissions.
Upsell #8: Traffic Booster ($167)
This gives you access to more traffic sources to give you more chances to make more money.
My Main Issues With Click Home Income
---
Costs Much More Than They Claim
In theory, it is 100% possible to make money with Click Home Income, however there are several reasons why it's not the greatest.
The first of which is how much money you will need to spend to fully utilize it, and even have the chance of making money.
The thing I hate most about systems like this is that they sell you on being able to get rich after just spending $17, when in reality you need to spend much more.
When in reality the $17 will only get your foot in the door and you'll have to drop at least hundreds more to even stand a chance.
Done-For-You Systems Aren't Great
While the idea of having everything done for you sounds great, it comes with plenty of issues.
If everything is done for you, then your business and income will be solely tied to and dependent on this system and people.
And I hate to break to you, but systems like this popup and disappear like clock work.
What happens when Click Home Income shuts down?
Your entire income could disappear overnight, and you'll have no idea what to do or how to get it back.
Is Click Home Income A Scam Or Legit?
---
In my opinion, Click Home Income is neither a scam, nor a completely legit online money making system.
It falls somewhere in between.
If you purchase it, you will gain access to helpful training, and tools that could potentially help you make some money online.
However, they use misleading sales tactics, over-hype and strongly exaggerated claims to get you to pull out your wallet.
While also hiding the true cost, and underselling the amount of time and effort you'll actually have to put into making money.
Do I Recommend Buying Click Home Income?
---
At the end of the day, I don't recommend that you purchase Click Home Income, because of all of the reasons I've listed throughout this review.

Like I said, I don't consider it to necessarily be a scam, I just think it doesn't have the value that that claim it does.
There are so many better options out there if you're looking for an online money making system.
What Do I Recommend?
---
If you're looking to make real money online, I suggest you learn how to start your own business that you can have full control over.
My Top Ranked Program offers step-by-step video training, and all of the tools, and support you could ever need are included in the price.
Not to mention it is completely free to get started, and try out before even thinking about pulling out your wallet.
It's the program that got me started online, and helped me make enough money online to quit my job and work completely from home.
If you're interested, you can click here to learn more!
---
If You Have Any Question Or Concerns, Please Feel Free To Leave Them In The Comments Sections Below!
---