In this quick review of Crowdology I'll be going over everything you need to know before joining, and letting you know if it is a scam or not.
Crowdology Review
---
Product: Crowdology
Website: crowdology.com
Price: Free To Join
Is Crowdology A Scam? NO!
CLICK HERE TO LEARN ABOUT MY TOP RANKED PROGRAM!
What Is Crowdology?
---
Crowdology is an online survey website that allows you to answer varies questions in order to make money online.
They are owned by a market research company called Morar Consulting Limited (VIGA) and have various offices in the United States and London.
Companies pay them to conduct research that will help improve various products and services, and they will pay you to participate in the research through the form of surveys.
The Pros And Cons
---
Let's take some time to go over some of the good and bad things about Crowdology that you should know before joining.
Pros:
Earn Cash Not Points
$8.00 (£4) Minimum Cashout
Decent Pay (For A Survey Website)
Cons:
Not Many Surveys
Won't Make Much Money
Various Complaints
Over the next few sections I'll be going further into detail about what exactly I mean with the points listed above.
How Crowdology Works
---
The sign up process is just as simple as most survey websites out there. You simple fill out the normal questions (name, email, DOB…ect.)
After that you'll just have to activate your account by confirming your email address through an email they'll send you.
Then you'll probably be able to take your first survey, which will most-likely be worth a few cents.
After that, you'll want to start filling out your profile. Which will take a bit of time to say the least.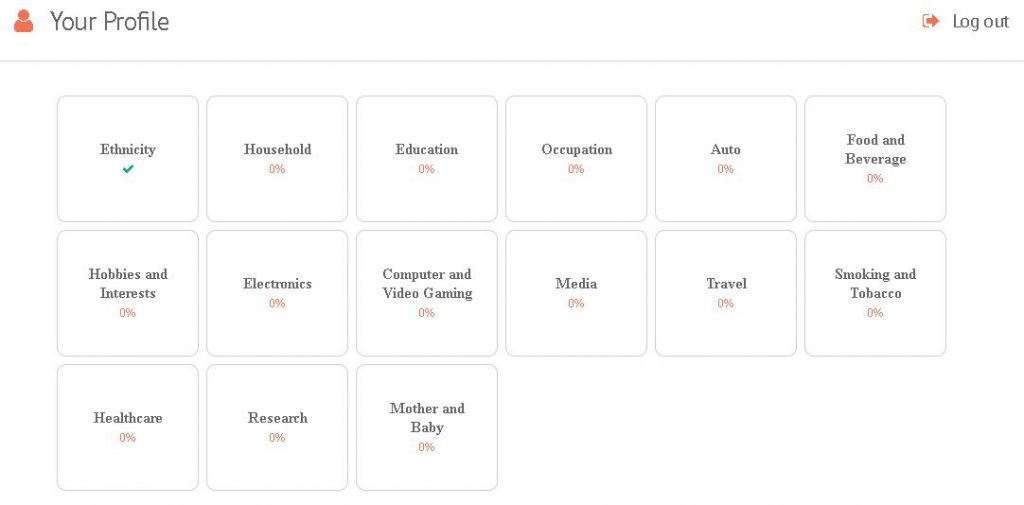 There are quite a few questions that you'll want to answer in order to finish filling out your profile.
This is important because it will maximize the number, and quality of the surveys that you will receive.
After that it's a matter of waiting for them to send you surveys to your email address.
Once you've completed some surveys you'll be able to cash out into your PayPal account once you hit $8, or wait until $10 and get an Amazon Gift Card.
You can also enter into random prizes you can enter in to win as well.
How Much Money Will You Make?
---
This is where the main problem comes in with Crowdology and every other survey website out there.
There simply isn't much money to be made taking surveys here.
On the front page they claim that you will get paid up to $10 for each survey that you take.
Which is true, however the highest paying one are very rare, most of the ones you get will be on the lower paying side.
The surveys that you receive will pay somewhere between $0.40 – $10.00.
However it seems like the majority of them will pay you somewhere between $0.50 and a few bucks.
Crowdology Complaints
---
For the most part, the complaints seem to be the normal complaints that I see with most survey websites.
Not Much Pay Or Surveys
This is the main complaint that I see with this survey website, and pretty much everyone that I review.
The survey websites that pay a decent amount per survey always seem to suffer from a lack of surveys.
Many members complain that they rarely receive any surveys, which means they don't make much money at all.
Disqualified From Surveys
Another common complaint I see is the fact that when you do get surveys, you can still get disqualified.
Even though you give them a ton of information in your profile, they still send you surveys that you don't qualify for.
This can be frustrating when you finally get a survey, and get kicked out of it after answering the qualifying questions.
Other Complaints
There are also plenty of other smaller and less common complaints that you can check out at the Survey Police.
Crowdology Review Conclusion
---
At the end of the day, Crowdology is a legitimate online survey website, and a decent place to make a small amount of extra change.
In my opinion it is simply not worth the time and effort that you'll have to put into it to make any notable money.
However if you are set on taking surveys, you can also look into: Quest MindShare, Survey Club, and Pinecone Research!
What I Recommend
---
If you are interested in making more than some extra pocket change online, then I have a suggestion for you.
I started out working on online surveys, then I switched and focused my time on something else.
Since then, I have been able to build up an online income that has allowed me to quit my day job and work completely from home.
If you are interested in learning more, you can…
---
What Do You Think About Crowdology? Let Me Know In The Comments Below!
---