Will Panel Pay Day really help you make $25- $75 per survey? Or are they just a scam that's going to waste your time. In this quick review I'll be going over everything you need to know before joining!
Panel Pay Day Review
---
Product: Panel Pay Day
Website: panelpayday.com
Price: Free To Join
Is Panel Pay Day A Scam? Not Really
Is Panel Pay Day Recommended? NO!
CLICK HERE TO LEARN ABOUT MY TOP RANKED PROGRAM!
What Is Panel Pay Day?
---
Panel Pay Day claims to be a membership website that will help you find surveys to take that will pay you anywhere from $25 to $75 each.
They are not your normal survey panel like Pinecone Research, they are more like a middle man.
Instead of creating and giving your surveys themselves, they direct you to multiple survey websites, and other websites as well.
There is nothing wrong with that, many other websites like Survey Club do that as well.
It can be a good place to find all of the surveys you need to take all put together.
Well is Panel Pay Day as good as they claim, or are they simply misleading you?
Let's find out!
The Pros And Cons
---
Let's go over some of the good and bad things that I came across while testing out Panel Pay Day!
Pros:
Suggests Some Legitimate Surveys
Cons:
Exaggerates How Much You'll Make
Points You To Scams
Over the next few sections I'll be going over exactly what I mean with the points I listed above.
$25 to $75 Per Survey?
---
One of the main things I noticed is that fact that when you go to sign up they put up this big claim that you're going to make $25-$75 per survey.

When it comes to taking online surveys, you'll be lucky to get a survey that pays $3. Most pay somewhere between $0.50 and $2.00 depending on how long they are.
I hate to be the one to break it to you , but that's exactly how much money you should be expecting to make if you sign up for the survey sites that they recommend to you.
You simply aren't going to make $75 for taking a single survey.
With that being said, they also give you offers that claim to make you a lot of money online.
Which brings me to my next section.
Many Of Their Offers Are Scams
---
Before and after you sign up you will be hit with multiple offers that claim you can make a ton of money.
One of the first ones that they offered me is called Countdown To Profits, which is actually a known scam.
I wrote a full review of it in the past if you want to read about it here.
There was also another one called MOSSP, which I didn't take to time to check out, but it throws out some pretty shady claims.
In their image it claims that you can earn $500 by simply watching a video that they have for you.
Many scams that I've reviewed in the past make this claim, and not a single one of them has actually followed through with it.
I simply wouldn't trust them.
Panel Pay Day also offers to sign you up for some legitimate survey websites, however there are so many scams that it's hard to trust them.
How It Works
---
This is normally the point where I tell you that it's super easy to sign up, however it's honestly not that simple here.
You'll do the normal easy part where you have to put in some simple information like your email address.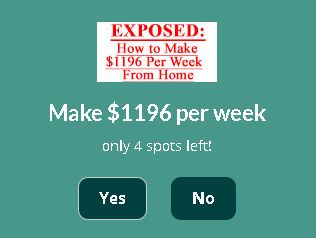 But after that it gets super annoying.
For me, I had to go through 5 different pages with dozens of offers that I had to either accept or decline.
Once again, some of the offers were legitimate survey websites, and some of them were scams.
The whole purpose of Panel Pay Day is to get you to sign up for various offers so that they will earn a commission when you do.
There is honestly nothing wrong with that; that's how most websites out there make there money.
The problem is that they send you out to scams, and mislead you about how much you'll be making.
That simply makes them untrustworthy.
Is Panel Pay Day A Scam?
---
I personally do not consider Panel Pay Day to be a scam because they don't charge you money, and recommend you to some legitimate survey websites.
However I also do not recommend them because they exaggerate and mislead you about how much you'll be making, and send you to various scams.

The simple truth is that you simply aren't going to make very much money taking online surveys.
What I Recommend
---
If you are interested in making more than a few extra bucks online, and are willing to put in some work, I have a suggestion for you.
My Top Ranked Program has helped me build up an online income that has allowed me to quit my day job, and work completely from home.
It takes plenty of time, dedication and work, but I'm a strong believer that anyone can do it!
If you are interested in learning more, you can…
---
Is Panel Pay Day A Scam? What Do You Think? Let Me Know In The Comments Below!
---