Is the Passive Paychecks system really as good as it seems? Will you really be able to implement their 3 step system and be able to almost instantly start making a ton of money online?
Let's dive in and find out if The Passive Paycheck System is a scam!
Passive Paychecks (Paychex) System Review
---
Product: Passive Paychecks
Website: passivepaychecks.net + passivepaychex.com
Price: Varies
Is Passive Paychecks A Scam? Probably
Is Passive Paychecks Recommended? NO!
CLICK HERE TO LEARN ABOUT MY TOP RANKED PROGRAM!
What Is Passive Paychecks System?
---
The sales video for Passive Paychecks system simultaneously claims to be able to earn you a ton of money incredibly quickly, while also claiming not to be a get rich quick scheme.
They claim that you will be selling items online, however they don't tell you the exact method you'll be using.
Will you be creating an online store selling physical products, or will you be using affiliate marketing?
Let's dive in and find out!
The Pros And Cons
---
Even though this system honestly seems like a scam, I want to be fair and find something good about it.
Pros: 
 They Don't Guarantee a Ton Of Money Like Many Scams
Cons:
Limited Positions Lie
Fake Testimonials
"Featured" On Lie
Similar To Many Other Scams
Little To No Information
Over the next few sections I'll be taking some time to go over exactly what I mean with the points listed above.
Limited Positions Lie
---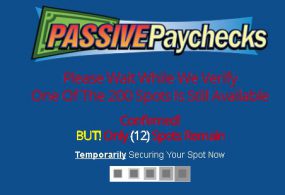 This is one of the first things I want to point out to you so you don't jump in and buy it.
The claim that they are only accepting 200 people into their program is a complete lie.
No matter how long you wait, or how many people join before you, they will always take your money.
Don't rush in and buy it simply because you are worried that you might miss your chance, you won't.
They just make that claim so that you'll hurry up and buy it without taking the time to research it, don't fall for it.
Fake Testimonials
---
At the bottom of the page you will find some testimonials from various people claiming that they are members of the system.
However they are random pictures of random people, and weren't actually written by members.
Even if they were, they don't give you any helpful information about what you will actually be buying into.
In a nutshell, they all claim to have used the system, and that it is great.
That's about as generic as a testimonial can be.
"Featured On" Lie
---
This is something else that I see on just about every scam that I've ever reviewed in the past, and I've reviewed hundreds.
They claim that their system has been featured on various news networks, which simply isn't true.

First off, I keep up to date with online money making methods, and if this system was featured on TV I wouldn't known about it.
Honestly you probably would've heard about it before too if it really was all over TV.
Similar To Many Other Scams
---
The truth is that I've basically seen this exact same scam time and time again in the past.
The only difference between this one and the others is the name, and the sales video.
Just take a second to check out Massive Online Paydays, or Desktop Commissions and you'll see exactly what I'm talking about!
All of these scam basically tell you everything you want to hear, just so they can get some money out of you!
Little To No Information
---
I've been reviewing online money making programs for years now, and one thing I've noticed is that legit programs tell you what you're getting before you buy.
They go into high detail about what training you'll be getting and what you'll be doing.
However with Passive Paychecks they simply claim that you'll be selling stuff online, they don't say what you'll be selling, or how you'll be selling it.
You don't know how much training you'll be getting, or pretty much anything else about what you'll be paying for…
Is Passive Paychecks System A Scam?
---
I want to be completely honest and tell you that I didn't actually purchase Passive Paychecks simply because there are too many scam red flags.
For all of the reasons that I mentioned throughout this review I suggest that you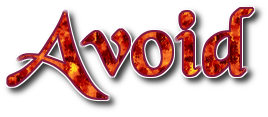 Passive Paychecks System.
Feel free to pay up and join if you want to, but odds are that they will sign up for for a program like Aspire, or Jeff's 6 Figure Business System, which are programs that will cost you 10's of thousands of dollars!
My Top Ranked Program
---
If you are interested in making money online, and are willing to put in the time and effort it takes, then I have a suggestion for you.
My Top Ranked Program has helped me make enough money online to quit my job and work completely from home!
I'm a strong believer that anyone can succeed online as long as they have the proper training, tools and support.
They give all three of those things, and it's absolutely free to get started!
If you are interested in learning more, you can…
---
Is Passive Paychecks A Scam? What Do You Think? Let Me Know In The Comments Below!
---