In this quick review of Survey Freedom, I'll be going over everything you need to know about it before joining.
Will you really make up to $40 per survey, or are they just claiming that in order to get you to join?
I'll be giving you the answers to those question and many more within this review so stick around!
And before we jump in, if you're interested in learning how to make more than pocket change online, you should click here to learn how I make my living online!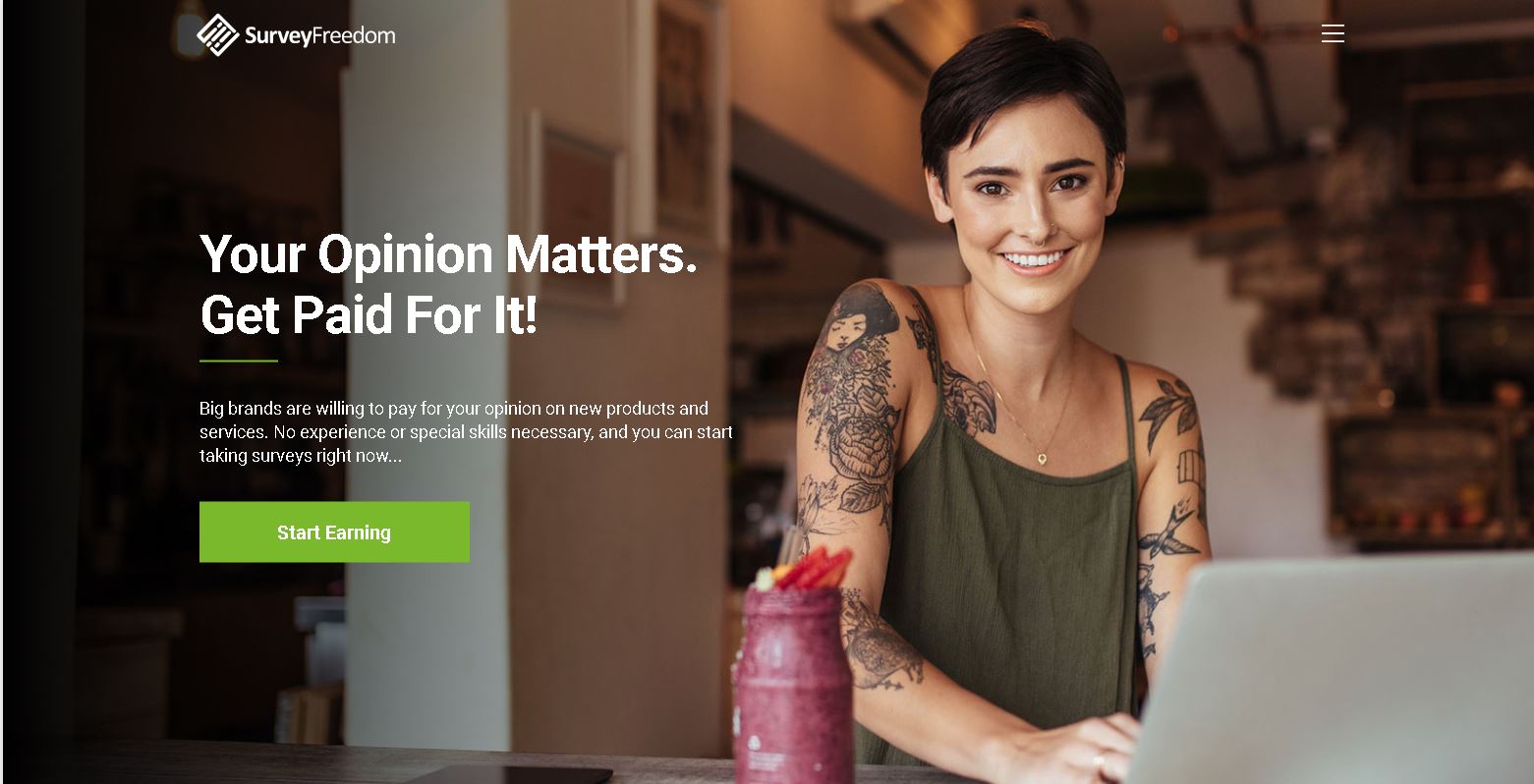 Survey Freedom Scam Review
---
Product: Survey Freedom
Website: surveyfreedom.com
Price: Free To Join
Is Survey Freedom A Scam? Debatable (I'll Explain)
Is Survey Freedom Recommended? No!
CLICK HERE TO LEARN ABOUT MY TOP RANKED PROGRAM!
What Is Survey Freedom?
---
Survey Freedom claims to be a relatively new online survey website that pay incredibly well.
Apparently that conduct market research, and will pay you anywhere from $5 – $40 per survey.
If they did truly pay that much they would be one of the highest paying survey sites out there.
Most survey website will pay you anywhere from a few cents to a couple of bucks for a survey.
Is Survey Freedom really as great as they claim to be?
Is Survey Freedom Legit?
---
In reality, Survey Freedom is nothing but a website that's meant to funnel you into other legitimate survey websites.
Most legit survey websites will pay their members for getting other people to join and take surveys.
So the creator of this website is just hoping to get you to sign up through his affiliate link, so he can earn a commissions.
In order to do so, the website is full of lies, misleading claims, and even fake testimonials.
The try to make it seem like you'll be able to earn tons of money, even though it is a complete lie.
The Pros & Cons
---
To be honest, there really isn't anything good for me to say about Survey Freedom.
Pros:
Cons:
Unrealistic Income Claims
It's Not A Real Survey Site
Fake Testimonials
Low income potential
Throughout the rest of the review I'll be going a bit further in detail about the points listed above.
Unrealistic Income Claims
---
I already touched on this earlier, so I'm not going to get too deep into it again here.
The main point is that you aren't going to make anywhere near the $5-$40 per survey that they claim you will.
The websites that you'll actually be signing up for will pay you probably somewhere around $1 per survey.
It's Not A Real Survey Site
---
Once again, I touched on this earlier.
There are no actual surveys that are being offered for you to take through Survey Freedom.
They simply do quick questionnaire that takes you to the same page no matter how you answer it.
The page simply gives you a list of legitimate survey sites that you can sign up for.
Which you can sign up for without going through Survey Freedom.
There are a ton of shady websites out there that do the same thing like My Survey Jobs.
Fake Testimonials
---
Another thing I want to quickly point out is that the testimonials on the website are completely fake.
Running the below image through a reverse image search showed tons of results of the same image being used on other websites.
This means that the creator of this website simply found a stock photo to use.
Low Income Potential
---
At the end of the day, even though the survey sites they lead you to are legit, you won't make much money from them.
On average you'll make $1-$2 per hour that you spend taking surveys.
And that's if and only if you even qualify to take the surveys.
Often times you need to meet a specific set of criteria before you can even take a survey.
Which can make it difficult to even be able to take multiple surveys within a short time frame.
Is Survey Freedom A Scam?
---
In all honest, it depends on what you're definition of a scam is.
They use lie, fake testimonials, and false income claims to get you to sign up for various survey websites.
However on the other hand they won't be stealing your money of anything like that.
While some people might not call it a "scam" per say, you certainly CAN'T call it legit.

How I Make A Living Online!
---
The whole reason Survey Freedom exists is because the creator wants to earn money for getting people to sign up for other survey sites.
When someone signs up through one of his links, he will earn some type of commission from it.
This process is a legitimate way to make money online, and it's actually how I make my living online.
However I do it without all of the lies, misleading information, and shady sales tactics.
I simply tell people the truth about certain products that I like, believe in and support, and if they sign up or buy something through my link, I earn money.
As simple as it sounds, there is a whole lot to it, and it takes plenty of time and effort.
That's why I suggest checking out this program here, that gives you all of the training, tools, and support you need to succeed.
It's where I got my start online, and I give them full credit for starting my online career.
---
Is Survey Freedom A Scam? What Do You Think? Let Me Know In The Comments Below!
---