In this review I'll be answering the question "Is The Wealth Network A Scam?" and telling you if I recommend it!
The Wealth Network Review
---
Product: The Wealth Network
Website: thewealthnetwork.com
Price: $49 – $149/Month
Verdict: Decent!
CLICK HERE TO READ ABOUT MY TOP RANKED PROGRAM!
What Is The Wealth Network?
---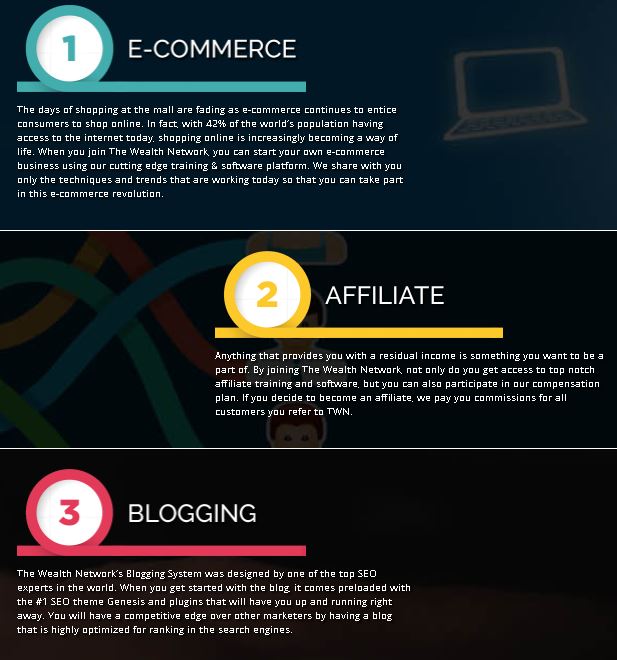 The Wealth Network is an internet entrepreneur educational platform that claims to provide you the tools and services you need to succeed online.
Honestly the name "The Wealth Network" and all of the flashy sales videos makes it seem like a scam.
However it isn't, it actually provides quite a bit of value and training that can help you succeed online.
Their training revolves around creating multiple streams of income through the use of E-commerce, Affiliate Marketing, and Blogging and more.
So far this system seems pretty good, but let's dive deeper and learn more.
Pros And Cons
---
Let's go over some of the good and bad things about this system.
Pros:
You Can Earn Good Money
Good Training & Tools
Decent Support
Cons:
A Little Pricey
Not Much Information
Overall the pros heavily out weigh the cons for The Wealth Network.
What The Wealth Network Includes
---
This is the main reason why I put "Not Much Information" as a con for the program.
Don't get me wrong, they do tell you what you are getting for the money that you'll be paying.
I just wish they would go into a bit more detail about individual lessons, how many videos, and things like that.
With that being said, there are two different membership tiers that you can sign up for.
GOLD MEMBERSHIP ($49/MONTH)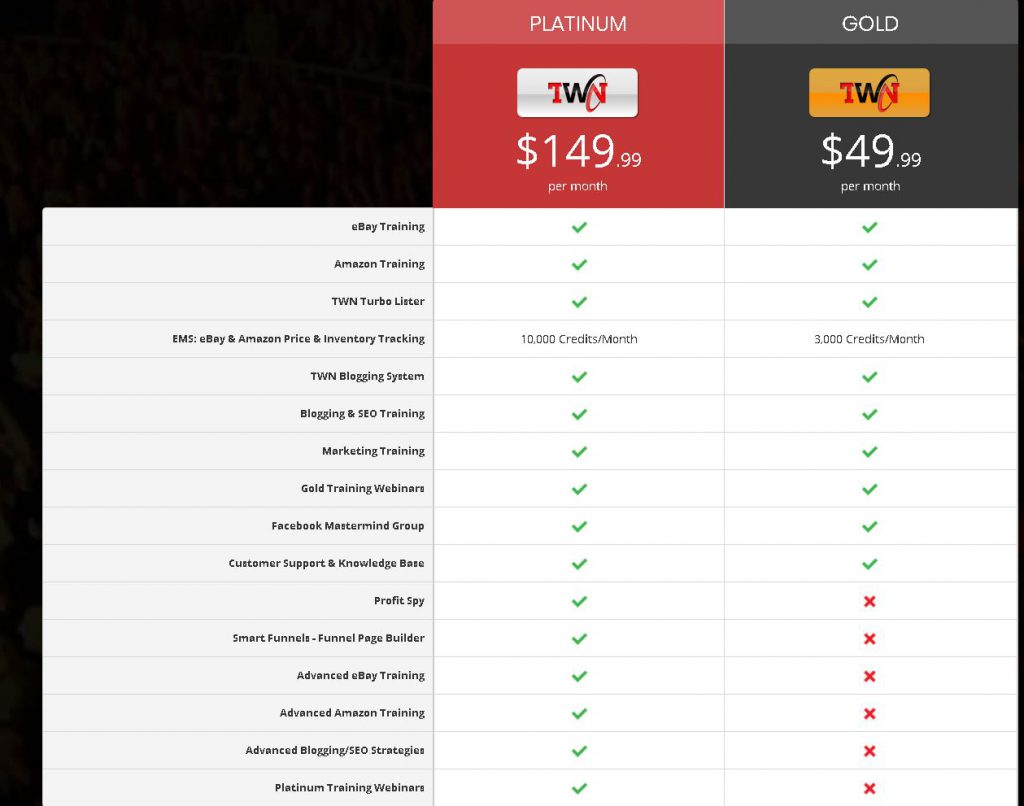 eBay Training
Amazon Training
TWN Turbo Lister
EMS: eBay & Amazon Price & Inventory Tracking 3,000 credits/month
TWN Blogging System
Blogging & SEO Training
Marketing Training
Gold Training Webinars
Facebook Mastermind Group
Customer Support & Knowledge Base
PLATINUM MEMBERSHIP ($149/MONTH)
You get everything that comes with the Gold Membership and:
EMS: eBay & Amazon Price & Inventory Tracking 10,000 credits/month
Profit Spy
Smart Funnels – Funnel Page Builder
Advanced eBay Training
Advanced Amazon Training
Advanced Blogging/SEO Strategies
Platinum Training Webinars
At the end of the day, you are getting a lot of value for the money you are paying.
Things To Consider
---
This is the part where I like to point out somethings I don't like and/or I think you need to know.
As I mentioned earlier, one thing that bothers me a bit is the fact that they don't have very many details.
Yes they tell you what you get, but I want to know more before I give them my money.
I'm excited about the all of the types of training they have, but how in depth are they.
There is a huge difference in having 10 training videos about blogging, and 50 training videos.
That's one of the things I love the most about My Top Program, they tell you EXACTLY EVERYTHING you'll be getting when you buy.
Another thing to consider is the fact that you will have to spend more money than what it seems.
Obviously if you are going to be creating an E-Commerce business you are going to have to buy products.
But I'm not just talking about that.
There are other products that they offer after you become a member such as a Blogging Package and a Smart Commerce Product.
These aren't necessarily bad things, they are just things you should know before you join.
A Bit Pricey
---
I'm personally a strong believer in the idea that you should get everything you need when you purchase something.
That's why I personally don't like the fact that the $49 monthly fee doesn't give you everything you need.
You'll most-likely eventually have to upgrade to the platinum membership and maybe even purchase the other products they sell.
Don't get me wrong, you get A TON of value for the money that you'll be paying.
Personally I think that the information that they are giving you is worth the money that you'll be paying.
Is The Wealth Network A Scam?
---
To be clear, no The Wealth Network is absolutely not a scam and is a legitimate training platform.

After reading back through this review I realized that it may come off as a bad review.
It's actually the opposite.
This is a great program that many people will benefit from purchasing.
I just saw so many reviews that didn't really mention the bad things about it, that I thought I would shed some light.
You can find the good things about a program like this anywhere, but it's hard to find the negatives sometimes.
My Top Ranked Program!
---
The Wealth Network is one of the better programs that I have reviewed in the past 2 years of doing this.
However there is no denying that when it comes to affiliate marketing, and blogging, it falls short of my top program.
Wealthy Affiliate excels in all of the short combings of The Wealth Network.
The best part about it is you can get started with their training for free, in order to decide for yourself if you want to pay for the premium membership!
 Click Here To Read More About Wealthy Affiliate!
---
If you have any questions or concerns, please let me know in the comments below!
---