If you're trying to answer the question "What Is Three Dollar Click?" then you are in the right place. In this review I'll be going over everything you need to know about it!
Three Dollar Click Review!
---
Product: Three Dollar Click
Website: threedollarclick.com
Price: Free To Join + Upgrades
Is Three Dollar Click A Scam? YES!
CLICK HERE TO LEARN ABOUT MY TOP RANKED PROGRAM!
What Is Three Dollar Click?
---
Three Dollar Click claim to be a PTC (Paid To Click) website that will pay you an incredible $3 per click.
There are plenty of legitimate PTC websites out there that will pay you to simply click on ads, videos, and various other things.
However most of those will only pay you a fraction of a cent for every click.
If TDC really does pay you $3 for each click, then it would by far be the highest paying PTC I've ever reviewed.
Unfortunately, the simple truth is that they won't pay you the money you earn!
CLICK HERE TO LEARN ABOUT THE PROGRAM THAT HELPED ME MAKE A LIVING ONLINE!
The Pros And Cons
---
No matter how certain I am that a website is a scam, I always try to find something good about it.
Here are both the good and bad things about Three Dollar Click!
Pros:
Cons:
Unrealistic Income Claims
Mandatory Paid Upgrades
Same As Other Scams
$3,000 Cash Out Threshold
They Won't Pay Out
Your Information Could Be In Danger
Over the next few sections I'll be spending some time to go further in depth about what I mean by the above points.
Unrealistic Income Claims
---
Like I mentioned earlier, it's simply ridiculous to expect to make $3 every time you click on an ad.
There are legitimate websites out there that will pay you to click on ads; however, you'll be lucky to make $0.01 per click.
Most of them will only pay you a fraction of a penny for every ad you click on!
There is simply no way that a company could afford to pay you that much for simply clicking.
If it was that simple to make money everyone in the world would be doing it, including myself!
Mandatory Paid Upgrades
---
This is the thing that makes this scam incredibly dangerous!
As soon as you create your "free" account you are taken to a page that offers you a ton of upgrades.
The catch is that you will not be able to withdraw your money unless you pay for an upgrade.
These upgrades are as follows:
Platinum: $59/Month
Ultimate Gold: $99/Month
Platinum Yearly: $299/Year
Ultimate Gold Yearly: $499/Year
Platinum Lifetime: $699
Ultimate Gold Lifetime: $999
They don't actually expect you to pay for any of these memberships right off the bat.
That's why it's so incredibly dangerous.
You'll spend a bunch of time "earning" money with their free membership, and then when you go to cash out you'll have to pay.
I mean why wouldn't you pay $1000 for a lifetime membership when you'll get $3,000+ for your first paycheck?
Well the simple truth is that you'll be paying them real money, and you won't get paid anything back!
Same As Other Scams
---
Three Dollar Click is simply the third installment of a series of scams that won't actually pay you.
I recently wrote a review for Two Dollar Click, and found out that there is actually Four Dollar Click, and it seems to go all the way up to Ten Dollar Click!
I'm not sure if they were all created by the same person, but I can promise you that they are all scams.
$3,000 Cash Out Threshold!
---
I know it's exciting to think that you'll be getting a $3,000 pay check, however it's a bit ridiculous.
Legitimate PTC website have cash out thresholds, however they are normally around $1 or so.
TDC set their threshold at $3,000 so you'll have to spend a lot of time working before you realize they won't pay you.
This is a part of their tactic to get their members to spend as much time doing work for them before they notice it's a scam!
Payment Proof
---
If you click on the "Payment Proof" button at the bottom of their page, you'll be taken to a bunch of "proof."
However it's not proof at all. It's just a bunch of usernames with payment amounts next to them that prove nothing.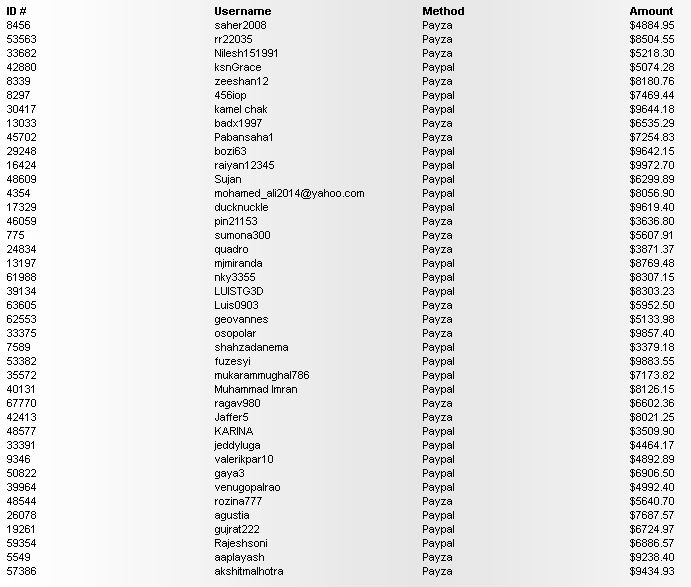 You might even come across people who claim that they have actually been paid.
However I can promise you that they haven't, and they are just saying that because Three Dollar Click claims to pay you to get others to join as well.
Your Information Could Be Sold
---
Another thing that makes this scam so dangerous is the fact that you gave them your information.
Yes, you only gave them your name, email address, and some other basic information, but that's still a lot.
Not only can your email address be used to send you emails with other dangerous scams, it can also be used to hack you.
If you used the same email address and password as you do with other websites, you might be compromised.
They could use them to hack into your social media, bank accounts, or any other accounts you might have.
What Is Three Dollar Click? A Dangerous Scam!
---
I want to be honest and tell you that I didn't actually try out Three Dollar Click, but that's because I'm about as certain as I can be that it's a

I recommend that you stay as far away from this website as possible, and whatever you do, do not give them any of your money!
Actually Make Money Online
---
If you are interested in actually making money online, and aren't scared to actually put in some time and effort, then I have a suggestion for you.
My Top Ranked Program has helped me build an online income that has allowed me to quit my job and work completely from home.
You'll be doing more than simply clicking ads, however it is stuff that anyone can do with the proper training tools and support.
It's actually free to get started with everything that you need to succeed online.
If you are interested in learning more, you can…
---
What Is Three Dollar Click? Is It A Scam? What Do You Think? Let Me Know In The Comments Below!
---