If you're wondering "What Is Triaba Survey?" then you are in the right place. In this review of Triaba I'll be going over exactly what it is, and telling you if I think it's worth your time!
What Is Triaba Survey? [Review]
---
Product: Triaba Survey
Website: triaba.com
Price: Free
What Is Triaba Survey? Legit
Is Triaba Recommended? NO (I'll Explain)
CLICK HERE TO READ ABOUT MY TOP RANKED PROGRAM!
What Is Triaba Survey?
---
Triaba is an online paid survey conpany from Norway that is available to people in 44 different countries.
They are a member of the American Marketing Association (AMA) and part of Cint OpinionHUB.
The main purpose of the company is to conduct market research that can be sold to companies.  This information can be useful to companies who are trying to make their products and services better.
Basically to you this means that you can make money from their website by taking surveys.
However it's not really as great as it seems.
Let's dive further in and go over the program!
---
---
Triaba Pros And Cons
---
I always like to list out the good and bad things about a program to give you a better idea of what you're getting into.
Pros:
A legit website and company
Survey Panels in 44 different countries
Easy To Do
Quick Set Up
Cons:
Not Very Many Surveys (1-7/month)
Won't Make Much Money
Takes A Lot Of Time
Easy To Receive Payments
Now let's take a bit of time to go over what I mean with each of these points.
How Triaba Works
---
The three steps that you have to take with Triaba are pretty simple to understand.
You simply:
Join Now
Answer Sureveys
Earn Money
Even though it's quite simple to understand, it's not quite as easy to implement all of the steps.
The first step is simple. You just complete a short registration form, and complete information in your profile.
Filling out your profile is important because the more information they have on you the better survey matches you'll get.
Getting And Completing Surveys
---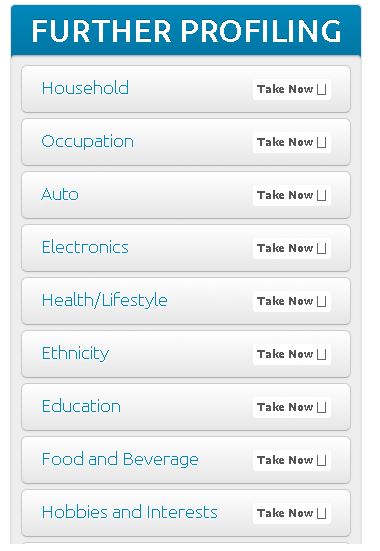 After you've finished your registration form you'll get access to the members area to start filling out your profile.
There are a lot of questions to answer, but the more you answer the easier it will be for them to select surveys for you.
The only way they will send you surveys is if your profile answer match what they are looking for in a survey participant.
Even if you're profile matches everything that they need for every survey, you still won't get that many.
According to their FAQ page, you should only expect to receive 1-7 surveys a month.
You shouldn't be expecting to make very much money with this.
You Won't Make Much Money
---
This is one of the biggest problems with taking online surveys.
Like I said, you should only expect to receive about 1-7 surveys via your email account.
You'll get paid somewhere between $0.50 and $5.50 for taking each of these surveys.
Normally the longer and more in depth a survey is, the money you will get paid for it.
Odds are that most of the ones you'll receive will be shorter ones, that payout less.
Even if you got the maximum $5.50/survey and got the max 7 surveys in a month, that would only be $38.50 a month.
In reality you'll be lucky to get surveys that pay you $1 to $2 each, which means you'll be lucky to make $10 a month.
How You'll Get Paid
---
If you complete the sign up process, fill out your profile, and complete a few surveys you should earn a few bucks?
So how will you get that money? It's honestly very simple.
You can either give them the email address to your free PayPal account, or sign up for Amazon Gift Cards.
You'll be able to easily get access to the few bucks you do make.
Conclusion – Is Triaba Worth It?
---
At the end of the day, Triaba is a legitimate company and website that will pay you to take surveys.
With that being said, you shouldn't expect to make very much money at all.
In my opinion, there are better ways that you could be spending you time online trying to make money.
In my personal opinion Triaba

Similar sites incluce: Toluna, Clickworker, Survey Club, and Survey Savvy.
Make Real Money Online
---
I honestly never recommend taking online surveys. They always take up a bunch of your time, and barely pay you any money at all.
If you are looking for a way to make real money online I suggest you Learn About My Top Ranked Program!
I made some pocket change online with paid surveys before I joined by top program, and have since made THOUSANDS online.
In face since joining their training program I have made enough money to quit my day job and work completely from home!
They give you all of the training, tools, and support you need to succeed online and the best part is that it's Free To Get Started!
If you are interested in learning more you can Click Here To Learn More!
---
What Do You Think About Triaba? Is It Worth It? Let Me Know In The Comments Below!
---