In this review of Wifi Wealth System I'll be going over exactly what it is, and telling you if I think it's a scam or not!
Will you really be able to make unlimited $80 Commissions?
Let's dive in and find out!
Wifi Wealth System Review
---
Product: Wifi Wealth System
Website: wifiwealthsystem.co
Price: Free, but requires some paid memberships
Is Wifi Wealth System A Scam? No
Is Wifi Wealth System Recommended? To Some
CLICK HERE TO LEARN ABOUT MY TOP RANKED PROGRAM!
What Is Wifi Wealth System?
---
I'm not going to lie, when I first arrived on the sales page for Wifi Wealth System I immediately thought it was sketchy.
The claims of a $400/day "done-for-you system" that can earn you "unlimited $80 commissions" just makes it seem like another scam.
However after going through the steps, and seeing what it's about I realized that it's not as bad as I originally thought.
With that being said, it's not quite as great as they make it sound either.
There is a lot of information that you need to know first, and throughout this review I'll be going over that stuff.
Let's jump in!
The 3 Steps To Join Wifi Wealth System
---
Well after putting in your information and signing up you will be taken through a process of three steps.
Step #1: Join Ebates
The first step of the Wifi Wealth System is for you to go and sign up with a place called Ebates.
You might've heard about it before but I'll briefly go over what it is.
Basically it is a cashback website that allows you to earn back a percentage of the money you spend on products through them.
How is this going to make you money?
Well Ebates has a referral program that will pay you $25 for every person that you get to sign up and spend $25 through their system.
That's why you have to enter your referral link into the Wifi Wealth System funnel.
Step #2: Sign Up For Motor Club Of America
You'll basically be doing the exact same thing that you did with Ebates, except you'll be paying a bit of money this time.
"but I thought the system was free"
Well technically the system is free, however you will have to sign up for some paid services in order to make money.
As a member of Motor Club Of America you'll be able to earn $80 commissions when you get people to sign up.
The membership will cost you $39.90 for the first month, and then $19.95 per month every month after that.
As a member you'll be able to make $80 commissions for each person that you get to sign up for a membership.
Step #3: Sign Up For Aweber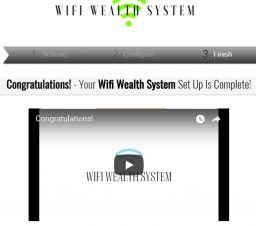 Just like the last 2 steps, you'll be signing up for another program, this time it's a membership for Aweber.
Aweber is an autoresponder that allows you to build a list of email addresses, and send out automated emails to them.
It allows you to follow up with referral who didn't actually purchase the system that you're offering to them.
It basically allows you to send out emails to remind them of how great your offer is, and to keep getting chances to get them to join.
You'll get the first month free, then you'll have to pay $19/month, and that will go up as you build your list.
How Wifi Wealth System Works
---
Basically after joining the system, you'll go out and promote the same system to other people.
When you get people to join the system, they will go through the same steps you did, and if they sign up and pay for MCA and Aweber, you'll earn commissions.
You'll also earn $25 if any of your referral spend $25 at Ebates.
I know it seems incredibly simple, but it's not quite as easy or automated as they make it seem.
The Hard Part
---
Any online marketer will tell you that the hardest part of making money online, is getting people to your offers.
The way that you'll be doing that through Wifi Wealth System is by purchasing advertisements at a place called Udimi.
I know the idea of it sounds pretty simple and fool-proof.
You just pay some money to have people go to your offer, then make money when some of them sign up.
The problem is that you have to find the right vendors, pay money, and hope that you make more money than you spent.
She makes it look incredibly easy in the training video, but there is one major problem that I see.
You'll basically be paying people to send your offer out to their massive email lists, but so will everyone else.
In the the 20 minute training video she shows you that there are a lot of crappy sources that you shouldn't buy from.
Then she shows you which vendors to use, but what happens when hundreds or thousands of people are buying from the same vendor through the Wifi Wealth System?
They'll basically be sending the same emails out to the same people.
My guess is that the conversions will start to drop and it will be much harder for you to make money.
The Main Things You Need To Know
---
The main things you need to know before joining are:
It's not an "auto-pilot" system
You'll actually have to do work
You have to pay $40 upfront, then at least $40/month
It's a lot of hype
With that being said, it is possible to make money with this system. I'm sure there will be people who do, but there will also be people who lose money.
Is Wifi Wealth System A Scam?
---
In my opinion Wifi Wealth System isn't a scam, and I don't really see how anyone could call it one.
With that being said, I personally don't think it will be as great as they claim, and I think their funnel is a bit hyped up and misleading.
You'll have to consistently put in time paying for and testing out ads, but if your offer makes more than you pay for them, you'll make profits.
However I don't think a 20 minute video is enough for you to properly learn how to succeed with this method.
I've seen systems like this before and some people earn a good amount of money with it, but many beginners struggle to get sign ups and make money.
I also personally don't like the idea of relying on someone else's system to make money, what happens if it shuts down?
You'll basically lose your income overnight, which has also happened to similar programs in the past.
At the end of the day it's ultimately up to you, whether to join or not.
If you want to pay and put in the time and effort to see if you can make any money from it be my guest, see what happens.
If you do decide to join and give it a try, let me know in the comments section below how it went!
And if it didn't work out maybe you can try my preferred program!
What I Recommend
---
My Top Ranked Program helped me build an online income that has allowed me to quit my job and work completely from home!
They give you all of the training, tools and support you need to build your own online business that will last.
If you are a beginner looking to make money online they are the perfect community for you!
If you're interested in learning more, you can…
---
Is Wifi Wealth System A Scam? What Do You Think? Let Me Know In The Comments Below!
---