In this quick review of 9 to 5 Job Killer I'll be going over everything you need to know before signing up.
Or should you even sign up for it at all?
I'll be answering that question and many more within this review, so stick around.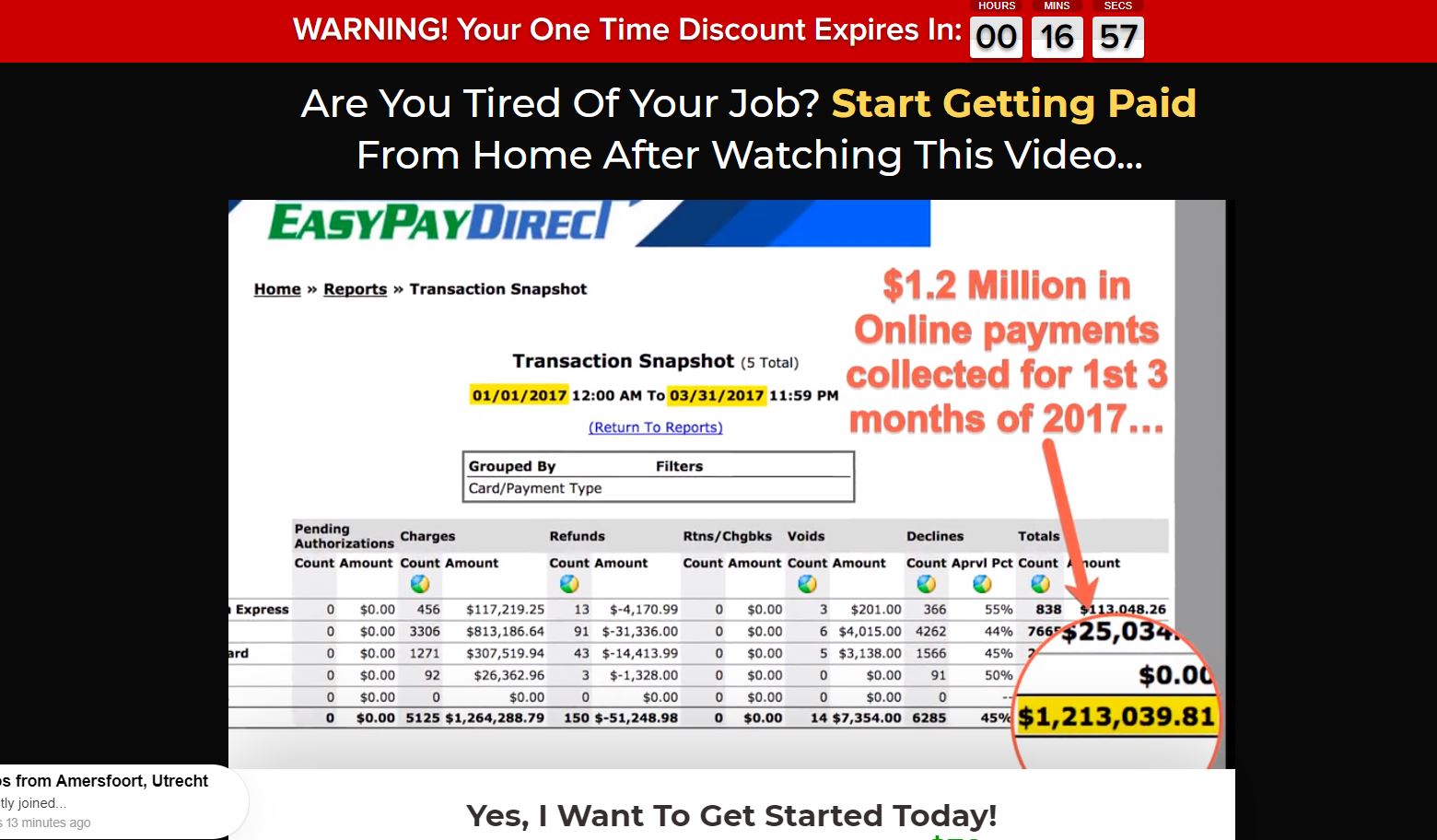 9 To 5 Job Killer Review
---
Product: 9 To 5 Job Killer
Website: 9to5jobkiller.com
Price: $39 + Thousands in Up-sells
Is 9 To 5 Job Killer A Scam? Debatable
Is 9 To 5 Job Killer Recommended? NO!
CLICK HERE TO LEARN ABOUT MY TOP RANKED PROGRAM!
What Is 9 To 5 Job Killer?
---
9 To 5 Job Killer claims to be an incredible system that will teach how to create online businesses and make tons of money online.
The whole idea behind the entire system is that it will help you create an online income that will allow you to quit your 9 to 5 day job.
While that sounds amazing and everything, there is a whole lot that you need to understand about it before joining.
What Is 9 To 5 Job Killer Really?
---
In reality, 9 To 5 Job Killer isn't even the real name of the program which you might know if you actually watched through the sales video.
You might have noticed that in the sales video they start talking about 6 Steps To Freedom.
That's because 9 To 5 Job Killer is just a sales page created with the intention of funneling you into 6 Steps To Freedom.
Oh but keep paying attention because it doesn't stop there.
6 Steps To Freedom is just another version of several other "systems" that have been created in the past.
For example, Jeff's Six Figure Business System, and 16 Steps To Six Figures, Ultimate Laptop Lifestyle, and Laptop Lifestyle Secret are all the same too.
All of these are the same system with different names created in an attempt to dodge a bad reputation and bad reviews.
How 9 To 5 Job Killer Works
---
One thing you probably want to know is if you can actually make money using the system.
And the answer to that question is yes, but don't click away and buy it just yet.
You need to understand that it is what's known as a high ticket program.
That simply means that you will be paying an incredibly high price, just so that you can start earning a commission for getting others to join.
That's right, after joining you'll simply be trying to recruit other people into the same program you just bought.
There is nothing wrong with recommending products, programs, and other services and earning a commission for doing so.
In fact that's actually how I make my living online.
I do have a problem with paying for a program that only teaches you how to recruit others into the same program.
Not to mention the prices.
The High Price
---
So this system is a "pay to play" system in which you have to buy every level or product before you can make commissions from it.
One of the main problems with this is the fact that the levels cost thousands of dollars.
You know how they say you can make $1,000 – $3,000 or even higher commissions?
Well those commissions are from selling products that cost much more than that.
And those are products that you have to purchase first.
Is 9 To 5 Job Killer A Scam? – Conclusion
---
When it's all said and done, it's debatable as to whether you should call it a scam.
On one hand, you will get some training for your money, and it is actually possible to make money.
On the other hand, 9 To 5 Job Killer isn't even the program you'll be signing up for, and you'll have to pay thousands of dollars before even having the chance to make good money.
Not to mention the fact that most people who sign up for systems like this don't even make their money back.
If you don't believe me you should look at their income and earnings disclaimer.
Regardless of whether or not it can be considered a scam, I still do not recommend it.

There are simply less shady, cheaper and better ways to make money online!
What I Actually Recommend!
---
It is absolutely possible to make good money online, especially without having to shell out thousands.
If you're interested in learning how to make money online, and you're willing to put in the time and effort it takes, then I have a suggestion for you.
My Top Ranked Program gives you all of the training, tools, and support you need to make money online.
Since joining their system I've been able to make enough money online to actually quit my day job.
And I did it without spending anything close to thousands of dollars.
If you're interested in learning more, you can…
---
Is 9 To 5 Job Killer A Scam? What Do You Think? Let Me Know In The Comments Below!
---