In this quick review of Computer Gurus I'll be going over exactly what it is and giving you 6 reasons why you should completely avoid it!
Will you be able to make any money at all?
Let's dive in and find out!
Computer Gurus Review
---
Product: Computer Gurus
Website: computer-gurus.com
Price: $97
Is Computer Gurus A Scam? Yes!
Is Computer Gurus Recommended? No!
CLICK HERE TO LEARN ABOUT MY TOP RANKED PROGRAM!
What Is Computer Gurus?
---
Computer Gurus claims to be a online money making system that requires no prior experience or skills, allows you to choose your own hours, and will help you to start earning money immediately!
They claim that you will be able to make $379 per day by only working 60 minutes a day.
In reality this is simply an old scam that has be renamed in order to escape bad reviews that have been written about it in the past.
I have 6 main reasons why you should avoid this scam, however there are a lot more reasons than that.
Let's get started with this Computer Gurus review!
The Pros & Cons
---
Even though I consider this program to be a scam, I still want to be as fair as possible and try to say something good about it.
Pros:
Might Be Able To Make Some Money
Cons:
Just Like Other Scams
Link Posting Doesn't Work
"Featured On" Lie
Fake Testimonials
Income Lies
It Could Be Anything
Over the next several sections I'll be going further into detail about all of the points that I just listed out above!
Just Like Other Scams
---
The first and most important thing I want to point out to you is the fact that I've seen this exact same scam running under multiple other names.
It is constantly being renamed and relaunched out into the world in order to escape all of the bad reviews and claims against it.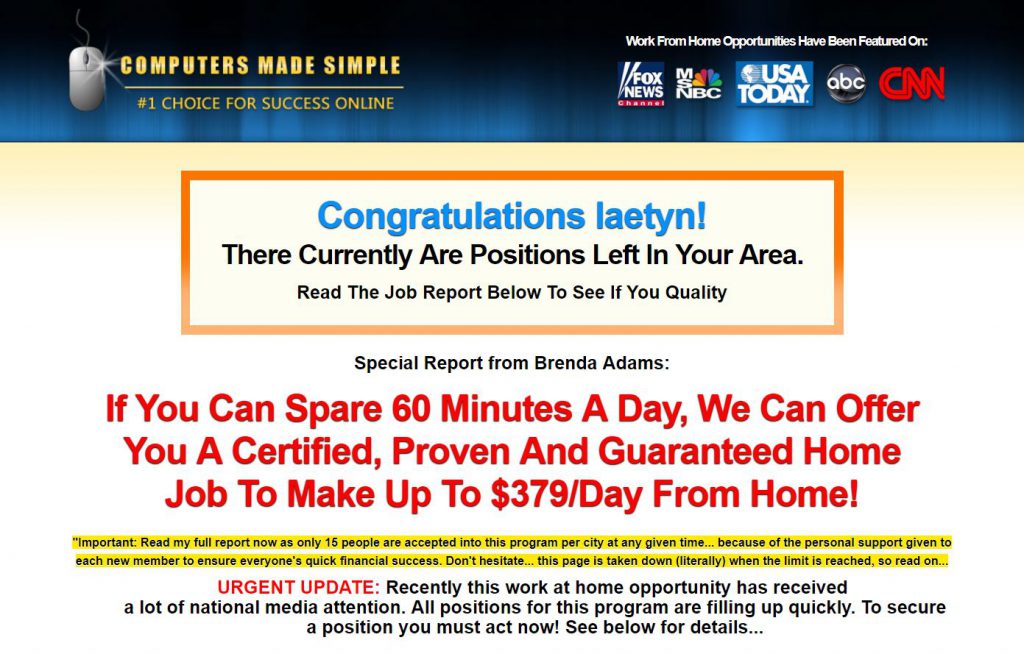 Computer Professionals, Computer Teachers and Computers Made Simple are just 3 of the dozens of other names that this scam is running under.
They literally keep everything the same except they change the names.
Link Posting Doesn't Work
---
If you decided to read through the sales page you might've been convinced that it's legit, which isn't a surprised because it's based on a legitimate way to make money online.
Online companies like Amazon and Walmart will pay you to get people to visit their websites and make purchases.
However the method that they teach you (link posting) simply doesn't work anymore.
In a nutshell they teach you to run out a spam links all over the place in hopes that people will click on them.
The problem is that this method doesn't work anymore.
Most websites have spam blockers that will automatically block or delete your links, and people have learned not to click spam links anyways.
If you're interested in learning how you really succeed at making money online I suggest you check out this training program here!
"Featured On" Lie
---
Another thing I want to make clear is the fact that this program has not been featured news outlets like Fox News or CNN.
They put this image at the top of the page to make it seem that way, but it's just a load of crap.
If this program was really popular enough to be featured on news outlets like that, don't you think you'd be able to find articles or news clips of it?
You won't be able to find anything about it because it's simply not true.
Fake Testimonials
---
One thing that's really good at convincing people to purchase something is good testimonials from past members.
The creators of Computer Gurus know that, so they went out of their way to create fake testimonials.
To the left of the sales page you'll see several testimonials from people claiming that the program is amazing,
In reality, they are just stock photos that were put next to a bunch of lies that the creators wrote themselves.
Income Lies
---
On their sales page they have this income calculator that is supposed to give you are estimate of how much money you'll be able to make.
It is completely unrealistic and doesn't come remotely close to the amount of money that you'll be making with their system.
You might be able to make a small amount of money by spamming links, but it's honestly unlikely.
One thing I can say is that you certainly won't be making anything near $20 per link.
That's simply ridiculous; you'd be lucky to make a couple pennies per link, and that's unlikely.
It Could Be Anything
---
I really want to drive home the fact that you should completely avoid this program by pointing out that it could be anything.
I didn't actually purchase Computer Gurus, however I didn't purchase the system in the past under a different name to see what it was about.
All I got was some crappy outdated training that simply doesn't work anymore.
However I've read reports from other people who've purchased it and said that they received different things.
Most of them claim that they were signed up for a program that constantly tries to get you to spend thousands of dollars on training.
You simply can't trust this place enough to give them your money in my opinion.
Is Computer Gurus A Scam?
---
I listed out 6 reasons why I consider Computer Gurus to be a scam that you should completely avoid!

There are some many lies, and misleading claims that there is simply no way to trust anything that they say.
What I Recommend
---
If you're interested in making money online and are willing to put in the proper amount of time and effort then I suggest you check out my top ranked program!
They give you access to all of the training, tools, and support you need to succeed at making money online.
Since joining their program I've been able to make enough money online to quit my job and work completely from home!
If you're interested in learning more, you can…
---
Is Computer Gurus A Scam? What Do You Think? Let Me Know In The Comments Below!
---