In this quick review of Fix Monthly Income, I'll be going over the system and giving you several reasons why it's a scam!
Fix Monthly Income Review
---
Product: For Money Only
Creator: Unknown
Website: fixmonthlyincome.com
Price: Free
Verdict: Scam!
What Is Fix Monthly Income?
---
Fix Monthly Income is a website that claims to be a leading advertising company that will pay you for getting other to join.
When you sign up they give you a unique referral link, and claim that they will pay you $5 per link visit, and $10 for each referral.
They even claim that you will earn $5 for just signing up!
Well the problem comes with the fact that they will not payout the money that you earn.
Fix Monthly Income is a scam!
Pros And Cons
---
So is there actually anything good about Fix Monthly Income? I could only find one thing!
Pros:
Cons:
They Won't Pay Out
You Could Lose Money
Website Mistakes
Exactly Like Other Scams!
Now let's jump in and go over each of these individual points more in depth.
They Won't Pay Out
---
This is one of the most important points I want to get across, which is why I made it the first one I talk about.
I know that you've seen a bunch of screen caps that prove that people actually make money.
The problem is that those screen captures are actually from the fake account that you get when you sign up for their membership.
I can guarantee you that none of the pictures you see will be from someones actual PayPal account.
You should also be aware that you may have money taken out of your PayPal account!
You Could Lose Money!
---
I know what you're thinking. How could you possibly lose money if it's completely free to sign up?
You'd be surprised how sneaky these scam websites can be.
First off, they had you create a user name and password in order to sign up for you free account.

Then they had you enter in your email address that's linked up to your PayPal account.
By any chance did you use the same password for your Fix Monthly Income account as the one you use for your PayPal?
If so then they now have your PayPal email address and password, and could possibly log into your account.
You might want to go check you PayPal and change the password if you did this!
Website Mistakes
---
I don't have too much room to talk about this point because I make grammar mistakes all of the time.
However the difference is that I'm not claiming to be a leading online advertising company.
I'm just a guy that writes on a website for a living!
Just take some time to read through what they say on their pages and you'll find several missing words and mistakes.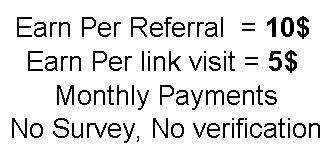 Another thing to notice is the fact that for all of the money, they have the $ after the numbers.
Do you want to make $10 or do you want to make 10$?
All of these mistakes happen because these websites are normally made in non-English speaking countries.
So they don't realize the mistakes that they make.
Exactly Like Other Scams!
---
If nothing I've mentioned in this review has convinced you that it's a scam, that's understandable because I haven't provided much proof.
However after this section you should absolutely be convinced!
I know that Fix Monthly Income is a scam because I have seen several scams that are exactly like this one.
I don't mean similar, I mean exactly!

Job Bravo, Cash By Job, and For Money Only are just a few of the websites that look exactly like this one!
And guess what… all of them were scams that didn't pay out either!
Is Fix Monthly Income A Scam?
---
Hopefully by now you already have an idea about what I think about this program.
Fix Monthly Income is in fact a

You won't be doing anything but wasting your time with it. They won't actually pay you any money, and you could potentially lose the money in your PayPal account.
Actually Make Money Online!
---
Did you know that you can actually make money online by referring people to certain websites?
That's actually how I make a living online.
You get people to click your links, and you will make money if they go on to purchase something from the website you send them to.
You can do this with major websites like Amazon, Etsy, and hundreds of other smaller websites as well.
It's not as easy as it seems, and I suggest that everyone who wants to succeed gets the proper training, tools, and support!
To learn where I got started for with all of those things, you can click here to learn more!
---
If you have any questions or concerns, please let me know in the comments below!
---