In this quick review of Insider Profit Groups I'll be going over everything you need to know about it before buying.
Should you even buy it at all, will you make any money, or are they just lying to you to get your money?
Those are just some of the questions that I'll be answering within this review.
So let's just jump in!
Insider Profit Groups Review
---
Product: Insider Profit Groups
Website: insiderprofitgroups.com
Price: $9 + Up-sells
Is Insider Profit Groups A Scam? Debatable
Is Insider Profit Groups Recommended? NO
CLICK HERE TO LEARN ABOUT MY TOP RANKED PROGRAM!
What Is Insider Profit Groups?
---
Insider Profit Groups claims to be a system created by a guy (pen)named Steven Jason, that can make you a ton of money online.
On the sales page it claims that it will help you "claim your slice of this $4.7 billion honey-pot"
The gist of it is that it will teach you how to make money online by creating Facebook groups, and promoting affiliate products to the members.
This is a legitimate way to make money online, and there are a lot of people out there who do it.
I don't make my money using Facebook groups, but I do make my living online using affiliate marketing.
Recommending products online to a group of people, and earning commissions from the sales is a great way to make money online.
Without being said, don't run out and sign up for Insider Profit Groups just yet, because there's a lot more you need to know.
The Pros & Cons
---
Just because it's possible to make money with a system, doesn't mean everything about it is perfect.
Let's take a minute to go over both the good and bad things about this program.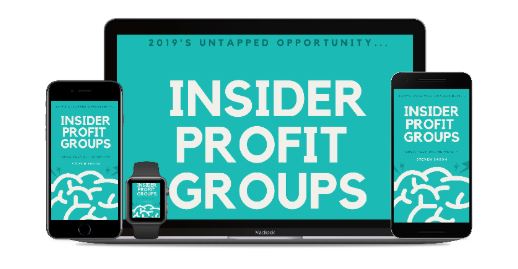 Pros:
Possible to make money
Possible to get a refund
Has basic information about earning money
Cons:
Over-hyped
Higher Price With Up-sells
Similar To Other Schemes
Within the next several sections I'll be going further into detail about the points that I listed above.
It's Over-Hyped
---
One of the first things you need to understand before purchasing Insider Profit Groups is that it's not as great as they make it seem.
You need to understand that it will be a lot more work than they make it seem, and take a lot longer too.
It takes a considerable amount of time and effort to build a Facebook Group unless you have an equally considerable amount of money to spend on ads.
Not to mention it's not as simple as just asking your members to purchase something.
You have to provide constant valuable information in order to keep them interested and ready to buy.
You have to be able to help them solve a problem.
Higher Price With Up-sells
---
This is something that most systems like this do, they price it at an incredibly low irresistible amount like $9.
That makes you think that the most you have to lose is 9 bucks, so what's the harm.
The problem is that immediately after purchasing it you will be hit with a bunch of add-ons called up-sells.
Platinum Group = $197
Crypto Millionaires Calendar = $147
Diamond Profit Booster = $97
Those are the three up-sells that you'll be pressured into purchasing right after you sign up.
They'll claim that you'll need them in order to get the full potential of the system.
The $9 purchase will most-likely not be enough for you to truly succeed at earning money from Facebook Groups.
Similar To Other Schemes
---
One last thing you need to understand is that I've seen many, many "systems" similar to this one.
Some are better and some are certainly worse.
One thing that I noticed is the fact that this might just be a different program that they renamed because it got bad reviews.
That happens a whole lot these days.
Programs like Spring Profits, Silk Road Effect, and Bulletproof Profits, are all similar systems launched on ClickBank recently.
This systems will often rename themselves and relaunch after a few months.
I'm not sure if that's what happened here, but it wouldn't surprise me.
Is Insider Profit Groups A Scam? – Conclusion
---
I personally don't consider Insider Profit Groups to be a scam, maybe a scheme, but not a scam.
While it does mislead you a bit, it does contain some helpful information about making money with Facebook Groups.
With that being said, I'm still not going to recommend it to my readers because of all of the cons I listed out.

If you still want to give it a try, don't let me stop you, it's through ClickBank, so you can get your money back.
Just keep in mind that you'll be spending a lot more time and money on working with this system.
What I Do Recommend
---
On this website I try to only recommend the best programs out there, so I have high standards.
I've reviewed hundreds of online money making programs, and by far the best one out there in my opinion is This One Right Here.
They give you all of the training, tools, and support you need to make money online.
There's no hype, no up-sells and you don't even need a credit card to get started.
They're actually the program that helped me build an online income that's allowed me to quit my job and work completely from home!
If you're interested in learning more about them, you can…
---
Is Insider Profit Groups A Scam? What Do You Think? Let Me Know In The Comments Below!
---