In this quick scam review of Home Job Position I'll be going over the system and telling you why it is a scam!
Home Job Position Scam Review
---
Product: Home Job Position
Creator: Kelly Simmons
Website: www.home-job-position.com
Price: $97
Verdict: Scam!
CLICK HERE TO READ ABOUT MY TOP RANKED PROGRAM!
What Is Home Job Position?
---
Home Job Position is an online money making training program that isn't quite what it seems.
I know that what they tell you makes sense and actually seems legit, but it's not.
Throughout this review I'll be pointing out several reasons why you should avoid Home Job Position.
Let's jump in.
Pros and Cons
---
For each program that I review I try to be fair and find both good and bad things about it.
Pros: 
You can maybe make SOME money (unlikely)
Cons:
Exaggerated Income Claims
False limited position claims
Fake testimonials
Link posting doesn't work anymore
Same scam/different name
Fake TV news spot
"As seen on TV" lie
There are so many cons to this system that I have to out front recommend that you avoid it.
Let's go a little further in depth about the red flags of this system.
Exaggerated Income Claims
---
While in theory it is possible to make a small amount of money by following their training, it is unlikely.
I can't almost guarantee that you are not going to see anything close to the $379 a day they claim you can make.
The so called money making method that they teach you is out dated and doesn't work anymore.
Link Posting Doesn't Work Anymore
---
So basically what they are going to do is have you post links that can potentially make you money.
However there are a few problems with the method that they teach.
In the past you could just post your links on any website in the comments section and people would click them.
Now-a-days most websites will block spam links, and people won't click on them if they don't.
The only way you might make some change is by spam emailing people, but it's unlikely they will click them.
Most people are aware of email scams and won't even open or click links in them.
"As Seen On TV" Lie
---
At the top of the sales page you can see this image here:
This image suggests that Home Job Position has been featured on all of those news channels.
However that is just a blatant lie.
I keep up to date with online money making opportunities for a living, and I would be the first to know if this was on TV.
Fake TV News Spot
---
I know the video at the top of the sales page makes it seem like this system was feature on TV.
Yet, if you sit down and really think about it, it's just a fake.
First off, notice how the news reporter never says the name "Home Job Position?"
That's because the segment was just about making money from home in general.
Making money online is absolutely possible, I make my entire living with the money I make online.
You're just not going to make money following the method that they teach.
If you want a real place that will teach you how to make real money online, click here to learn more!
Fake Testimonials
---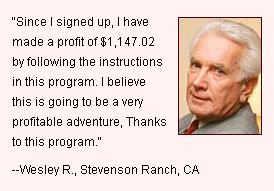 The website has a whole bunch of testimonials throughout it of people claiming it's changed their lives.
Well the simple fact of the matter is that they are just completely fabricated.
The people in the photos are just from stock images, and the quotes were just made up by the creators.
You know how I know this?
Because I have seen this exact scam before except with a different name!
Same Scam/Different Name
---
I've seen this same scam sales page multiple times, it's just been using different names.
For example Secure Job Position is one that I wrote a review about just a week or so ago!
If you don't believe me you can take a look for yourself.
Is Home Job Position A Scam
---
Hopefully by the time that you've read to this point I have convinced you that Home Job Position is in fact a

Please don't waste your money on this scam because you will never get it back.
If you are interested in a real method that will actually make you money online I suggest you keep reading!
Make Real Money Online!
---
As I briefly mentioned above, it is absolutely possible to make money online.
It is even possible to make more than enough money to live off of.
I know that for a fact because I make my entire living online, with nothing buy my computer.
Before you get too excited, you need to keep in mind that you will actually have to put in some time and effort.
Aside from that, anyone can do it, it's actually rather simple.
The only three things that you really need are a good training program, proper tools, and good support system.
If you want to know where I got started with all three of those things for free you can CLICK HERE TO LEARN MORE!
---
If you have any questions or concerns, please let me know in the comments below!
---