Is Opinion City actually a legitimate website where you can make good money by taking online surveys?
Will you actually be able to make $500/week like they suggest you can?
Well as it turns out, there is a lot you're going to want to know before joining them!
Opinion City Review
---
Product: Opinion City
Website: opinioncity.com
Price: Free to join – Some Offer Require Payments
Is Opinion City A Scam? Kind of (I'll Explain)
Is Opinion City Recommended? NO!
CLICK HERE TO LEARN ABOUT MY TOP RANKED PROGRAM!
What Is Opinion City?
---
As you probably know, it is possible to make some extra money online by taking simple online surveys.
Websites like Pinecone Research, and Earnhoney allow you to answer questions about varies topics, and they will pay you a small amount of money to do so.
Well Opinion City is a bit different from them. Opinion City basically lists out various survey websites, so that you can find them all in one place.
That would be helpful if that's all they did, however they also happen to connect you to and recommend various known scams.
Pros And Cons
---
Let's go over some of the good and bad things that I could find about Opinion City.

Pros:
You Can Make Money With Some Websites They Recommend
Cons:
You Won't Make As Much As They Claim
They Recommend Various Scams
Over the next few sections I'll be going a bit more into detail about what exactly I mean with the points listed above.
How It Works
---
Like I said, it is possible to make money with some of the websites and programs that they recommend you to.
With that being said, you certainly should not be expecting to make a bunch of money, especially not as much as their "Work From Home" programs claim.
The main objective of Opinion City is to get you to sign up for all of the websites that they recommend to you. That's because they will get paid money when you do.
There is nothing wrong with that, as long as they are recommending products that they truly believe in.
I actually make a living online by getting people to purchase items, and programs that I believe in.
The problem is that they just recommend you to sign up for a bunch of programs that are known scams.
It appears that they will just tell you to sign up for any program that will pay them money.
They Recommend Various Scams
---
While looking through some of the offers and website they recommend, I came across a few familiar ones.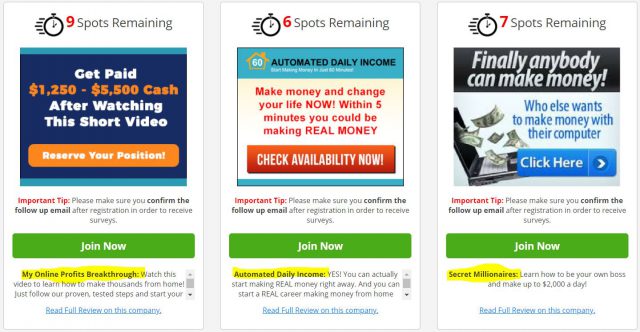 My Online Profits Breakthrough, Automated Daily Income, and Secret Millionaires are all scams that I've written reviews for in the past.
I wasn't able to go over all of the websites that they recommend, but if they try to get you to sign up for these scams, how can you trust them.
A few of the websites they recommend like Toluna are legit, but I'm sure there are other scams mixed in there as well.
Is Opinion City Legit Or A Scam?
---
I personally wouldn't consider Opinion City to be a scam, however they are certainly not trust worthy.
The problem is that it doesn't appear that they care about the quality of programs or websites that they recommend.
They don't care that some of their "work from home" offers have lead to people losing their entire life savings.
Those are the reasons why Opinion City is

In my opinion, taking online surveys is a waste of time because you will literally only get paid like $2-$5 per hour at best.
However if you are set on doing surveys, Survey Club will help you find some that are actually legitimate.
Make Money Online Like I do!
---
If you are interested in making a few extra bucks online taking surveys, and are willing to put in plenty of time and effort, then I have a suggestion for you.
Thanks to My Top Ranked Program I've been able to build up an online income that has allowed me to quit my job and working completely from home!
They give you all the tools, training and support you need to create your own online business.
If you are interested in learning more, you can…
---
Is Opinion City A Scam Or A Legit Website? What Do You Think? Let Me Know In The Comments Below!
---