In this Panda Cash Back Review I'll be going over what you need to know about it, and telling you if it's worth your time!
Panda Cash Back Review
---
Product: Panda Cash Back
Website: www.pandacashback.com
Price: Free
Is Panda Cash Back A Scam? NO
Is It Worth It? Maybe
CLICK HERE TO READ ABOUT MY TOP RANKED PROGRAM!
What Is Panda Cash Back?
---
As you probably already know Panda Cash Back is a system where you can get money and rewards back from the products you purchase online.
They are linked up with thousands of online retailers, and if you go through them to make a purchase, you'll earn some money back.
There are a whole lot of cashback websites out there, so does Panda Cash Back stand up to them?
Let's go over their system, and find out!
How Panda Cash Back Works
---
Like I said, they are partners to thousands of online retailers. Those retailers pay them a commission every time they get someone to make a purchase.
They then turn around and give you a part of that commission back, so it's basically like getting a rebate.
Here are the following steps you'll have to take:
Create Your Free Account
Shop At Partner Online Retailers
Retailer Ships You Items Or Pick It Up In Store
Store Pays Panda A Commission
They Share The Commission With You
The process is incredibly simple, you just find what store you want to shop at on the Panda website, then click it.
They will then redirect you to that store, and you simply shop for the items that you want to buy.
Once you reach the $15 require limit, you can have the money sent to your PayPal account the next day.
How Much Money Will You Get Back?
---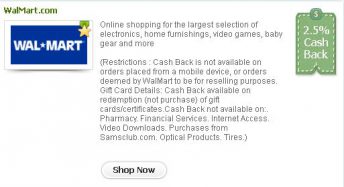 This honestly just depends on the store you choose to shop at, and obviously how much you spend.
I've noticed that you normally get higher percentages off from stores that you normally wouldn't shop at.
Smaller store seem to offer higher commissions because they depend on websites like Panda Cash Back to send shoppers their way.
Whereas larger companies like Walmart and Best Buy will only offer small percentages like 2.5% or so.
This is normal for every Cash Back program that I've come across so far.
Panda Cash Back Problems
---
I just want to address a few things that I came across while doing research for this review.
Didn't Receive Cash Back
Took A While To Get Money
Didn't Get Much Back
From my research I only cam across a couple of these complaints buy I wanted to address them.
I saw some complaints posted about people not getting their money, or it taking forever for them to get it.
It appears that most of those complaints were from 2012 or 2015 and I haven't seen any recent ones.
I'm assuming that's before Panda Cash Back got to level it's at now, and they just had some problems in the past.
However the main problem I see is simply that people don't get very much back.
You'll have to make rather large purchases in order to see any notable amounts of money back, but that's to be expected.
Is Panda Cash Back Worth It – Review Conclusion?
---
Honestly it's up to you to decide if Panda Cash Back is worth it or not.
It depends on what stores you do your shopping out, how much you spend, and how often you shop online.
I personally don't really recommend Panda Cash Back because there are simply better cash back places out there.
In my opinion The Dosh App is the best and easiest to use cash back app out there right now, click here to learn more about Dosh!
However if you do choose to use Panda, I'm sure you'll like it and be happy at the end of the day.
What I Recommend
---
If you are interested in finding other cashback programs I would suggest ones like Ibotta, Ebates, or MyPoints.
If you are interested in making money online, rather than just saving it, I have a suggestion for you.
I make my entire living online, and I found out how to do it when I was looking for ways to save money just like you are now.
My Top Ranked Program gives you everything you need to start making money online, and it's completely free to get started!
If you are interested in learning more, you can
---
What Do You Think About Panda Cash Back? Is It Worth It? Let Me Know In The Comments Below!
---