In this review for Greedy Mentor I'll be going over everything you need to know about it before pulling out your money.
Will you actually be able to make anywhere near $1,000 per day, or are they just trying to get your money?
One thing I want to point out first is that the Greedy Mentor website will not be shutdown tonight at midnight, so take your time and read through this review.
Let's dive in and find out!
Greedy Mentor Review
---
Product: Greedy Mentor
Website: greedymentor.co
Price: $67
Is Greedy Mentor A Scam? Probably
Is Greedy Mentor Recommended? NO!
CLICK HERE TO LEARN ABOUT MY TOP RANKED PROGRAM!
What Is Greedy Mentor?
---
Greedy Mentor claims to be an incredible program created by Meaghan Harper that can make you thousands of dollars online.
They claim that you are part of a select few people who have been invited to join this incredible program.
Apparently you'll be able to make $1,000+ each and everyday just from doing about 15 to 20 minutes of work.
If that sounds too good to be true to you, that's probably because it is.
What Is Greedy Mentor Really?
---
In reality Greedy Mentor is a "program" that is simply trying to lie and mislead you into giving them your money.
It's a get rich-quick scheme that's just telling you everything you want to hear to get you excited enough to get out your wallet.
You shouldn't trust anything they tell you on the website, and over these next few sections I'll be giving you several reasons why not.
The Pros & Cons
---
Let's go over some of the good and bad things that I could come up with about Greedy Mentor.
Pros:
Cons:
Just Like Other Schemes
Ridiculous Income Claims
Fake Testimonials
Fake Creator
Not Enough Information
Throughout the next several sections I'll be taking the time to go further in depth about what exactly I mean with the points listed above!
#1: Just Like Other Schemes
---
The truth is that as soon as I arrived at the sales page for Greedy Mentor, I knew that it was just another scheme.
That's because I've seen and reviewed systems in the past that looked exactly like this one.
Your Freedom Mentor, and Seven Figure Profit Code are both "systems" I reviewed in the past and they both looked almost exactly like Greedy Mentor.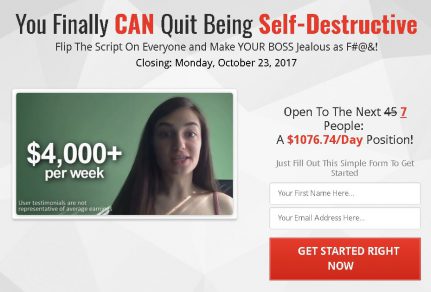 Both of the above program were outed as scams, so they just changed the names and relaunched them in order to keep tricking people.
#2: Ridiculous Income Claims
---

I know it sounds amazing to be able to make $1,000+ per day almost immediately without doing much work. But the truth is that it's simply not going to happen.
Don't get me wrong, it is absolutely possible to make good money online, I even make my living online.
However it is simply not going to happen overnight, and it's not going to happen from you only putting in 15 to 20 minutes of work.
If you come across anything that claims you can make a ton of money overnight, you should immediately be suspicious of it.
Hopefully if you're reading this review it means that you were.
#3: Fake Testimonials
---
One thing that can be very convincing is seeing other people claim that they've made a ton of money with a program.
That's exactly why the creators of these schemes go out of their way to pay people to create fake testimonials.
The truth is that I've seen all of those people in various scams and schemes all over the internet.

Most of them are actors who can be found on a website called Fiverr. They'll read a script you send them as long as you pay them.
#4: Fake Creator
---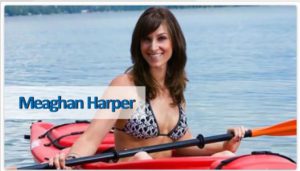 Meaghan Harper just so happens to be a the exact same name used in the other two scams that I mentioned earlier in this review.
The simple truth is that the creator of this "system" uses a fake name and stock photo.
They obviously do not want to associate their real name and image with this program.
Most-likely because they know that no one is going to like it.
#5: Not Enough Information
---
One other thing I want to take a minute to point out is that they don't tell you anything about what you'll actually be getting.
If I'm going to shell out $67 for something, I want to at least know what I'll be doing, and what I'll be getting.
Will I get access to some training videos that show me how to make money online?
If so, how many videos is it, and what exactly will they be teaching me?
I've reviewed hundreds of online money making programs, and all of the legitimate ones tell you what you'll be getting.
I mean, my Top Ranked Program evens let's you try them out completely free without you even having to get out your wallet.
Greedy Mentor is just making a ton of ridiculous promises without telling you anything about itself.
Bonus Reason: The Disclaimer
---
Okay, so if you are still haven't been convinced that you should avoid Greedy Mentor, I have one last thing that should hopefully change your mind.
If you take a second to scroll down to the bottom of the sales page, you'll see a disclaimer that you should read through.
If you don't want to go to the sales page, I took a screenshot of it that you can see below.

The main thing that you need to take away from the disclaimer is the part that I highlighted.
"The typical purchaser does not make any money using this system"
They put that disclaimer in their to cover themselves just in case someone actually tries to sue them.
Is Greedy Mentor A Scam?
---
I didn't actually shell out the $67 to actually purchase Greedy Mentor simply because of all of the reasons I listed out above.
I can't with 100% certainly call it a complete scam, however I can say that it will absolutely not live up to the claims it makes.
You will not make thousands of dollars from only working 15 to 20 minutes, and I honestly doubt you'll make any money at all.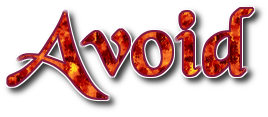 As I'm sure you've already realized, I am going to suggest that you completely avoid Greedy Mentor.
You're only going to be disappointed if you give them your money.
Did you purchase Greedy Mentor?
Let me know what happened and what your thoughts are about it in the comments below!
Actually Make Money Online!
---
Like I said earlier, it is absolutely possible to make money online, and their are programs out there that will actually teach you how to do it.
My Top Ranked Program gives you all of the training, tools, and support you need to succeed at making money online.
Since joining their program I've been able to make enough money online to quit my job and work completely from home!
If you're interested in learning more, you can…
---
Is Greedy Mentor A Scam? What Do You Think? Let Me Know In The Comments Below!
---