---
Is it worth the $7 or can you find the information for free or cheaper elsewhere, find out in my Webinar Authority review.
In this quick review I will be giving you everything you need to know about the training before you buy it.
Webinar Authority Review
---
Product: Webinar Authority
Creator: Aurelius Tjin
Website: unstoppableplr.com
Price: $7.00 + Up-sells
Verdict: Decent
Read About My #1 Recommended Program!
What Is Webinar Authority?
---
Webinar Authority is a step-by-step guide that walks you through the process of preparing, presenting hosting and running a successful webinar.
If you don't know what a webinar is, it's basically just an live online seminar or class that walks potential customers through the process of doing something.
What Webinar Authority Really Is
---
It's a PLR product that was created with the intent of being resold by other internet marketers for a profit.
Internet marketers purchase the rights to resell sell this product to their own customers, and make 100% of the money for themselves.
This isn't always a bad things, however there are many terrible PLR products out there.
Is this one of them.
What You Get
---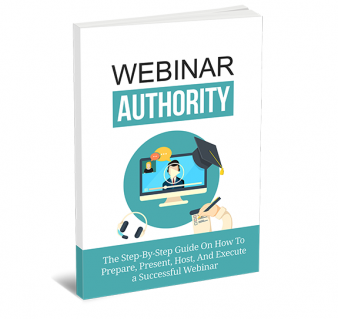 The main product that you receive when you purchase Webinar Authority is an eBook.
The eBook walks you through how to prepare a good presentation and engage your audience.
It also tells you what equipment you'll need, what type of topic you should pick to make sure it is engaging, and a how to best monetize it.
It will also give you tips about improving you current webinars if you are a person who already does them.
Overall this is what you get:
Step-by-step eBook
Point-by-point checklist
Resource Cheat Sheet
Mindmap
You can also opt to purchase a couple up-sells that will give you more, I'll get more into that shortly
Pros and Cons
---
After going through this product, there are a few things I like and a few things I don't like.
Pros:
Has some decent information
Will help you run a webinar
Cons:
Information can be found elsewhere for free
Only an eBook (you can purchase videos)
Up-sells
The Up-sells
---
After you purchase Webinar Authority you will be immediately sent to other sales pages and offered more expensive items.
This is how the people who make these products make most of their money.
They offer a very low price for the first item in order to get you to commit to the purchase, then they offer higher quality more expensive items.
Up-sell: Upgrade ($27)
10 training videos that walk you through the webinar process
Their are also a few other up-sells that mainly revolve around reselling the item but I'm not going to get into those here.
Personal Thoughts
---
If done properly, webinars can be an incredible way to get customers more interested in whatever you are trying to sell them.
I've heard of marketers running webinars and bringing in hundreds of thousands of dollars in a single night!
Now of course the only way a good webinar is going to bring you in good money is if you have a high quality product to offer your viewers.
In all honesty Webinar Authority has some decent training when it comes to the process of doing webinars.
However if you spend some extra time searching online, you can find all of the information that it offers elsewhere for free.
Conclusion
---
Webinar Authority has some good information about creating and running webinars, however it is all information that can be found in other places online for free.
If you are someone who doesn't want to search around to find this information scattered around the internet than you may benefit from purchasing it.
Overall, Webinar Authority is

My Recommendation
---
Webinars can be a great way to get customers more interested and ready to buy products that you sell, and or are affiliated with.
However you must already have an audience, a product, or affiliate products to offer them in order to make any money.
If you need help creating your own website, getting traffic to it, and properly monetizing it in order to optimize the money that you make from you webinars, then I suggest you read about my #1 recommendation.
---
If you have any questions or concerns, please let me know in the comments below!
---