If you are looking for reviews of Scribie then you are in the right place. I'll be going over what it is and telling you if it's a scam or not!
Scribie Review
---
Product: Scribie
Website: scribie.com
Price: Free To Join
Is Scribie A Scam? NO!
Is Scribie Recommended? Only To Some! (I'll Explain)
CLICK HERE TO LEARN ABOUT MY TOP RANKED PROGRAM!
What Is Scribie?
---
Scribie is an audio file transcription service that allows companies to have their audio transformed into text.
It's also a place where individuals can sign up to get paid for transcribing said audio files into text.
In this review I will be going over both the good and bad things that you need to know before signing up.
Is Scribie a good place to make money online, or will you just be wasting your time and energy on it?
Let's dive deeper and find out!
The Pros And Cons
---
To give you a clear picture of the program I like to list out the good and bad things in one place.
Pros:
You can work from home
Get Paid Through PayPal
Get Paid Daily
Nearly anybody can do it
Cons:
Lot Of Work For Little Pay
Reviewers Can Be Strict
Need to be a good typist
Over the next several sections I'll be going into further details about what exactly I mean with the points listed above.
How Scribie Works
---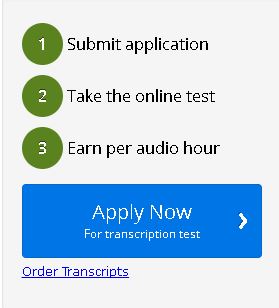 When it comes to figuring out how Scribie works, it's pretty simple and easy to get started.
You simply have to apply for a transcription test, and take after you are approved.
If you pass the transcription text you will then be able to start selecting audio files. It's important to note that I've seen some complaints about it taking a few weeks after the test to actually get a spot.
Once you're accepted in you will be able to look through and sample audio files, and choose the ones you want.
All of their files are 6 minutes long, and will most-likely be recorded phone calls, speeches and various other similar things.
How You'll Get Paid And How Much
---
As of the time I'm writing this review, you'll be paid somewhere between $5-$20 per audio hour.
This means that the 6 minute audio recording will pay you somewhere between $0.50 and $2.00 a piece.
This is where most of the complaints come in about Scribie.
Even though that may seem like a decent wage, many people who have worked there think otherwise.
They claim that the 6 minute files can take anywhere from 30 minutes to a couple hours; depending on the quality and how fast you are at it.
This means that depending on how fast you work, you will likely only be paid $1-$3 per actual hour of work.
It would be helpful to be a fast typist, however that won't help you too much if you can't understand the audio files.
There is no cash out threshold, so when you make money you can cash it out.
You'll be paid through PayPal and should receive your money within a day.
Those are definitely huge pros, because many programs will take days or weeks to get you your money.
Complaints About Scribie
---
I've already mentioned a few complaints, however I want to list them all out here for you anyways.
Low Pay
This is by far the most common complaint out there about Scribie. You just simply don't stand to make much money with them.
It all depends on how fast you work, but from what I've seen it will still take quite a while to complete a transcription.
Strict Reviewers
After you have completed a transcription, you'll have to submit it for review. I've seen complaints that the reviews can be very strict and your work will be disputed.
Tedious Work
One other thing I've seen complained about is the simple fact that it's boring work. This is obviously a subjective complaint, however it is something to think about.
Is Scribie A Scam Or Legit?
---
When it comes to Scribie, it is definitely a legitimate way to make some extra money online!
With that being said, it is not something that I generally recommend to people who want to make money online.
The main reason I don't recommend it is for the simple fact that there are other better ways to make money online!
However if you are a good transcriber and know what you are doing, it might be a good choice for you. You could also consider checking out TranscibeMe!
Make Money Online Like Me!
---
Like I said, there are simply better ways to make money online.
I know that because I started making enough money online to quit my job and work entirely from home!
Anyone can do what I do as long as they get the proper training, tools and support!
You can get started with all three of those things for free in the same place I get them!
If you are interested in learning more, you can…
---
What Do You Think About Scribie? Leave Your Thoughts Or Reviews In The Comments Below!
---