In this quick Ad Flippers Bot Review I'll be going over several reasons why I think you should avoid it.
Will you really be able to make any money with it? Or are they just trying to scam you?
I'll be answering those questions and many more within this review, so stick around.
I've reviewed hundreds of online money making programs, and one has always stood above the rest!
If you're interested, you can CLICK HERE TO LEARN ABOUT MY TOP RATED PROGRAM!
Ad Flippers Bot Scam Review
---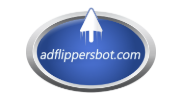 Product: Ad Flippers Bot
Website: adflippersbot.com
Price: $250 Deposit
Is Ad Flippers Bot A Scam? YES!
Is Ad Flippers Bot Recommended? No!
CLICK HERE TO LEARN ABOUT MY TOP RANKED PROGRAM!
What Is Ad Flippers Bot?
---
Ad Flippers Bot claims to be a new online money making system that's so popular it's been featured on CNN Money and BBC News!
They claim that you'll be able to use the same method that Facebook & Google use to make billions of dollars.
It claims to be an incredibly quick, easy and basically fool-proof way to make thousands of dollars per month online.
While all of that sounds incredible, it actually turns out that NONE of it is true.
Is Ad Flippers Bot Legit?
---
As it turns out, what Ad Flippers Bot claims to be and what it actually is are two completely different things.
The truth is that Ad Flippers Bot is not a legit way to make money online.
It's in fact linked with other scams that have taken advantage of thousands of people and stolen a ton of money.
I'll be going over all of the information you need to know in the next few sections.
The Pros & Cons
---
Normally in this section I list BOTH good and bad things, but there is nothing good about this one.
Pros:
Cons:
Fake Testimonials
Fake News
False Scarcity
Ad Flipping Isn't A Thing
#1: Fake Testimonial
---
If you scroll down to the bottom of the sales page, you'll see several testimonials from supposed users.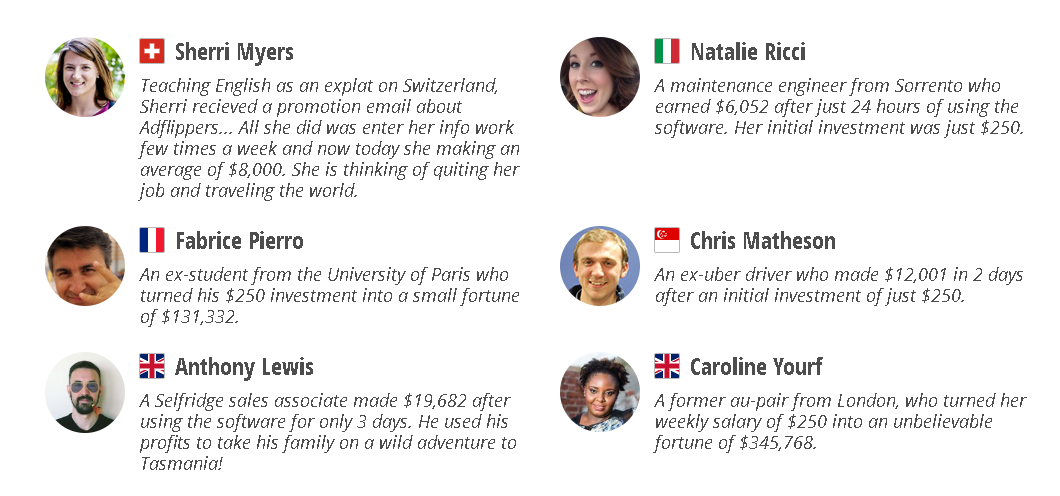 All of them claim that they've made thousands of dollars in an incredibly short amount of time.
As it turns out, all of the pictures of the people are just random photos pulled from the web, or stock photos.
The testimonials themselves were probably just written by the person who created the website.
#2: Fake News
---
In order to make their system seem more legit, they try to claim that they've been featured on CNN Money and BBC News.

However that is a complete and total fabrication.
I tried and failed to find anything about Ad Flipper Bot on either of their websites.
If this system was really as great as they claim, it'd be incredibly easy to find articles about it.
#3: False Scarcity
---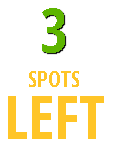 Another shady thing they do is try to add a since of urgency to the purchase by claiming there are limited positions.
They also claim that the registration will close on the day that you're viewing the page.
One thing you need to know is that no matter how long you wait, or how many people sign up before you, they will always take your money.
#4: Ad Flipping Isn't A Thing
---
There are a bunch of scams out there that claim that you can make money by "Flipping Ads"
However the truth is that Ad Flipping isn't even an actual way to make money online.
I've been making a living online for years now, and I'm always looking for new ways to increase my income.
If I could really make thousands within the next couple of days, just by clicking some ads, I'd be all over that.
However it's not a real thing.
Not matter how much I wish it was, it's simply not real.
Is Ad Flippers Bot A Scam?
---
Yes, Ad Flippers Bot is a scam that is out to get as much money as possible from you.
Ad Flipping is not a real thing.

They just want you to "invest" $250 so that they can add it to their bank accounts.
Be aware that they might even try to make it look like you're making thousands by showing you a fake bank account.
Then try to convince you to "invest" even more money.
Don't fall for it!
Actually Make Money Online!
---
Even though "Ad Flipping" is not an actual way to make money online, there are REAL ways to earn money.
For example, I make money online through the use of Affiliate Marketing!
Companies like Amazon, and Walmart will pay you to get people to go to their websites and buy things.
You don't have to be technically savvy to do it either.
My Top Ranked Program gives you all of the training, tools and support you need to make money online.
Not to mention it is completely free to get started!
---
Is Ad Flippers Bot A Scam? What Do You Think? Let Me Know In The Comments Below!
---