In this review of Envelope Work I'll be going over exactly what it is, and telling you if I think you should sign up or not.
Will you really be able to make $3,279.21 every week, or are they just trying to get your money?
Let's dive in and find out!
Envelope Work Scam Review
---
Product: Envelope Work
Website: envelopework.com
Is Envelope Work A Scam? YES!
Is Envelope Work Recommended? No!
CLICK HERE TO LEARN ABOUT MY TOP RANKED PROGRAM!
What Is Envelope Work?
---
Envelope Work claims to be a place that will pay you an insane amount of money for simply stuffing envelopes.
Apparently you'll be able to make $170,000 a year by simply filling up envelopes with various brochures and papers, and then mailing them off.
They claim that you only need to be able to spend a few hours a day, and you'll be able to mail out an average of 100 to 500 envelopes per week.
It sounds way too good to be true, and unfortunately it is.
How They Claim It Works
---
They claim that you will be set up with a mail-order company that is in need of worker who can stuff envelopes with various items, and then ship them out.
Apparently they will send you pre-addressed and stamped envelopes in the mail, and all you have to do is put brochures in them, and then mail them back.
Supposedly they are able to pay so much because they don't have to pay for office space, insurance, benefits and other expenses because you can do it from home.
It Makes No Sense
---
There are many things that simply don't make sense if you take the time to truly think about it.
They are hoping that you'll be so excited that you'll just sign right up without thinking.
First off, if you could seriously make $3,279.21 every week from just filling up and shipping off envelopes, don't you think everyone would be doing it?
It would be one of the most popular jobs in the world, who wouldn't want to do it?
Another thing that doesn't make sense is the fact that they claim to be saving money by not having onsite employees.
Well who do you think is mailing you the envelopes?
Don't you think the people mailing off the envelopes to you could simply put a brochure in them, and mail them where they're supposed to go?
How They Scam You
---
When you click one of the buttons to get started you are taken to a page that asks for you information, but no money.
So what do you have to lose if it's free?
Well it's not, just read the fine print.
If you take the time to read through all of the information on their page you'll see that they will charge you a fee.
They claim that it's just a fee to make sure your serious, and you'll get your money back when you get paid.
This simply doesn't make sense. I'm willing to bet that they will take your money, and you'll never hear from them again.
Other Scams
---
After entering in some sign up information I redirected to a completely different program called Secret Society Of Millionaires, which is a scam.
I already wrote an entire review exposing it that you can read here.
After going back and trying to continue through the sign up process I was taken to even more scams EZ Money Team.
I also want to point out that I found Envelope Work through another scam website called find-a-job-now.com.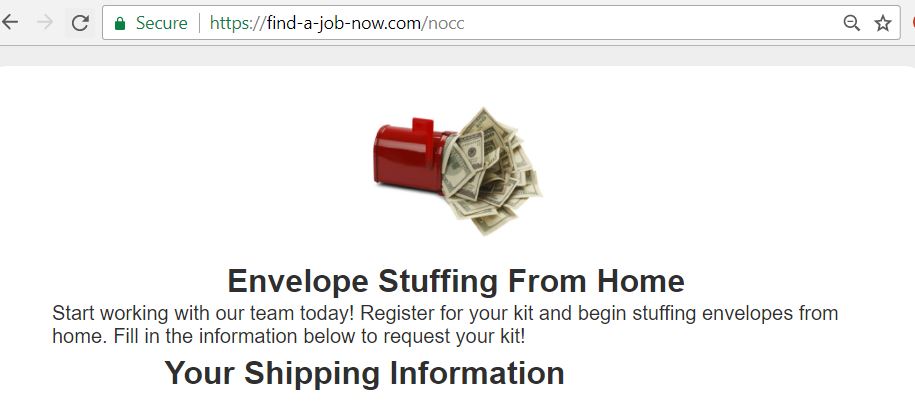 Which is connected to a bunch of other scams that are out there.
Is Envelope Work A Scam?
---
Hopefully by the time you've made it to this point in the review you're convinced that Envelope Work is a scam.

They try to get a sign up fee out of you, and then they simple redirect you to various other scams in an attempt to get more money out of you.
Don't trust anything they say, and if you do receive something in the mail from them, certainly don't respond to it.
My guess would be that they will try to get you to send them more money with the envelopes you send out!
Make Money Online!
---
If you're interested in making money from home, what better way is there to do it than working online?
My Top Ranked Program gives you all of the training, tools, and support you need to make money online.
Since joining them I've been able to make enough money online to quit my job and work completely from home!
If you could spare 2-3 hours a day to ship envelopes, then you have enough time to succeed online!
---
Is Envelope Work A Scam? What Do You Think? Let Me Know In The Comments Below!
---