In this honest Level Rewards review I'll be going over everything you need to know and answering the question, "is Level Rewards A Scam?"
There are many GPT programs out there that are complete scams, and won't pay you a cent.
Is Level Rewards one of those? Or is it a legitimate company?
Let's dive in and find out!
Level Rewards Review
---
Product: Level Rewards
Website: levelrewards.com
Price: Free To Join
Is Level Rewards A Scam? No!
CLICK HERE TO READ ABOUT MY TOP RANKED PROGRAM!
What Is Level Rewards?
---
Level Rewards is similar but different than other GPT (get paid to) programs like Swagbucks, GPTPlanet, and Rewarding Ways.
Most GPT programs allow you to simply join up, and make money by completing simple tasks.
However Level Rewards requires you to both complete various offers, as well as get other people to join and complete offers as well.
So if you are just looking to complete some simple tasks and make money, this won't be for you, but if you are interested in getting other to join as well for an opportunity to make more money, you may like this.
How Level Rewards Works
---
Various companies all over the internet will pay individuals or other companies for getting customers to try their products and services.
This is where Level Rewards comes in; they get paid to get their members to sign up for and try out those products and services.
They then turn around and give part of those earning to the members who complete the offers and get others to sign up.
The Pros And Cons
---
Pros:
Free To Join
You can make more money than other GPT programs
Facebook Group With Payment Proof
Cons:
Offers Can Cause You To Lose Money
Required To Do Paid Offers To Reach Higher Levels
Difficult To Earn A Lot
Now let's take a little bit of time to go over exactly what I mean with the points I listed above.
How You'll Make Money
---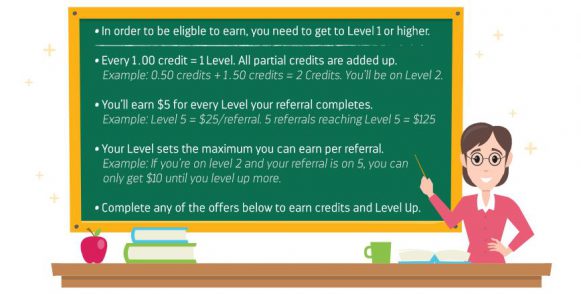 Like I said earlier, Level Rewards is a bit different from other GPT programs out there.
You won't get paid by simply completing trial offers. Instead you'll take trial offers as a way to earn credits and level up.
You have to reach at least level 1 before you can actually earn anything, and you'll only earn something when you refer someone else who then makes it to level one.
You stand to make $5 for each level that your referral moves up, however you can only make money from a level if you have already reached that level.
For example, if you are only on level 1 and one of your referral make it to level three, you'll only get $5 and won't get paid the extra $10 for levels 2 and 3.
Whereas, if you are on level 3 or above, you'll get paid the full $15.
This means you'll stand to make a lot more money if you move up multiple levels, and get a bunch of referrals to move up as well.
The problem is that it is difficult to get that many referrals to do that.
Difficult To Earn A Lot
---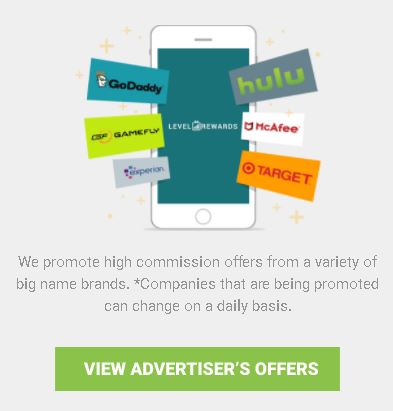 While the earning potential for Level Rewards is much higher than most other GPT programs out there, it's also much more difficult.
Other ones allow you to simply earn money by doing the various offers, with Level Rewards you'll have to do that and get others to join and complete offers.
Which is honest pretty difficult to do.
Unless you have access to large amounts of people, through a website or email list, it's going to be hard to get lots of people to join.
You'll basically be limited to trying to get friends and family to join, which won't help you earn too much.
If you are interested in getting better affiliate marketing skills, and getting more people to join I a recommendation.
My Top Ranked Program is completely free to join, and will help you learn how to get access to thousands of potential referrals!
You Can Lose Money
---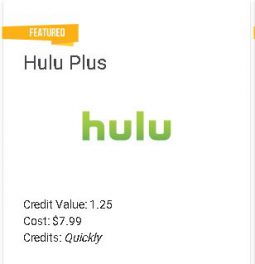 Even though it's free to join, it is still possible to lose money with Level Rewards.
Many of the offers will require you to make purchases, but that's not the real problem.
When you pay up front you already know you're spending money, and can calculate that in.
However, the free trials are where you stand to lose money and not ever realize it.
Many free trails will require you to put in your credit card information, and they will charge you if you don't cancel in time.
Not to mention you have to keep the membership for at least 90% of it's length if you want your points.
Just be careful and pay attention to the trials that you sign up for.
Is Level Rewards A Pyramid Scheme?
---
I'm sure some people out there will confuse it with a pryamid scheme but it's not one.
Pyramid schemes depend on having members pay to join as their main source of income.
It's free to join Level Rewards, and they make their money by having their members complete tasks.
However Level Rewards is very similar to an MLM (Multi Level Marketing) program.
There are differences, and they technically aren't one, however their level system is the same as an MLM. I mean they even have the word level in their name.
The only people who make the real money are the ones who are at the top levels, and get a lot of people to join.
Is Level Rewards A Scam?
---
No, Level Rewards is not a scam. They are a legitimate company and you will get paid for the work that you do.
With that being said, it is not for everyone. If you don't think you'll be able to get others to join, you'll just be wasting your time.
The only way you'll make any money is if you constantly get other people to join and complete offers.
If you are interested in learning how to get your offers in front of thousands of people, you'll want to keep reading.
Make More Money With Referrals!
---
Did you know that you can make money by referring people to various companies all over the internet?
Not just Level Rewards?
Well you can, and I know that because that's how I make my living online.
Some of those programs will pay you a lot more than $5 per referral.
You can even make money by getting them to purchase things from websites like Amazon.
Anyone can succeed at this as long as they get access to the proper training, tools, and support.
You can get started for free with all three of those things in the same place I get them.
If you are interested in learning more, you can…
---