Is ClickWorker A scam? No it's not. However in this review I'll be going over what it is, and telling you why I don't think you should join.
Clickworker Review
---
Product: Clickworker
Website: clickworker.com
Price: free
Is ClickWorker A Scam? No!
Is ClickWorker Recommended? Not Really (I'll Explain)
CLICK HERE TO READ ABOUT MY TOP RANKED PROGRAM!
What Is Clickworker?
---
Clickworker takes various services that companies need, and breaks them into smaller tasks that their contractors can provide.
This means that you can sign up and become a contractor for them and make some extra cash doing various small tasks.
These tasks will be part of a much larger workload that a company has asked Clickworker to do.
You'll get paid varying amounts of money for these tasks depending on how complex they are, and how much time it will take to complete them.
These tasks will range from categorization and text creation, to image and video tagging.
The Pros And Cons
---
Now let's go over some of the good and bad things that I found about Clickworker.
Pros:
A simple way to make extra money online
Pays through PayPal & Bank Accounts
Cash out at $5 or $10
Free To Join
Cons:
Doesn't pay very much
Not many jobs for many people
Boring & Tedious Work
Better ways to make money online
Throughout this review I will take a bit of time to go further in depth with what exactly I mean with each of these points.
How Clickworker Works
---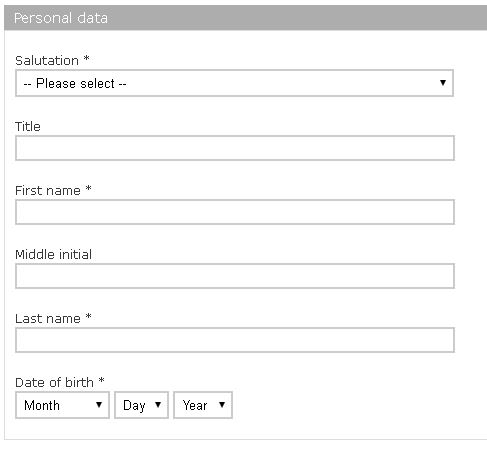 It's pretty simple to get registered for free, you simply have to fill out the normal information about yourself.
You'll have to choose the country you're located in, then put in your name, address, DOB, email, and a couple other simple things.
After that you'll have to fill out your profile which will require a bit more in depth information. This consists of your skills, languages, and some other things they need to know.
After this you'll most-likely have to take an assessment before you'll be able to start working on projects.
After that you should be ready to start looking for work.
The Work You'll Be Doing
---
There are various tasks that you'll be doing which include Creation of Texts, Data Categorization, Copy Editing, Proofreading, Web Research, and Surveys.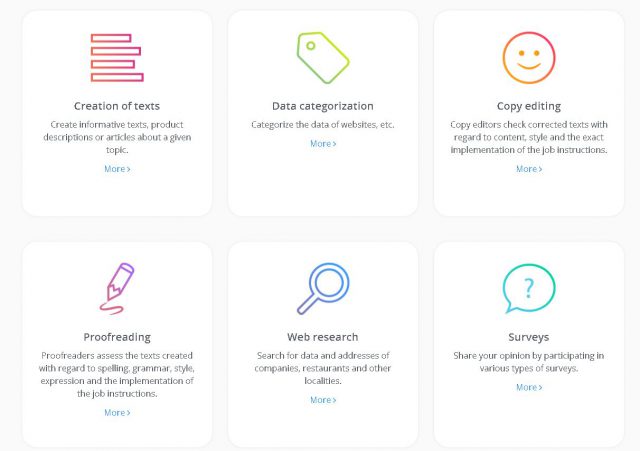 Creation Of Texts
This is basically just doing various writing tasks based on templates or about predetermined topics.
You'll have to take an assessment so that they can rate your writing skills. This assessment will determine how much money you'll get paid per word.
Once you take the assessment you can never take it again, so make sure you do your best.
Data Categorization
You'll be analyzing data files such as documents, photos, videos, and classifying them into different categories.
Analyzing or categorizing content from websites, search results, images or documents.
Proofreading
This is exactly what it sounds like. You'll be reading through various text and correcting any mistakes you find.
These mistakes will include grammar, spelling, and various other mistakes you'll find.
Copy Editing
This is basically proofreading the proofreading.
It's essentially the second level of proofreading to insure that absolutely nothing was missed.
Copy editing is more for people with fantastic writing skills, knowledge and a great eye for small details.
Web Research
For web research you will be searching for data such as address of companies and restaurants.
You'll be updating existing information that you find, and completing various other similar tasks.
Surveys
This is basically where you'll be answering simple questions mostly about yourself.
Companies out there want to know how their demographic thinks in order to increase the quality of their product and services, and they'll pay money for it.
How Much Money You'll Make
---
The amount of money that you'll get paid will vary depending on several different things.
Depending on how well you do on the assessments that you take will determine the difficulty of the tasks you get.
Tasks will pay you depending on how difficult they are, how long they take, and the level of skill and knowledge you'll need.
Some people will make decent money while others won't make vary much at all.
After you've made $5 you can then have that money sent to your PayPal Account, or once you get $10 you can have it sent to your Bank Account.
Why I Don't Recommend Clickworker To Everyone
---
Here are a few things to consider if you are thinking about joining Clickworker.
Low Pay
While there are people out there who make decent money with Clickworker, not everyone will.
The average person who isn't highly skilled in writing, or doing the other tasks, won't make more than a few bucks here and there.
Many times people will get paid a lot less than minimum wage. I'm talking $2 to $3 an hour.
Inconsistent Work
I've seen a lot of complaints online about people not being able to consistently get work.
This also comes down to how skilled you are and how well you do on assessments.
If you test low on the assessments, you won't be given high paying jobs, or very many jobs at all.
Boring & Tedious Work
If you aren't someone who can sit at a computer and do various boring tasks for hours, you won't be able to make much.
Entering data and proofreading aren't exactly fun things to do in my opinion, and if you can't see yourself doing that for hours you might want to look elsewhere.
Not Paid Enough For Skills
In my opinion getting paid $9 or $10 an hour isn't good enough for highly skilled individuals.
Only the people who are skilled and test high on assessments will most-likely get the "higher" paying tasks.
Like I said, if you are that good at doing something, I think you should get paid more than that.
Better Ways To Make Money Online
---
This is the number one reason why I don't recommend Clickworker to just about anyone.
If you are skilled enough to making money through them by writing, you're skilled enough to make money with a website or blog.
Even if you aren't skilled in writing you can still make a living writing online.
It may seem impossible to many people, however creating a website and making money from it is easier now than ever.
You get to be your own boss, work whenever you want, write about whatever you want, and you never have to worry about getting jobs.
I know that for a fact because I make my entire living online with a couple of websites.
Anyone can be successful with it as long as they are willing to put in time and effort, and also have access to the proper training, tools, and support.
You can actually get started for free with all three of those things in the exact same place I get them.
If you are interested in learning more about this online money making opportunity, you can
Is Clickworker A Scam? – Conclusion
---
No Clickworker is absolutely not a scam, and there are people out there that do and will benefit from what they offer.
With that being said, I still personally feel that people deserve to get paid more for their time and effort.
It's possible to make decent money online through them, however it's not the best way to make money online.
Similar places where you can make some money online include: Survey Club, Survey Savvy, and Rewarding Ways.
---
What Do You Think About Clickworker? Let Me Know In The Comments Below!
---