If you are trying to find out what Seven Dollar Click is, and wondering if it's a scam or not, then you're in the right place. Within this review I'll be going over everything you need to know before joining them.
Seven Dollar Click Review
---
Product: Seven Dollar Click
Website: sevendollarclick.com
Price: Free – paid upgrade required to cash out
Is Seven Dollar Click A Scam? YES!
CLICK HERE TO LEARN ABOUT MY TOP RANKED PROGRAM!
What Is Seven Dollar Click?
---
Seven Dollar Click claims to be a PTC (paid to click) website that will pay you $7 for every ad that you click on.
PTC websites do exist, and it is possible to make money online with them.
However every legitimate one that I've ever reviewed has only paid about a fraction of a cent per click.
You'd be lucky to come across one that would pay you an entire cent or two per click.
So to say the least, I was immediately skeptical of Seven Dollar Click, and I was right to be.
After doing some research I found a bunch of ex-members claiming that they never received the money that they earned.
Throughout the rest of this review I'll be going over several reasons why you shouldn't waste your time with them.
The Pros And Cons
---
Even though this website won't pay you the money you earn, I tried to find something good about it.
Pros:
Cons:
It Simply Cannot Work
Paid Upgrades
Related To Other Scams
Over the next few sections I'll be going over exactly what I mean with the points that I listed out above.
How Seven Dollar Click Works
---
The way Seven Dollar Click is supposed to work is that you simply sign up, click on some ads, and make $7 for each one you click on.
However the truth is that it simply does not and cannot work.
Legitimate PTC websites only pay you a fraction of a cent per click because that's all they can afford to pay you.
They get SOME money from companies by getting you to click on their ads, and they give a percentage of that money to you for clicking.
However these companies DO NOT pay them more than a few cents per click, so there is absolutely no way they are going to pay you more than they make.
It simply just isn't possible; even if people are paying for their memberships.
Required Paid Upgrades
---
After creating your account there is one major thing that you need to pay attention to.
You can do all of the work without paying, however if you want to cash out your money, you'll have to pay for a membership.
This is incredibly dangerous because you'll earn at least $7,000, before you're able to cash out.
So why wouldn't you spend a measly $80 to be able to get that money?
Well the reason you shouldn't do that is simple, you won't get the money that you earned.
You'll be paying them with real money, and then you'll never get to see the fake money that you were earning the whole time.
Related To Other Scams
---
One thing that I noticed it that Seven Dollar Click is a sister website to a few other scams just like it.
Two Dollar Click, Three Dollar Click, and Four Dollar Click are all scams that do the same thing that this one does.
They allow you to build money up in a fake account until you make enough to cash out, and then when you go to cash out they make you pay.
After you pay, they tell you that you have to wait 75 days before you can expect to see your money.
That way you'll have to pay for another two months. Then when the 75 days is up, you won't get your money, and they will block you from their website.
It has happened to a whole lot of people, please don't let it happen to you.
Seven Dollar Click Payment Proof
---
If you click on the "Proof" link at the bottom of their home page, you will be taken to their Twitter Account.
On their feed you can see multiple of people claiming that they've made a bunch of money with Seven Dollar Click.
However If you simply take a second to check out the comments on those posts, you'll see that it's all lie.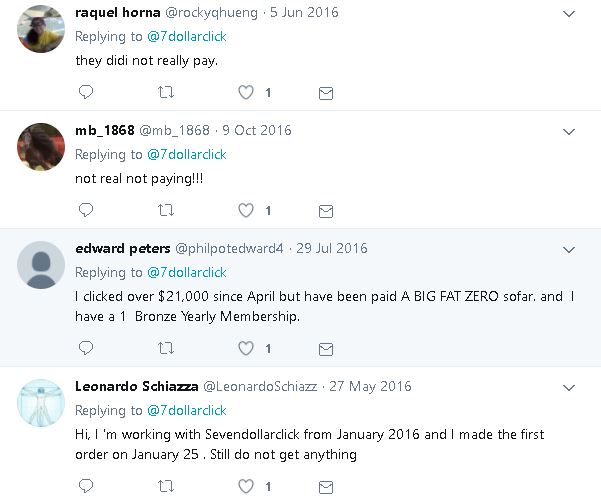 In the image above you can see just a few of the comments left by members who simply did not get paid the money that they earned.
Don't be one of the people that falls for this scam.
Is Seven Dollar Click A Scam?
---
I want to be completely transparent and let you know that I didn't try it out, but that's simply because I am certain that it's a

You'll be giving them a bunch of your money, and you won't see a cent of the money that you earned from them in return.
If you are wanting to make a little bit of extra money online I suggest you look into survey or GPT websites like Pinecone Research, Spare5, or Level Rewards.
However if you are looking for something that can help you make a good amount of money online I would suggest checking out my Top Ranked Program!
It's free to get started, and they have helped me make enough money online to quit my day job and work completely from home.
---
What Is Seven Dollar Click? Is It A Scam? What Do You Think? Let Me Know In The Comments Below!
---